A warm welcome to all new administrative staff and to those who have assumed new roles within the Faculty.
Michelle Madhoo | Administrative Assistant to Peter Zandstra (IBBME)
Elenita Palmiano | USW - Appointed Staff (ECE)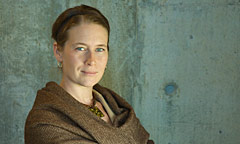 Erika Bailey | Director, Office of the Dean
Erika began her new position as Director, Office of the Dean, this past July, and brings eight years of U of T working experience. As Director, Erika is responsible for providing senior level support to the Dean; facilitating and implementing the administration of priorities and directions set by the Dean; providing strategic leadership and administrative support in developing, implementing and championing various projects and initiatives; communications with internal and external parties; and support of Faculty Council and its committees.
Erika held the position of Executive Secretary to the Dean since 2007, where she played a key role in organizing and coordinating the activities within the Dean's Office, as well as providing day-to-day support to the Dean. She also spent three years as the Executive Secretary to the Vice-President and Provost where she held an important role in supporting the work of another highly complex portfolio. Prior to her position in the Provost's Office, Erika was the Administrative Assistant to the Chair and the Secretary of the Governing Council.
She holds an Honours Bachelor of Arts degree from the University of Toronto and is currently working towards completion of her Master's degree at OISE.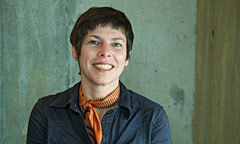 Jo Bradley | Receptionist, Office of the Dean
Jo began her new role as Receptionist, Office of the Dean, on September 14. Her responsibilities include working main reception - greeting visitors to the Office of the Dean and the Vice Dean's office, assisting in co-ordination of H1N1 preparedness, and providing support to the new Centre for Global Engineering.
She is very familiar with the campus as she provided reception and administrative support to the Vice Dean, Research; International Relations; and in the Faculty of Medicine Research Office. Jo also worked at GRIP and in Research Services in the VP of Research's Portfolio. She received a BA in Near Eastern Archaeology at U of T. Jo's position reports to the Director, Office of the Dean.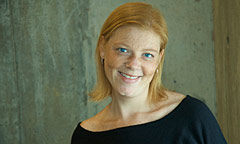 Dawn Britton | Associate Director, Outreach
With over 10 years experience in not-for-profit management, Dawn began her latest role in the Faculty this September, where she is responsible for developing the new Outreach Office following the recommendations of the Outreach Task Force Report that was completed earlier this summer.
Dawn comes to this position having spent the past three years supporting students, staff and faculty interested in outreach and service-learning at the Centre for Community Partnerships at U of T. Prior to U of T, Dawn worked for UHN, Baycrest Centre for Geriatric Care, Toronto East General Hospital, and McMaster University. An assessor for the International Duke of Edinburgh Awards, she was recently invited to join the Mayors Council of Educators. Dawn has been on secondment working on outreach programming in Engineering this past year.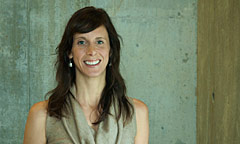 Allison L. Brown | Project Manager (IBBME)
Allison joined U of T on June 1, 2009 as Project Manager of a new collaborative initiative led by University Professor Michael Sefton (IBBME/ChemE) focused on developing and commercializing therapeutic biomaterials for applications in Regenerative Medicine. Allison is responsible for managing research projects at U of T, McMaster University and several of Toronto's leading research hospitals. She also serves as the liaison between the co-investigators and the programs private sector partner, Rimon Therapeutics Ltd. Allison is thrilled to be working with such an innovative team to advance the development of novel materials for the treatment of chronic diseases.
Prior to joining U of T, Allison worked as a consultant for a life sciences strategy firm. She has also worked as a Senior Scientist at Rimon. Allison obtained both her BASc and PhD degrees in Chemical Engineering and Applied Chemistry at U of T.


Armin Fischer | Research Associate (ECE)
Reporting to Ted Sargent, Armin's new position will focus on chemical synthesis of quantum dots and surface investigations of quantum dot films used in solar cells. It's a role well suited to Armin based on his past experience in process development of large scale organometallic quantum dot synthesis and deposition of thin films by means of plasma technology followed by surface analytical investigations.
Armin first joined Professor Sargent's group in 2005, then worked in 2006 for almost three years in a venture capital-funded company. In 2009, he rejoined Professor Sargent's group. Armin enjoys working on his new team that includes highly motivated students and senior scientists. He appreciates daily learnings in applied science and the scientific infrastructure of U of T.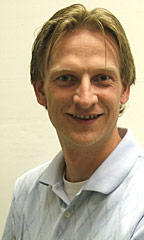 Sjoerd Hoogland | Research Associate (ECE)
Sjoerd Hoogland has a Masters' Degree in Physics from the Vrije Universiteit Amsterdam. He holds a PhD in Laser Physics from the University of Southampton, where he conducted research on optically pumped vertical external cavity surface emitting lasers. At U of T, he demonstrated for the first time, high power mode-locked operation of this laser with sub-picosecond pulses.
His PhD thesis was awarded by the Institute of Physics, Quantum Electronics and Photonics group. In 2004, Sjoerd joined Professor Ted Sargent's group, where he developed the first paint-on infrared laser, which was awarded to be NSERC's top 50 discoveries of 2006. Subsequently, Sjoerd joined an early-stage, venture capital-funded company where he held the position of Manager of Research and Development. His current research in Professor Sargent's group involves investigation and development of novel opto-electronic devices based on infrared colloidal quantum dots. Sjoerd has numerous publications in world-leading journals and conferences and his work has been cited more than 500 times.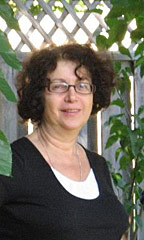 Marina Korotkin | Research Associate (MSE)
Marina (Maria) Korotkin started her role as a Research Associate for Professor Mansoor Barati in the Sustainable Materials Processing Research Group at the Department of Materials Science and Engineering in July 2009. She currently works as a Principal Investigator for a project on recycling of the dust from electrical arc furnaces, and supports/assists teaching of graduate students.
Maria's background includes an MSc in Chemistry and PhD in Metallurgy, and she worked as a Project Leader/Principal Investigator for almost 20 years in the mining, automotive, and aerospace industries in metal product and process development.
Maria first worked at U of T 20 years ago as a Post Doctoral Fellow and a Research Associate for her first two years in Canada, and is thrilled to return to the University.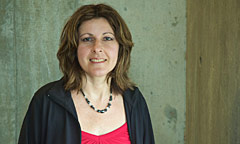 Helen Ntoukas | Executive Assistant to the Dean
Reporting directly to the Dean, Helen Ntoukas provides key support to the Dean, coordinates intensive travel itineraries and calendar commitments, and is the point person for the Office of the Dean.
Helen's previous position was as Administrative Assistant to the Chief of Neurosurgery, Dr. James Drake, at the Hospital for Sick Children for the past 13 years, where she maintained his very busy schedule, as well as expense accounts and research grants.
Prior to that, she worked at U of T for 12 years, first in the Department of Mechanical and Industrial Engineering as Secretary/Supervisor of the main undergraduate office, then in the office of one of the Vice-Provosts as Secretary to Dr. David Cook, and finally as Secretary and then Administrative Assistant to the Dean, which was then Dean Gary Heinke.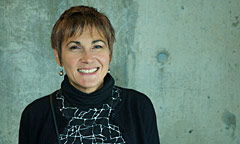 Dolores Steinman | Research Associate (MIE)
Dolores joined the Biomedical Simulation Lab (BSL) at MIE as a Research Associate in August, reporting to David Steinman, Professor and Director of BSL.
In her new role, Dolores strives towards understanding and improving the ways in which she can visualize the increasingly complex data generated by the BSL. Her main responsibility is to identify and coordinate collaborations between the BSL and complementary research efforts in the social sciences and humanities.

Dolores has a background in clinical medicine and cell biology, and a strong interest in helping to bridge the gap between the arts and sciences. Her most recent work has focused on historical and current trends in medical visualization, and how these inform the presentation and interpretation of medical images.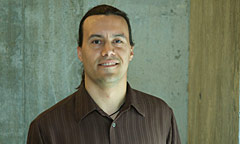 Mark Ungrin | Research Associate (IBBME)
Reporting to Dr. Peter W. Zandstra, Mark's main responsibilities include pluripotent stem cell bioengineering, with a focus on the cell biology of early differentiation events, as well as development of novel technologies for scalable production of differentiated cells.

Mark received his undergraduate degree in Biochemistry at the University of Waterloo, and attended his final year at Universite Joseph Fourier in Grenoble, France. During and after undergrad, he worked at Merck-Frosst Pharmaceuticals in Montreal.

He also received a PhD from the Department of Medical Biophysics at U of T in the field of Telomere Biology, and has been working on his postdoctoral since 2005, responsible for commercialization of some of the technologies he developed in partnership with Stem Cell Technologies of Vancouver, including "AggreWell".