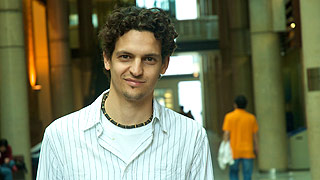 By Barbara McKechnie
Patrick Blit, a ChemE/IBBME PhD student, was selected to represent Canada and his native Uruguay at the 47th Graduate Student Program at the United Nations (UN) Headquarters in Geneva, Switzerland, July 6-24, 2009.
This program brings together graduate students from around the world, from a broad range of areas of study, who are all interested in the central theme of world development. They attend workshops conducted by the UN and UN-related agencies. This year's program consisted of 69 delegates representing 43 different countries, with a focus on UN initiatives towards working to reduce the impact of the economic crisis on human rights, development and the environment.
"Participation in such a programme presents a once-in-a-lifetime opportunity to see the inner workings of the United Nations. I've always been interested in world development issues and this was the just the opportunity I was looking for," Blit said. "I believe that there's room for both research and world development in my career and I hope I can continue working in both fields because I do not see them as mutually exclusive."
During the three weeks of stimulating lectures and panel discussions, the delegates were also assigned to three working groups, mentored by senior UN officials, to formulate proposals to address the challenges related to the three central themes: human rights; economic and social development; the environment.
Blit's subgroup was responsible for recommendations for social development and how it relates to health, education, and employment. The documents drafted by all three working groups were merged together into one final joint document that was published by the UN office in Geneva. The publication serves as a record of the discussions and recommendations of the 2009 working groups, and will be available through the United Nations library.
"I learned a great deal about the inner workings of the UN and the multifaceted nature of the UN model. It was a tremendous networking experience that allowed me to meet and discuss world issues with experts, as well as my graduate student peers from around the world. And finally, it allowed me to put my own research into global perspective."
The Department of Chemical Engineering and Applied Chemistry, in addition to a CIHR Strategic Training Program called Cell Signaling in Mucosal Inflammation and Pain (Cellsignals), of which Patrick is a trainee, supported Patrick's travel expenses.
"We are pleased Patrick represented the Faculty and the University to the United Nations in this global initiative," said Cristina Amon, Dean of the Faculty of Applied Science and Engineering.