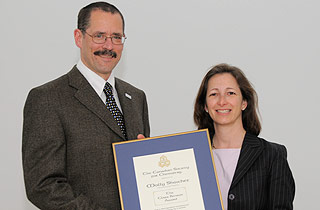 By Carolyn Farrell
Congratulations to Professor Molly Shoichet (ChemE/IBBME), who recently received the 2009 Clara Benson Award from the Canadian Society for Chemistry (CSC). This annual award is given in recognition of a distinguished contribution to chemistry by a woman while working in Canada.
Molly Shoichet holds the Canada Research Chair in Tissue Engineering and is a world leader in the creation and modification of polymers. Her research combines chemistry, biology and Engineering to advance the fields of tissue Engineering and regenerative medicine. Professor Shoichet's work has resulted in 26 patents and two spin-off companies. She has published over 120 peer-reviewed papers and has been invited to speak at over 185 institutions worldwide.
Professor Shoichet is the recipient of such prestigious distinctions as NSERC's Steacie Fellowship, CIHR's Young Explorer's Award, CSChE's Syncrude Innovation Award, Canada's Top 40 under 40 and the Royal Society of Canada's Rutherford Memorial Award. In 2008, she received a Killam Fellowship and became a Fellow of the Royal Society of Canada.
"I am pleased and proud that the CSC has honoured Professor Shoichet for her many significant contributions to chemistry," said Cristina Amon, Dean of the Faculty of Applied Science and Engineering. "She is an exceptional researcher who has made a number of pioneering advances in tissue Engineering and regenerative medicine." Professor Shoichet was honoured at the CSC's awards dinner on June 2, 2009, at the Art Gallery of Hamilton.