This article is reprinted from Skulematters 2009.
By Jenny Lass
As our global economy melts down, it's easy to forget about the impact of consumerism on our natural resources. Threats to our air, water, and food supplies are looming as real as our dwindling markets, and if we don't offset the demands on our ecosystems, these "necessities of life" may disappear.
Many of our problems stem from our dependence on fossil fuels. When these fuels are burned to generate energy, they emit greenhouse gasses (GHGs), such as carbon dioxide (CO2), which contribute to global warming. Canada's GHG emissions have only declined by 3% since 2004 and our fossil fuel use remains high.
Environment Canada predicts that this warming will shrink potable water supplies, increasing the number of people facing water scarcity from 600 million to 3.2 billion by 2025. Droughts will also destroy farmland, and high growing season temperatures will wither heat-sensitive crops, such as wheat.
But even without the help of global warming, our resources are deteriorating. Non- GHG emissions are destroying air quality, and Canadians are dumping over 360 chemicals into the Great Lakes. Plus, poor farming practices have robbed our food of nutrients — apples now have three times less iron than they did in 1940.
Clearly sustainability has to become more reality than buzz word. Fortunately, U of T's Faculty of Applied Science and Engineering graduates are undertaking the complex challenges involved in preserving our natural riches. They are finding ways to decrease energy use, and not only reduce hazardous waste, but also recycle it.
This "cradle-to-grave" approach is apparent in the innovations of Eco-Tec Inc. run by Chemical Engineer Phillip "Rocky" Simmons (ChemE 6T4, MASc 6T5, PhD 6T8). Eco-Tec's BgPur™ gas purification system transforms hydrogen sulfide and methane released by industrial processes into fertilizer and biofuel, and their newly developed AmiPur® CCS technology assists in the capture of CO2 so it can be stored or re-used for oil production.
This CO2 recycling, called carbon sequestration, is still in its infancy, but Simmons predicts that it's "going to become a big movement" over the next decade due to its environmental and economic benefits.
A similar sustainable paradigm shift is occurring in water purification, "as the water industry begins to face the challenges of high energy costs, energy scarcity [and] GHG regulations," says Kevin Waher (CivE 0T5, MASc 0T8), a civil Engineer at Wardrop Engineering.
Advanced Oxidation Processes (AOPs) are effective but often costly emerging water treatment technologies that could be targeted for a sustainability overhaul. AOPs, which typically combine hydrogen peroxide and ultraviolet radiation or ozone gas to improve their contaminant-destroying abilities, can have large energy demands, but are able to clean water "when conventional technologies can't," according to Linda Wojcicka (MSc 0T4), a process designer at Associate Engineering.
However, some of the most sustainable water treatment technologies exist where potable water is scarce. The simple, small, and robust BioSand Filter uses slow sand filtration to provide individual households with up to 80L of drinkable water daily, "regardless of their proximity to an urban centre or water treatment facility," says Ray Cantwell (PhD 0T7) who works for Samaritan's Purse Canada.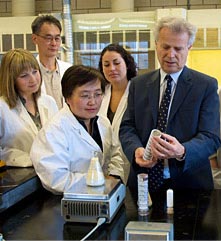 Although solutions to food shortages in developing countries are less sustainable, they are no less important. Chemical Engineer and U of T Professor Levente Diosady (ChemE 6T6, MASc 6T5, PhD 6T8) is working to make what little food exists count for more, by fortifying food with microencapsulated nutrients. One of his recent successes was double fortifying salt with iodine and iron. It sounds straightforward, but Diosady says that micronutrients "sometimes react with each other" and destabilize or alter the taste of food.
"Where food is abundant, environmentally conscious technology is more prominent; we are changing packaging systems to protect food supplies and the environment. Aseptic technology used for foods such as yogurt drinks and soups is complex and expensive," says chemical Engineer Arlene Karan (ChemE 9T6, MASc 9T8), but it is creating a safer food industry, delivering fresh taste, and saving energy because aseptically packaged food requires no freezing or refrigeration.
Despite the obstacles involved in balancing our economy and environment, it seems that our potential for finding solutions is perhaps greater than our potential for failure. As Garrett Hardin, author of The Tragedy of the Commons, said, "a managed commons, though it may have other defects, is not automatically subject to the tragic fate of the unmanaged commons."