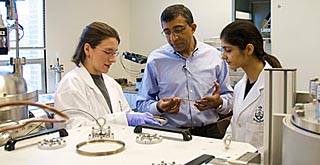 This article is reprinted from Skulematters 2009.
By Susan Grant
Imagine a world in which even the most remote village has access to renewable and affordable energy. Many believe that such a world is possible and that solar power is one of the means by which it can be achieved. Experts believe that by the year 2020 solar power could deliver electricity to more than one billion people; and that by the year 2040 it could support the electricity needs of more than one fifth of the world's population.
"Solar energy stands to become a dominant part of the global energy mix. The biggest challenge in taking solar electricity mainstream is cost per watt," says Professor Nazir Kherani (EngSci 8T2, MASc 8T3) from The Edward S. Rogers Sr. Department of Electrical and Computer Engineering, as well as Materials Science and Engineering.
The objective of Professor Kherani's research and development program is to reduce the cost per watt of solar electricity by means of high efficiency silicon photovotaics. Photovoltaic is the direct conversion of solar energy into electricity. Conversion is done through a photovoltaic device or solar cell.
There are a number of areas in which Kherani feels his research team has made significant progress. In the investigation of advanced cell concepts, the team has proposed and demonstrated the proof of principle of the BACH solar cell (the back amorphous crystalline silicon heterojunction device) with initial efficiencies approaching double digits; in due course the performance is expected to exceed 20%.
Also significant is the quest of high efficiency heterojunction silicon photovoltaics. An important feature is the attainment of high effective minority carrier lifetime. Professor Kherani's research team has recently produced amorphouscrystalline silicon interfaces yielding lifetime in the 7 ms range, one of the highest values reported for amorphous silicon. In the matter of researching the integration of photonic crystals and photovoltaics, the group has collaboratively developed a new photonic crystal composite that provides for spectral tuning of light, which has potential for high efficiency tandem thin film photovoltaics.
In addition, the team has made progress in the area of high efficiency thin silicon (2-10 micron) photovoltaics with a theoretical investigation of a 2D photonic crystal architecture indicating very high-energy conversion performance.
Professor Kherani's quest is to help drive the progress of solar power as a cost effective source of reliable, sustainable electricity worldwide.