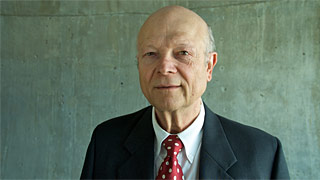 Joseph C. Paradi | ChemE 6T5, MASc 6T6, PhD 7T5 | University of Toronto
Executive Director and Professor, Centre for Management of Technology and Entrepreneurship | Chair Holder in Information Engineering | Department of Chemical Engineering and Applied Chemistry

What was your first role at U of T? When?
As a CLTA in 1989 in Industrial Engineering.
Why did you decide to accept a position at U of T?
I had no intention to join on a full-time basis at first. But Dean Heinke and Dean Charles asked me to teach some information technology courses in 1989 as someone took a sudden early retirement. My students then pursued me to accept them as graduate students, but that was not possible for a CLTA. However, as the result of some work I did with the then-President of NSERC, Art May, and his Director General Leo Derikx, Industrial Chairs in Management of Technology were offered. I raised $750,000 and then NSERC and SSHRC matched these funds and then I joined as a tenured professor.
What areas seem to be most popular with grad start-ups?
Internet, high tech, computers, telecommunications.
Why did you decide to study Engineering?
Because I love doing things and building things.
What is the atmosphere of entrepreneurship in U of T and Engineering?
Outstanding - could not be better! We are oversubscribed and the students love what they get. Here are some quotes:
"I think, out of all my courses, I learned the most in your class." -

Ahmed Badruddin




"I completed the APS234/432 course series last year and, like many of my peers, believe that I have learned more in these two classes than in the rest of my undergraduate career."

-Tatjana Ljaskevic




"I am a former student of yours from APS234, a class that I enjoyed immensely." -Nancy Chung


"Your APS234 and APS432 courses have inspired me to start my own business while taking the courses. "

-Matthew Zeiler




I have just finished my undergrad studies and am currently working full-time on my own start-up business. It's a Web 2.0 business that helps unhappy wireless subscribers get out of their cell phone contracts by finding individuals who like to take over their wireless contracts (wireless contract ownership transfer does not require any cancellation fees!)"

-Bijan Shahrokhi
5 tips for aspiring entrepreneurs
Here are six:
There are three stages in every person's life: Learn, Earn, Return


Don't be a sheep (if you have to be, at least be a black sheep). You gotta be an eagle


Don't take no for an answer


Entrepreneurship isn't about life and death. It's more than that


If you want to succeed in this country, drop all your baggage from 'home'


One of the keys to succeeding in business is reading the news everyday

Anything you'd like to add?
The future of Canada is bright because we have the best young people here at U of T - it is a privilege to have the opportunity to teach them.
Did you miss out a past issue of the Engineering Newsletter? Revisit past articles and catch up on Faculty news on the Engineering homepage.
The Engineering Newsletter is a twice-monthly summary of key headlines, events and opportunities for faculty and staff in the Faculty of Applied Science and Engineering. If you have questions or comments, please contact us: barbara@ecf.utoronto.ca.
Follow us on Twitter: http://twitter.com/uoftengineering