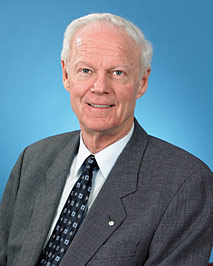 Allan Carswell | EngPhys 5T6 | University of Toronto
Professor of Physics, York University | Founder Optech Inc.

Allan Carswell is an internationally renowned researcher and entrepreneur whose work has pushed the frontier of knowledge in laser applications.
Allan has worked in the field of lidar (laser radar) since its inception in the early 1960s. As a Professor of Physics at York University for over three decades, he founded Optech Incorporated in 1974 to develop commercial systems based on lidar technology. Optech has expanded under his leadership to its current position as the leading developer and manufacturer of commercial lidar systems worldwide. Allan's expertise in lidar measurements led to his recruitment as Canadian Co-Investigator on the Science Team of NASA's 2007 Mars PHOENIX mission that placed the first lidar on Mars as part of the meteorological station MET provided by the Canadian Space Agency.
"I have been a pioneer in the development of lidar and it has been most satisfying to see how this technology has matured and developed with applications now from the depths of the ocean to the surface of Mars," said Allan. "I have always had an interest in, and enthusiasm for, applied science and this has been a driving force in my career."
In addition to his outstanding professional career, Allan's involvement in community related activities is equally impressive. He has served for many years as an active volunteer in Scouts Canada and the Out of the Cold Program for the homeless. He has served as a board member for Toronto East General Hospital Foundation since 2001. Allan and his wife funded the construction of a 75-bed Complex Continuing Care facility at the hospital. At Optech he also started the first fully licensed small business daycare facility in Canada
Allan is a Fellow of Royal Society of Canada, 1984, and the Canadian Aeronautics and Space Institute, 1984. He was a Member of the Order of Canada in 2005, and received numerous awards including CAP-INO Medal for Outstanding Achievement in Applied Photonics in 2002; and a Canadian Space Agency John H. Chapman Award of Excellence in 2006.
Tips for aspiring entrepreneurs
Starting a company is like pushing off at the top of an Olympic ski-jump. Once you push off there is no going back and you have to do everything needed to end up with a successful outcome
In business as in life "The only real problems are people problems"
I still remember the following poem from the blackboard of my Grade 4 classroom:
LUCK
Luck is not only pluck
To try things over and over
But courage and skill
Perseverance and will
Are the four leaves of luck's clover