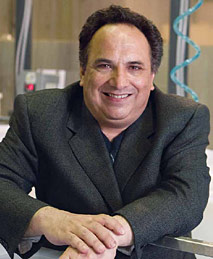 Gino Palumbo |

MMS 8T3, MASc 8T5, PhD 8T9 | University of Toronto

President, CEO, and Co-Founder, Integran Technologies Inc.

Gino Palumbo exemplifies an Engineer capable of transforming basic scientific research into a world-class enterprise. His company, Integran Technologies Inc., creates and markets nanotechnology applications used in the transformation of metals to a wide range of business sectors, from aerospace and defence through to sporting goods and consumer products. Integran holds the first U.S. patent issues in nanotechnology, and has contracts with the U.S. Air Force and NASA.

Gino began to make his mark in the international scientific community in 1989 when he completed his PhD from Materials Science Engineering and joined Ortech International in Mississauga as a scientist. There, through primarily a technical consulting role, Gino was exposed to a wide variety of multi-disciplinary R&D projects for external customers.

"My brief time at Ortech likely fostered whatever entrepreneurial traits I may have; however, I don't think I ever made a conscious decision to go into business for myself - it just happened," Gino responded when asked why he chose to go into business for himself.

Gino soon moved on to Ontario Hydro when he accepted a new applied research position. There, he and Uwe Erb, now a professor in MSE, developed a nanotechnology technique for more economical repair of nuclear reactors, now widely used to preserve generators in nuclear power plants. He and his team also developed a technique for extending the life of lead acid car batteries, which was spun off by Ontario Hydro in 1999 when Gino was just 38.

Gino said he is most proud of his accomplishment in developing and fostering a creative multi-disciplinary technology development environment (workplace and external networks), which can very rapidly and cost-effectively take fundamental R&D findings (in many cases originating at universities) to commercialization. He credits PhD advisor Professor Emeritus Karl T. Aust and long-time colleague Uwe Erb as his main source of inspiration and influence throughout his career.


Today, under Gino's leadership, Integran continues to use nanotechnology to develop practical solutions and applications. He has since pioneered the development of low-cost, high-performance materials used in hip and knee implants, ultra-strong and lightweight golf clubs and automotive parts, and many other aerospace and defense applications. In 2007, Integran received the RBC Innovative Business of the Year award at the Canadian Innovation Awards Ceremony hosted by Canadian Manufacturers and Exporters.

In partnership with MSE at the University of Toronto, Gino has authored professional papers that have been cited over 2,500 times. He serves as Director / Board Member of Powermetal Technologies Inc. (Carlsbad, CA); Morph Technologies Inc. (Toronto, ON); and Integran Defense Systems (Pittsburgh, PA).
Tips for aspiring entrepreneurs
Make sure to surround yourself with the best people (colleagues, employees, suppliers, customers, investors).
Expediently disassociate yourself from those who aren't.
Be patient – business success takes much more time (and money) than you anticipate at the outset.
Remain focused on what you do best.
Make sure you're always having fun.