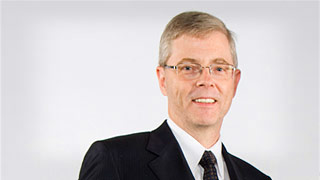 Glynn Williams | EngSci Aero 7T8 | University of Toronto
Founder and CEO of Reliance Aerotech Inc.

A renaissance engineer, engaged in music and advanced pilot training, for whom the sky appears to be the limit, Glynn Williams is a distinguished leader in the fields of aviation and investment banking. In aviation, Glynn is the founder and CEO of Reliance Aerotech Inc., a leading independent North American maintenance, repair and overhaul organization, serving some of the most prestigious organizations in both civilian and military aerospace sectors. He is also CEO of the Williams and Moore Capital Corporation, a private equity investment firm he has owned since 1991.
Early in his career, Glynn became recognized as one of Canada's leading financial analysts, with more than 20 years experience in venture capital and economic development. He helped create and build Newcrest Capital, Canada's leading independent investment house, which was acquired by TD Bank Financial Group in 2000. This enabled Glynn to continue his passion to build companies including Reliance Aerotech Inc., the largest independent regional aircraft MRO in North America, which he later acquired and led as CEO. Glynn is also CEO of Navhouse Corporation, the global leader in sustainment of sophisticated inertial navigation systems.
Glynn volunteers in a number of community activities and sponsorships, including key committees and boards at the University of Toronto where he aims to inspire young engineers. His contributions support The Glynn Thomas Williams Fellowship for doctoral studies in Engineering, which provides full funding to its recipients and places an emphasis on research with commercial prospects that benefit Canadians.
Advisor to major pension and investment funds
Sponsor of promising young entrepreneurial Engineers, including On Solutions Inc., an on-demand web-based software firm, and Sensor Wireless Inc., a developer of mobile active wireless sensors in Charlottetown
Board member of Kensington Capital Partners Inc., providing private equity fund management services
Founder of Authentic Seacoast™ (a family of properties) in one of Nova Scotia's most challenged regions, creating employment and helping rebuild the region's history and economy

This was reprinted with the author's permission from the Engineering Alumni Association Awards program.
Did you miss out a past issue of the Engineering Newsletter? Revisit past articles and catch up on Faculty news on the Engineering homepage.
The Engineering Newsletter is a twice-monthly summary of key headlines, events and opportunities for faculty and staff in the Faculty of Applied Science and Engineering. If you have questions or comments, please contact us: barbara@ecf.utoronto.ca.
Follow us on Twitter: http://twitter.com/uoftengineering