Total University of Toronto Invention Disclosures
2000–2008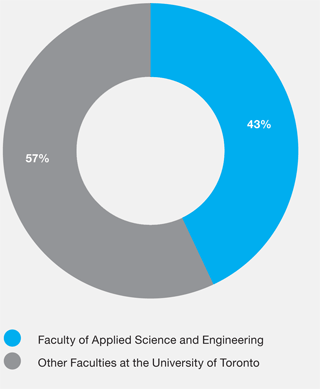 The great number of inventions in Engineering highlights our potential for commercialization and knowledge transfer, and is also an important indicator of the social and economic benefit of Engineering innovation.
All inventions at U of T are required, by the University's Inventions Policy, to fully and completely disclose the invention to the University. All rights to the invention are then jointly owned by the University and the inventor, in most cases. The inventor can commercialize the invention, which results in the high number of spin-off companies in Engineering, also outlined in this Chapter.
This table shows the copyright and inventions of U of T Engineering faculty that have been disclosed to U of T. Where all inventors for an invention are from one Department, that Department is credited with one disclosure; when inventors are from multiple Departments, each Department is credited with an equal portion of the invention.
Engineering Invention Disclosures by Academic Area
2000–2008