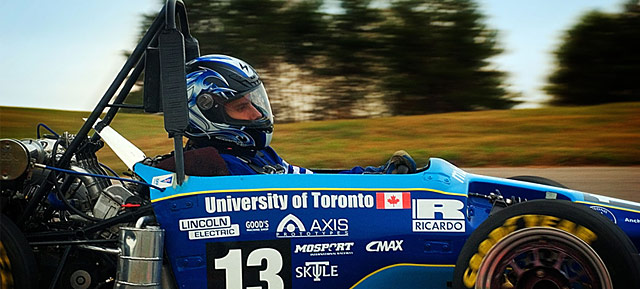 Reprinted from MIE Newsletter, October 2, 2009
U of T's Formula SAE team hosted their eighth annual Shootout event on Saturday, September 26 at Mosport International Raceway, and featured 18 universities from across North America, making 2009 the largest event to date.
The U of T Shootout is a one-day, student-run competition involving no rigorous presentations or reports – only track driving. Since 2002, Shootout has been run entirely by the U of T FSAE team and takes place at the Mosport Kart track that features a technically challenging course and dramatic elevation changes. The day is run as an autocross event, where drivers race timed laps to rank on an individual basis and also a team score. With cars running hard all day, the full teams need to be there to make frantic repairs in the pits, and keep the systems in top shape.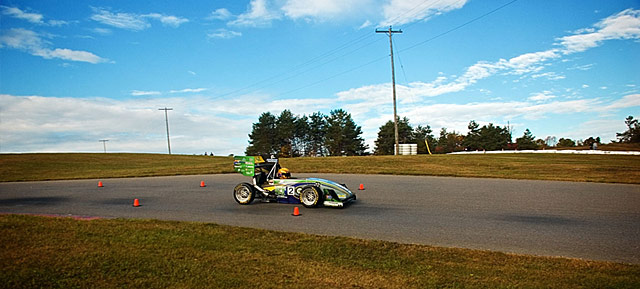 Throughout this year's competition, the top times came from Missouri S&T, ETS Montréal, Rochester IT, and the U of T cars. All times were just above 60s, so breaking the one-minute mark became everyone's objective.
Dark clouds loomed over the track by the late afternoon. The U of T pit crew made a swift change to the rain tires as the track became damp and squeezed in a couple strong laps with the tire advantage. Some teams followed suit, while others remained on their dry compounds. Incredibly, the rain came down just minutes after the race ended at 5 p.m. There were a total of 398 laps over the course of the day.
The U of T Racing Team had many valuable volunteers at Shootout, including 60 undergraduate students who helped marshal the track. To ensure all cars met FSAE safety standards, the morning technical inspection was conducted by Laurence Polly from Engineered Solutions. Also in attendance were representatives from the Central Ontario section of SAE.