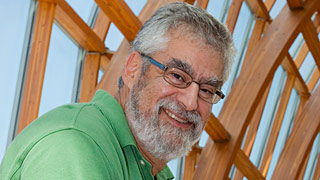 Michael V. Sefton | ChemE 7T1 | University of Toronto
ChemE & IBBME Professor | Chief Scientific Officer and Director, Rimon Therapeutics
Michael Sefton is a leader at the University and in the international scientific community. A pioneer of tissue Engineering, he is a co-founder of Rimon Therapeutics, and sits on the editorial boards of several prominent journals. At U of T, Sefton is the Michael E. Charles Chair in Chemical Engineering (ChemE), a ChemE professor, and past Director of the Institute of Biomaterials and Biomedical Engineering (IBBME). In 2007, he was awarded the prestigious title of University Professor by U of T.
Following his MIT doctorate in 1974, Sefton returned to U of T to assume a role as Assistant Professor of ChemE. His recognized talents led to his appointment in 1999 to lead the University's renewed IBBME. He led the organization to world leadership in biomedical Engineering, contributing to the global expansion of this discipline.
In the later part of the 1990s, Sefton was inspired by a senior grad student of his, Micheal May. The pair made a key observation in Sefton's lab when therapeutic polymers emerged from work on micro-encapsulation with polymer beads. They knew this finding would be of great commercial interest.
Sefton's and May's entrepreneurial ambitions were given a boost when May was awarded the Martin Walmsley Fellowship for Technological Entrepreneurship in 1996; in 1997, they founded Rimon Therapeutics. The fellowship is intended to foster entrepreneurial spirit, and to help turn promising technologies into successful business ventures. It is awarded to a researcher associated with the Ontario Centres of Excellence to help commercialize intellectual property.
Rimon got its first round of financing in 2000, and Sefton continues his work with Rimon as Chief Scientific Officer and Director.
"I wanted to be an academic, not an entrepreneur," said Sefton. "I never would have [started a business] if Micheal wasn't behind it."
The supportive culture of entrepreneursm at U of T didn't hurt. "Everyone at IBBME has a spin-off company or two. It's in the fabric of the place," Sefton said.
Rimon aims to be a leader in the biomaterials, medical device, and regenerative medicine industries, incorporating its Theramer® technology into medical products worldwide.
Despite his many successful achievements and endeavours, Sefton remains humble and devoted to his students. When asked what he felt was his most important professional accomplishment to date, he responded: "It's in the hundreds of students I've taught - they are my legacy."