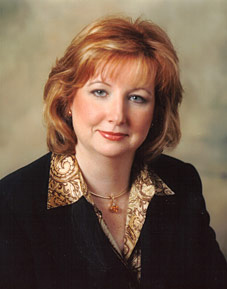 Helen L. Wojcinski | CivE 8T7 | University of Toronto
Management Consultant and President, Wojcinski & Associates Ltd.
Helen Wojcinski operates a change management and organizational development consulting practice through a network of professional associates. Her work brings her into contact with a dynamic variety of clients in hydro, aerospace, industrial distribution, manufacturing and Engineering, and all levels of government.
At 40, Helen launched her business in 2002. She continues to work out of her home office when not visiting a client location.
"I've been very fortunate to have had two fulfilling careers so far in my life, Engineering and management consulting, and have worked in all the sectors, public, private, non-profit and entrepreneurial," said Helen. "These experiences have left me richer in my knowledge and appreciation of organizations and how I approach my consulting practice."

Introduced to the Engineering world in her formative high school years through her brother-in-law who ran his own Engineering consulting firm, and the Civil Engineers she worked with over several summers at the Ontario Ministry of Transportation, Helen was encouraged to pursue a career in Engineering.
Several years and an Engineering degree later, while working on the 407 ETR for the Ontario Transportation Capital Corporation, Helen decided to return to university and pursue an MBA. "I wanted to build on my Engineering background and learn more about other aspects of the business, namely marketing and financing of the tolled highway," she said.
Part way through her MBA, Helen moved to the marketing department at the 407 and became the interim Director before the highway was sold in 1999. "After the sale of the highway, I decided it was time to do something different in life, so I embarked on a new career in change management consulting," she said.
Helen started with Celestica International, one of the largest electronics manufacturers in the world, as a Senior Change Management Consultant at the height of the high tech boom, and then joined the global team as one of their change management practitioners. It was a heady time in the high tech industry, but once the the bubble burst in 2002, she decided once again it was time to move onto something different. It was then that she started her own change management consulting practice – and she hasn't looked back since.

"But you know the old adage, 'once an Engineer, always an Engineer' – so although I'm not practicing in Engineering per se, I still very much incorporate my Engineering background and project management expertise into my consulting practice."
A passion for her field and a genuine love of working with people led Helen to her current role of entrepreneur, although she still enjoys working with scientific- and Engineering-based organizations so she hasn't ventured too far from her roots.
"Having my own business has allowed me to work in all kinds of industries and organizations that I would never have been able to if I had stayed in one place – and to meet so many different people," Helen said. "I've also gained a much greater appreciation of the time and effort required to start a business, to build it up and then to experience the various stages of maturity – and take pride in knowing that you've done something on your own. There is no greater satisfaction than to have people value you personally for your expertise, and to continue to show it through repeat business.
"My most important Engineering accomplishment to date was to be fortunate enough to work with an excellent team of Engineers on the 407 ETR. At that time, the 407 ETR was the largest single Civil Engineering contract awarded in Canadian history and the world's first all electronically-tolled highway. There will never be another project like it in my lifetime."
As for her most important consulting accomplishment to date, Helen said that is still unfolding –she's currently working with an organization as they navigate through a major cultural change and being able to participate in their journey has been a wonderful experience for her.
"You never know how your life and career will unfold – it's not so much about planning and plotting out the perfect path, but more about how you respond to those inevitable hurdles that you will encounter along the way, and having the courage to take those calculated risks and the paths least traveled. Only by opening yourself up to new experiences will you achieve true success."
Tips for aspiring entrepreneurs
Know what you are not just good at, but excellent at, and then continue to perfect it

Be able to clearly and confidently educate potential clients on what you can do for them, on how you can help them with their needs, and even more importantly, if you can't help them, who can

If you are fortunate enough for them to believe in and hire you, then make sure you deliver on your commitments

Don't give up too soon, it takes time, energy and perseverance to start up and build a successful business – there are very few "overnight successes"

It's a lot harder to land a new client than to keep an existing one happy – maintaining and nurturing client relationships is paramount for long term success

Don't take rejection personally, unless it's deserved

One of the most potent marketing strategies is word of mouth, so make sure that the quality of your work and relationships is spreading around good words about you

Always be true to yourself and your ethics – it takes a lifetime to build your reputation and only a second to lose it if you forfeit your ethics