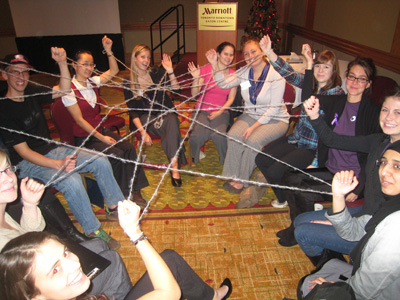 An estimated 90 delegates from across Canada and 25 speakers from around the world attended the National Conference on Women in Engineering 2009 (NCWIE 09), hosted by U of T's Engineering Society. The event ran November 27-29, 2009 at the Marriott Hotel in Toronto and featured a multitude of workshops, guest speakers, roundtable discussions, a career fair, and activities focusing on women's involvement in the world of engineering and science.
"NCWIE was a success greatly due to the help of those who helped ensure the quality and presentation of the entire conference reflected the seriousness of the issues being discussed," said K. Cyrene Wu, a CIV 1T0 student on PEY and Co-Chair of NCWIE 09. "The contributions brought forth by the university, our various sponsors, our executives and the many volunteers helped ensure that everyone had a great time."
Delegates networked with guests and speakers, the majority of whom are very successful women in industry, as well as some U of T Alumni. Dean Cristina Amon opened the event with a motivating welcome speech, and Susan McCahan, Keynote Speaker, presented on leadership and paths to success. Lisa Romkey, EngSci Assistant Chair and Curriculum, Teaching and Learning Specialist, and Milica Radisic, IBBME/ChemE Professor, also presented to delegates. Grant Allen, Vice-Dean, Undergraduate, also attended as an Honoured Guest.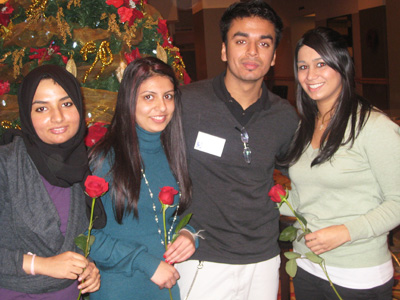 Attendees collaboratively discussed and challenged issues and barriers that stem from being a minority in Science and Engineering.
"The title for this year's conference, "Designing the World to Come", encompassed looking into our collective past in order to move forward," said Marc Pilon, MIE 1TO + PEY and Co-Chair of NCWIE 09. "Hearing speakers from all over Canada talk about personal life stories, along with helpful workshops aimed to help strengthen the next generation, made the title truly reflect our goals."
Marc cited his most memorable moment during the conference was the candle-light vigil in remembrance of the victims of the Montreal Massacre, which coincided with the 20th-year anniversary of the tragedy. "It was a very simple, elegant tribute; a fitting remembrance ceremony for the 14 women killed on that day."
A student from each university was asked to read aloud the name of one of the victims before laying a rose and lighting a candle in their memory. "Once all the candles were lit, we took a moment of silence. Since the following week (December 6th) was the National Day of Remembrance and Action on Violence Against Women, we asked that all students planning to attend events on their campuses ensured that a remembrance ceremony took place as well."
"As a male Co-Chair for this conference, I had a different perspective than the majority of our delegates since I have never faced some of the challenges unique to women in this profession," Marc said. "I gained a new appreciation for fellow classmates, as well as professors, who have had to work harder to be taken seriously within the corporate world. My eyes were also opened to current inequality issues that still remain in society, such as equal wages, which I believed had been resolved long ago."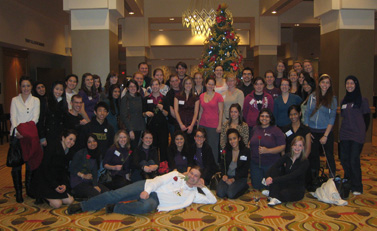 Marc said they learned from final feedback by many of the delegates that they were pleasantly surprised by the amount of men who attended and hoped it would help create a more inclusive community. They wish to see even more at future events.
Skule™ felt exceptionally privileged to host NCWIE 09, which served as an excellent platform to meet students from across the country while helping young women realize their potential of becoming leaders. For more information and photos, visit www.ncwie.skule.ca or email ncwie@cfes.ca.
Images from top to bottom:

1. Delegates work on a reflection activity towards the end of the conference. Each person shared something positive and/or something they enjoyed throughout the weekend and passed around a ball of yarn. The final result symbolized the formation of new network of bonds and friendships
2. U of T delegates at NCWIE, with roses from the Montreal Massacre Vigil held the previous day
3. A majority of NCWIE 09 delegates, volunteers and organization committee