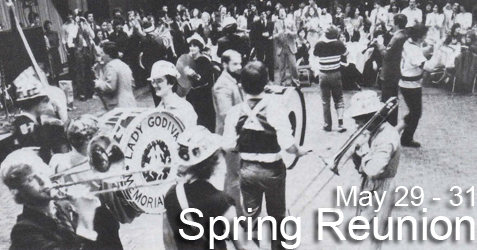 Celebrate Spring Reunion May 29-31
For all Engineering graduates for the honoured years between 3T3 to 8T3, we hope you will join us in celebration of your class reunion. Events include:
On a Mission to Take Solar Power Mainstream: $5M Investment from Ontario Government Boosts Solar Research
Dr. Nazir Kherani, The Edward S. Rogers Department of Electrical and Computer Engineering, with a $5M investment from the Ontario government is poised to make solar energy a dominant part of the energy mix ...

Launching Academics to New Heights at UTIAS
U of T Engineering Aircraft Design students fly to new heights and show off their design skills at the Aircraft Design Fly-Off at UTIAS ...
Engineering Students Put Theory Into Motion in Highrise Fire Rescue Competition
Engineering students enrolled in the Fundamentals of Aircraft Design class combined flight engineering with highrise building fire rescue tactics April 10 when they went head to head in a reusable rescue air vehicle (RAV) competition ...
Engineering Alumni Association Board Seeks Nominees
The Engineering Alumni Association Board is seeking new members to assume four-year terms beginning July 1, 2008. The EAA advises the Dean, Executive Director Advancement and senior staff and faculty on matters relating to the Faculty, the profession of engineering, the alumni and the relationship of alumni with the Faculty. Members must have the ability and willingness to provide insight and constructive ideas that contribute to advancing the Board's mission, and be prepared to commit time to the task. If you are interested in serving on the EAA, or if you know of an alumnus or alumna who would be ideal for the position, please contact Sonia De Buglio, Associate Director of Alumni Relations: sonia@ecf.utoronto.ca
---
SAVE THE DATE

May 23
IBBME Scientific Day 2008 and Llewellyn-Thomas Visiting Professor
May 29 - June 1
RobotX Battlebots course
May 29
Skule™ Annual Golf Classic
May 30
Chemical Engineering Reunion Lunch
May 30
Spring Reunion Dinner Dance
May 31
Hall of Distinction Unveiling

May 31
Chemical Engineering Class of 7T8 30th Anniversary Reception and Dinner
June 19
Energy Research Showcase
---
WEBSITES OF INTEREST
Professional Development Centre
The Faculty of Applied Science and Engineering's lifelong learning centre: short courses, certificate programs, custom training geared to you. Explore your potential for professional advancement.
University of Toronto

U of T Alumni and Friends
Faculty of Applied Science and Engineering
FACULTY DEPARTMENTS, DIVISIONS AND INSTITUTES
Departments
Chemical Engineering and Applied Chemistry
Civil Engineering
The Edward S. Rogers Sr. Department of Electrical and Computer Engineering
Mechanical and Industrial Engineering
Materials Science and Engineering
Divisions
Environmental Engineering and Energy Systems
Engineering Science
Institutes
University of Toronto Institute for Aerospace Studies (UTIAS)
Institute of Biomaterials and Biomedical Engineering (IBBME)