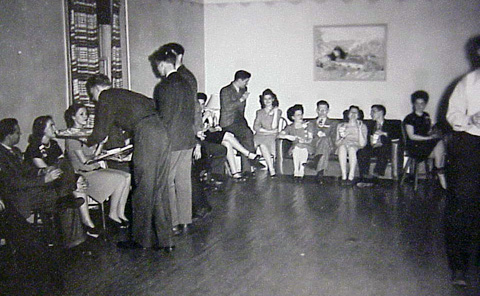 Save the date: Spring Reunion 2008, honouring all graduates of '3s and '8s - classes 3T3 to 8T3: May 29 – 31. Watch for more information, coming soon.

Call for Nominations – 2008 Engineering Alumni Awards
Nominate Engineering alumni for the 2008 Engineering Medal, Hall of Distinction, Early Career (10 years out), Mid Career (25 years out), or the Malcolm F. McGrath Alumni Achievement Award for volunteer service to the Faculty. NOMINATIONS DUE February 29, 2008 …
Skule™ Stage Band 25th Reunion
Join fellow band members for the Skule™ Stage Band's 25th reunion in March. Events include an open rehearsal/jam session (some instruments will be provided); Suds pre-pub pub event; and a performance in the Arbor Room, Hart House featuring a special debut by Skule™ Stage Band Blue. For more info email David Rutt (Indy 0T8), Skule™ Stage Brand Director: stageband@skule.ca
Skule™ Nite 2008 Alumni Reception – March 12


Join us for our annual Skule™ Nite Reception and Show for alumni on Wednesday, March 12 in Hart House, starting at 6 p.m. Enjoy the incredible talent, ingenuity and comedic flair of our students as they perform in the historic and unforgettable Skule™ Nite.
New ELITE Graduate Focus for MEng
We are initiating a challenging and exciting new graduate focus in entrepreneurship, leadership, innovation and technology in Engineering (ELITE), expected to start this Spring …
U of T Opens Centre for Research in Healthcare Engineering
This collaborative new Centre, led by Professor Michael Carter, opened January 28. The Centre advances the expertise and knowledge in solutions that improve the efficiency and effectiveness of healthcare service delivery ...

Calling All Aerospace Alumni!
The University of Toronto Institute for Aerospace Studies (UTIAS) now has an alumni registry dedicated to graduates of the Aerospace Option of Engineering Science and UTIAS. If you want to keep up with developments at UTIAS, share news with other alumni, or just catch up with old friends, join the alumni registry and look for upcoming events on our website: www.utias.utoronto.ca.
Rock Fracture Dynamics Lab Opens: Only Lab of its Kind Worldwide
Earthquakes, volcanoes, water, mining and radioactive waste can all impact rock strength and stability. Now, a cutting-edge facility at the University of Toronto will help researchers accurately understand and predict how rocks will react to these different types of stress …

Engineering Researchers Receive $17 Million from Ontario Government Congratulations to our Engineering Professors who received funding from the Ontario Research Fund Research Excellence program, supported by the Ministry of Research and Innovation: Warren Chan, Institute of Biomaterials and Biomedical Engineering; Dimitrios Hatzinakos, The Edward S. Rogers Sr. Department of Electrical and Computer Engineering; Nazir Kherani, The Edward S. Rogers Sr. Department of Electrical and Computer Engineering; Robert Andrews, Civil Engineering; Nasser Ashgriz, Mechanical and Industrial Engineering; Reza Iravani, The Edward S. Rogers Sr. Department of Electrical and Computer Engineering …
---
SAVE THE DATE

March 8
March Break Applicant Event
March 12-15
Skule™ Nite
March 12
Skule™ Nite Alumni Reception and Show from 6-10 p.m.

March 14
23rd Annual Chemical Engineering Dinner at 6 p.m.

March 19
Alumni SUDS at Steam Whistle Brewery from 6-8:30 p.m.
March 27
Skule™ Stage Band 25th Reunion - Open Rehearsal/Jam Session

March 28
Skule™ Stage Band 25th Reunion – Suds pre-pub pub

March 29
Skule™ Stage Band 25th Reunion – Skule™ Stage Band Concert featuring debut performance by the Skule™ Stage Band Blue jazz group

March 31
Professional Development Centre Course begins: Facilities Management Certificate Course

April 4
EngSci Alumni Dinner

April 6 at 11 a.m.
U of T's Asia-Pacific Graduation Ceremony
---
WEBSITES OF INTEREST
Professional Development Centre
The Faculty of Applied Science and Engineering's lifelong learning centre: short courses, certificate programs, custom training geared to you. Explore your potential for professional advancement.
University of Toronto

U of T Alumni and Friends
Faculty of Applied Science and Engineering
FACULTY DEPARTMENTS, DIVISIONS AND INSTITUTES
Departments
Chemical Engineering and Applied Chemistry
Civil Engineering
The Edward S. Rogers Sr. Department of Electrical and Computer Engineering
Mechanical and Industrial Engineering
Materials Science and Engineering
Divisions
Environmental Engineering and Energy Systems
Engineering Science
Institutes
University of Toronto Institute for Aerospace Studies (UTIAS)
Institute of Biomaterials and Biomedical Engineering (IBBME)