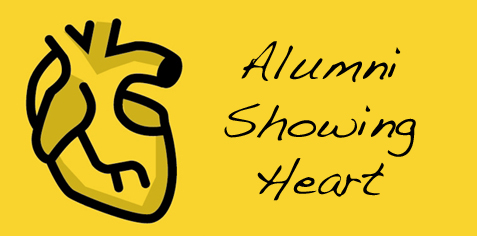 February is Heart Month. To mark this occasion, this issue of E-news is dedicated to the heart. Here you will meet Skule™ Engineers engaged in research that can prevent and help manage heart disease. You will also hear about alumni and students who extend their hearts to others and are making a difference in our community.

Skule™ is made of a global family, filled with extraordinary minds and innovative spirits. Our Engineers go above and beyond to improve the world we live in. Let us celebrate some of their contributions.
---
FEATURE STORIES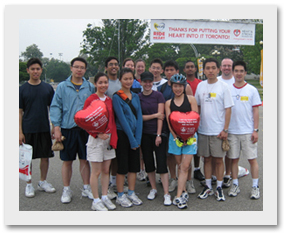 The Cellular Mechanobiology Lab at IBBME is Filled with Heart
Led by Professor Craig Simmons, this talented group of researchers is developing new strategies to repair and regenerate heart valves...
Labour of Love
Robert Bowden (CIV 8T2) witnessed the magnitude of Alzheimer's disease through his father's battle. He also observed with great sadness the struggles that his family encountered during that same time. Not wanting anyone else to go through what his family did, he created the Alzheimer Care Centre...

Cressy Recipients Wear their Hearts on their Sleeves
Each year we welcome graduating students into our outstanding alumni family. This year will be no different. Twelve Cressy recipients will soon become full-fledged global Engineering alumni. Their efforts have already positively influenced many. What lies ahead for them in the future will certainly include greatness...

---
FACULTY NEWS
Four Engineering Professors Named EIC Fellows
Professors Barry Adams (CIV), Michael Collins (CIV), Mark Fox (MIE) and Jim Wallace (MIE) have been elected Fellows of the Engineering Institute of Canada (EIC). The EIC is a federation of Canadian engineering societies; it awards Fellowships annually in recognition of exceptional contributions to engineering in Canada. The University of Toronto received four of the 20 Fellowships awarded - more than any other single institution...

---
MEET YOUR CLASS LEADERS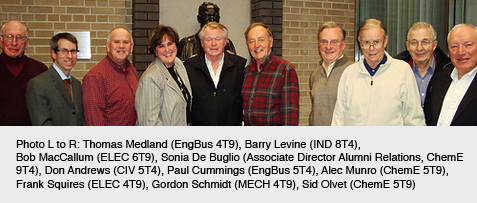 With Spring Reunion 2009 just around the corner, Class Leaders from 4T9 to 8T4 have been busy planning the next big reunion. Over the coming weeks, they will be reaching out to their fellow alumni, updating addresses and ensuring that you have the latest information about Spring Reunion 2009.

If you would like to become involved or get in touch with your Class Leader, please contact Mary Butera at 416-978-4941. Please help your Class Leaders and update your current contact information by going to address.update@utoronto.ca.

On behalf of your Class Leaders, we look forward to seeing you on May 30, 2009 for the Spring Reunion Reception and Dinner!
---
MENTORING THE NEXT GENERATION OF ENGINEERS
On January 22, 2009, the Skule™ Mentorship Program presented Career Nite, an evening that brought together Alumni Mentors and their Student Partners. Three of our mentors spoke to 30 students and fellow alumni, sharing personal and work-related experiences that highlighted the many lessons they have learned since graduating from Skule™. Each presenter credited their engineering education at U of T for providing them with the tools to succeed and achieve their goals whether it be in industry, entrepreneurship or consulting.

We would like to thank our Alumni Mentors for their inspiring stories:

Perry Graham (CIV 8T6), Vice-President of Operations, Nitro Microsystems,
John Wang (EngSci 8T4), Information Security Consultant, Intelligent Connections
Mark Palma (ECE 9T9), One Connect Services

The Mentorship program runs from September to March and matches 3rd and 4th year students with an Alumni Mentor. The program, an enriching experience for both alumni and student participants, has achieved great success since its inception. This year, more than 40 matches have been made. We would like to thank our alumni for volunteering their time with this program. If you would like to volunteer as a mentor, please contact Mary Butera.
---
LET US ENTERTAIN YOU
SKULE™ NITE 2009 – MARCH 18 to 21
You'll laugh. You'll cry. And you'll cheer. Don't miss the spectacle of Skule™ Nite.

The Faculty will once again launch this year's performance with an Opening Night Reception on Wednesday, March 18. Tickets for Opening Night are limited. So book your seats today!

$40 (Reception & Show), $16 (Show only) – Buy your tickets.
---
DEPARTMENT ALUMNI EVENTS
BACK TO SKULE™
Spring Reunion is not the only time you can relive old Skule™ memories. If you are a graduate of the following departments or division, mark your calendars for these upcoming events:

9th Annual Engineering Science Alumni Dinner
Thursday, March 26

Inaugural Mechanical and Industrial Engineering Dinner
Friday, March 27

24th Annual Department of Chemical Engineering Dinner
Friday, March 27
---
OTHER EVENTS
The Calgary Beer and Bull
Thursday, February 26

Spring Reunion 2009
Faculty of Applied Science and Engineering | Hall of Distinction Unveiling
Saturday, May 30, 10:30 - 11:45am
Sandford Fleming Building, 2nd Floor Hall of Distinction
For more information, please contact Mary Butera 416-978-4941

Department of Chemical Engineering, Faculty of Applied Science and Engineering Lunch
Saturday May 30, 12:00 - 2:00pm
Wallberg Building, Room 238
For more information, please contact Liam Mitchell at 416-978-8770

Department of Civil Engineering Lunch (CIV, GEO, MIN)
Saturday, May 30, 12:00 - 2:00pm
Galbraith Building, Room 107
Please RSVP to Hilda Jerina at 416-978-5904

The Edward S. Rogers Sr, Department of Electrical and Computer Engineering Lunch
Saturday, May 30, 12:00 - 2:00pm
Galbraith Building, GB040 Energy Systems Lab
Please RSVP to Susan Grant at 416-978-1999

Division of Engineering Science Lunch
Saturday, May 30, 12:00 - 1:30pm
Bahen Centre, Engineering Science Atrium, 2nd Floor
Please RSVP to Sarah Steed at 416-978-8634

Department of Mechanical and Industrial Engineering Lunch
Saturday May 30, 12:00 - 2:00pm
5 Kings College Road
For more information, please contact Shannon Osborne at 416-978-5450

Faculty of Applied Science and Engineering Lectures
Saturday, May 30, 3:30 - 4:30pm
For more information, please contact Mary Butera at 416-978-4941

Faculty of Applied Science and Engineering | Spring Reunion Reception and Dinner
Saturday, May 30, 4:30pm Reception, 6:00pm Dinner
Centre for Cellular and Biomolecular Research, 160 College St.
Price: $50
For more information, please contact Mary Butera at 416-978-4941

University of Toronto Institute for Aerospace Studies (UTIAS)
Alumni/Industry/Student Dinner
Great Hall in Hart House
Thursday, June 4, 5:30pm
Price: $30
For more information, please contact Joan DaCosta at dacosta@utias.utoronto.ca

Faculty of Applied Science and Engineering
Class of 9T3 & 9T4 and 9T8 & 9T9 Reunion - Friends and Family BBQ
Saturday, June 6, 11:00am - 3:00pm
Bahen Centre for Information Technology, 40 St. George
Price: $20 per adult, $10 per child
For more information, please contact Sonia De Buglio at 416-946-8143

Faculty of Applied Science and Engineering
8T9 - 20th Reunion Dinner
Thursday, June 11, 6:00pm
East Common Room, Hart House
Price: $60
For more information, please contact Mary Butera at 416-978-4941

---
WEBSITES OF INTEREST
University of Toronto

U of T Alumni and Friends
Faculty of Applied Science and Engineering
FACULTY DEPARTMENTS, DIVISIONS AND INSTITUTES
Departments
Chemical Engineering and Applied Chemistry
Civil Engineering
The Edward S. Rogers Sr. Department of Electrical and Computer Engineering
Mechanical and Industrial Engineering
Materials Science and Engineering
Divisions
Environmental Engineering and Energy Systems
Engineering Science
Institutes
University of Toronto Institute for Aerospace Studies (UTIAS)
Institute of Biomaterials and Biomedical Engineering (IBBME)