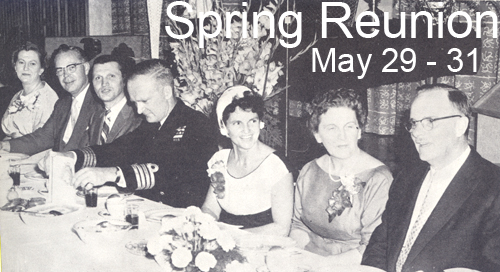 Pictured above: Guests enjoy dinner for Ajax Day, hosted September 25, 1958.


Spring Reunion May 29-31
For all Engineering graduates for the honoured years between 3T3 to 8T3, we hope you will join us in celebration of your class reunion. Events include a dinner dance, golf tournament, Hall of Distinction unveiling, and more.
Nano Engineering Expert Awarded $10M


Professor Ted Sargent, of The Edward S. Rogers Sr. Department of Electrical and Computer Engineering, was awarded a $10 million grant to develop nanotechnology that uses the infrared rays of the sun to provide power for virtually everything that now uses electricity ...
Chem Student Wins Figure Skating Gold for Canada
Jeffrey Buttle, a Chemical Engineering and Applied Chemistry student, won the men's world figure skating championship March 22. He is the first Canadian figure skater to win the championship since Elvis Stojko in 1997...
Faculty Appoints New Vice-Dean of Graduate Studies
Aerospace Studies expert, Professor Chris Damaren joined the Faculty of Applied Science and Engineering academic leadership team March 1 as the new Vice-Dean, Graduate Studies ...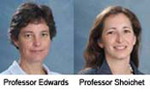 Two Killam Research Fellowships Awarded to Engineering
Congratulations to Chemical Engineering and Applied Chemistry Professors Elizabeth Edwards and Molly Shoichet (also a faculty member in the Institute of Biomaterials and Biomedical Engineering), who received prestigious Killam Research Fellowships ...

Skulematters Alumni Magazine
Watch for your copy of our alumni magazine in the mail the first few weeks of May. The theme for this issue is: Nano Engineering. If you would like to tell your classmates what you've been up to, please send your update (no more than 75 words) to: alumnews@ecf.utoronto.ca
Engineering Alumni Association Board Seeks Nominees
The Engineering Alumni Association advises the Dean, Executive Director Advancement and other staff and senior faculty on matters relating to the Faculty, the profession of engineering, the alumni and the relationship of alumni with the Faculty. The Board is seeking new members to assume four-year terms beginning July 1, 2008.
Members must have the ability and willingness to provide insight and constructive ideas that contribute to advancing the board's mission, and be prepared to commit time to the task. If you are interested in serving on the Engineering Alumni Association, or if you know of an alumnus or alumna who would be suitable to the position, please contact Sonia De Buglio, Associate Director of Alumni Relations: sonia@ecf.utoronto.ca
---
SAVE THE DATE


March 31
Professional Development Centre Course begins: Facilities Management Certificate Course

April 4
EngSci Alumni Dinner

April 6 at 11 a.m.
U of T's Asia-Pacific Graduation Ceremony
April 15 at 6 p.m.
Calgary Skule™ Alumni Wine Tasting in Calgary, Alberta. Email Ross Pitman (MIN 7T4) for more info or to register: www.skulealumni.ca
May 29 - June 1
RobotX Battlebots course
May 29
Skule™ Annual Golf Classic
May 30
Chemical Engineering Reunion Lunch
May 30
Spring Reunion Dinner Dance
May 31
Hall of Distinction Unveiling

May 31
Chemical Engineering Class of 7T8 30th Anniversary Reception and Dinner
---
WEBSITES OF INTEREST
Professional Development Centre
The Faculty of Applied Science and Engineering's lifelong learning centre: short courses, certificate programs, custom training geared to you. Explore your potential for professional advancement.
University of Toronto

U of T Alumni and Friends
Faculty of Applied Science and Engineering
FACULTY DEPARTMENTS, DIVISIONS AND INSTITUTES
Departments
Chemical Engineering and Applied Chemistry
Civil Engineering
The Edward S. Rogers Sr. Department of Electrical and Computer Engineering
Mechanical and Industrial Engineering
Materials Science and Engineering
Divisions
Environmental Engineering and Energy Systems
Engineering Science
Institutes
University of Toronto Institute for Aerospace Studies (UTIAS)
Institute of Biomaterials and Biomedical Engineering (IBBME)