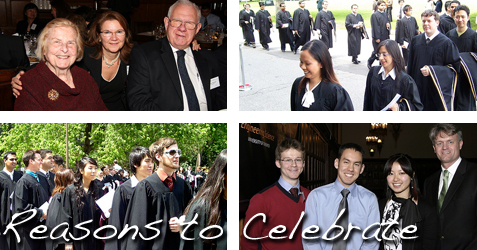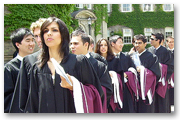 Returning to Memorable Stomping Grounds
Pablo Seferian (MIE 6T9) is one of several Engineering alumni returing to Skule™ in a few days for Spring Reunion 2009. Like other participants, he is eagerly awaiting the opportunity to meet up and reminisce with old friends...

Welcoming New Alumni
Next month, close to 1,000 students will embark on new journeys, as they graduate and join Engineering's esteemed alumni family. Tomas Ronis (MSE 0T8 + PEY) shares his future plans...

---
FACULTY IN THE NEWS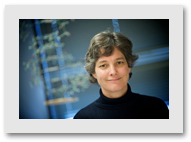 Ontario Genomics Institute Funds Research
ChemE Professor Elizabeth Edwards received $5M toward $10.9M budget to research sustainable alternatives to fossil fuels and novel bioremediation approaches...
Professor Receives Canadian Metal Chemistry Award
Stavros Argyropoulos (MSE) received the 2009 Canadian Metal Chemistry Award from the Metallurgy Division of the Canadian Institute of Mining, Metallurgy and Petroleum...
Celebrating Engineering Success
On Wednesday, April 22, 2009 approximately 130 Engineering faculty, staff and alumni gathered for the second Celebrating Engineering Success Reception to recognize Faculty award and research grant recipients and celebrate a successful academic year. Among the attendees were Morden Yolles (CivE 4T8), 2009 Engineers Canada Gold Medal, Walter Curlook (Metallurgy 5T0), 2008 Professional Engineers Ontario Gold Medal, and Paul Young, VP Research and CivE professor. Our Faculty members received 30% of all awards received by members of Canadian Engineering Faculties in 2008.

---
ALUMNI NEWS
Class of 8T9 – 20th Anniversary Networking Reunion
There's still time to register for the 20th Anniversary Networking Reunion Thursday, June 11, 2009. This is a great opportunity to catch up with friends from your Skule™ years. If you have questions, contact Keren Morehead at 416-564-5039 or Mary Butera at 416-978-4941.
Alumni Guiding the Way
Another successful year of the Skule™ Mentorship program, chaired by Caprice Boisvert (MIE 9T3), has come to an end. In its fourth year, a distinct pattern has emerged: many alumni who volunteer as mentors, participated as mentees when they were students. Also, several relationships formed between alumni and students continue well beyond the program. For more information about Skule™ Mentorship or to sign up as a mentor, visit our webpage.

Free Alumni Email Accounts
We want to keep in touch with you. U of T now offers a free alumni email account (your.name@alumni.utoronto.ca). Sign up now and stay connected. If you have an active UTORmail account (your.name@utoronto.ca), use the free, permanent forwarding service. These accounts may be disconnected within one year of graduation.
---
SAVE THE DATE
Spring Reunion 2009 | May 28 - June 1, 2009
UTIAS Industry/Alumni/Student Dinner | June 4, 2009
Class of 8T9 Networking Reunion | June 11, 2009

---
WEBSITES OF INTEREST
University of Toronto

U of T Alumni and Friends
Faculty of Applied Science and Engineering
FACULTY DEPARTMENTS, DIVISIONS AND INSTITUTES
Departments
Chemical Engineering and Applied Chemistry
Civil Engineering
The Edward S. Rogers Sr. Department of Electrical and Computer Engineering
Mechanical and Industrial Engineering
Materials Science and Engineering
Divisions
Environmental Engineering and Energy Systems
Engineering Science
Institutes
University of Toronto Institute for Aerospace Studies (UTIAS)
Institute of Biomaterials and Biomedical Engineering (IBBME)