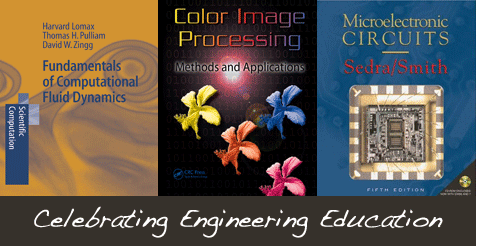 World Leader in Stem Cell Research Appointed New Director of Bioengineering Minor
Professor Peter Zandstra (IBBME), recent McLean Award winner and AAAS Fellow, assumed the role of Director of the Bioengineering Minor on Sept. 1, 2008...
Nominations for Ontario's Best Lecturer in Full Swing
The race is on to get nominations in to the TVO Best Lecturer 2009 Competition before the October 12 deadline. Students and alumni are being encouraged to nominate the professor they believe rises above the rest...
Award-Winning Engineering Strategies and Practice Course Seeks Seminar Leader Volunteers
Engineering Strategies and Practice at the University of Toronto is an innovative first-year Engineering course that is looking for professionals interested in volunteering their time to help educate first-year Engineering students. No instructional experience is necessary, merely a desire to work with students...
Three Engineering Professors Involved in Canada's Most Powerful and Energy-Efficient Supercomputer
Professors David Zingg, Director of UTIAS, Chris Yip (IBBME/ChemE), and Clinton Groth (UTIAS) are involved in this project, that will enhance research being conducted in aerospace engineering, chemical physics, high-energy physics, astrophysics, medical imaging, computational biology, and climate change prediction, among other areas...
Calgary Skule™ Chapter Event Open to All Engineering Alumni
The Chapter will be hosting a post Thanksgiving Beer and Bull session on Wednesday, October 22, 2008. All local Skule™ alumni are welcome to attend...
The Environmental Finance Workshop Series
The Centre for Environment is pleased to present the Environmental Finance workshop series in effort to promote dialogue with business, industry, government, academia and the private sector, on leading edge initiatives relating to sustainable investment. Taking place November 13 -14, 2008, this Environmental Finance series explores the growing materiality of Carbon Factors in the specific areas of: Carbon Markets, Project Finance, Risks, and Canadian and International Outlook. An in-depth knowledge of financial markets is not required...
The Annual Gull Lake Survey Camp Reunion
Dozens of Civil Engineering alumni made a pilgrimmage on Sept. 13, 2008, to Gull Lake for this year's Survey Camp Reunion...

---
HONOURS AND AWARDS

Professor Molly Shoichet Elected Fellow of Royal Society of Canada
Professor Molly Shoichet (ChemE) is one of nine U of T faculty to be elected Fellows of the Royal Society of Canada (RSC). Election to the RSC, founded in 1882, is the highest Canadian honour a scholar can achieve in the arts, humanities and sciences...

Clinical Engineering Award
Dr. Anthony Easty (ECE, IBBME), a highly-regarded leader in Clinical Engineering, is the inaugural recipient of the Excellence in Clinical Engineering Leadership (ExCEL) Award...
Staff Step Up on Behalf of University
Six Engineering staff received U of T Stepping Up Awards in recognition of their contributions to the University. Congratulations to: Helen Bright, Pierina Filippone, Sergei Metropolitansky, Austra Ozolins, Nelly Pietropaolo, and Georgette Zinaty...

---
IN THE NEWS

ChemE Student Jeffrey Buttle Retires as World Figure Skating Champion
Reigning world figure skating champ sets his sights on returning to his studies to complete his Chemical Engineering degree...
Engineer Our Health Care System to Include Whatever Helps
Professor Michael Carter (MIE) speaks to the Fredericton Daily Gleaner about making the best use of limited resources in our health care system...

Bugs Power Scientist's Drive
Chemical Engineering Professor Radhakrishnan Mahadevan's advanced understanding of the diet of micro-organisms could help solve the world's most pending environmental crises...
Here Comes the Sun (Again)
Nanotechnology pioneer Professor Ted Sargent (ECE) is developing a spray-on solar cell that will transform almost any surface into an energy collector...
Cellphone Application Wins Canadian Students $275K Prize from Google
Two University of Toronto Engineering masters students, Gary Pong and Jason Wong, and three University of Waterloo Engineering graduates are the group of Canadian Engineering students who have won a $275,000 US prize from Google Inc. for a mobile phone application that lets users calculate and adjust their travel carbon footprint...
Get Set - The Future Starts Now
Recently appointed Director of the new Cities Centre, Professor Eric Miller (CIV) talks to the Toronto Star about the urban nature of the 21st century...

---
SAVE THE DATE

September 29
Celebrating Engineering Education Wall Unveiling

October 4
Formula SAE - Sponsor Appreciation Day
October 17
Alumni Suds
October 18
Go ENG Girl
October 22
The Calgary Beer and Bull
---
WEBSITES OF INTEREST
Professional Development Centre (PDC)
The Faculty of Applied Science and Engineering's lifelong learning centre: short courses, certificate programs, custom training geared to you. Explore your potential for professional advancement...
University of Toronto

U of T Alumni and Friends
Faculty of Applied Science and Engineering
FACULTY DEPARTMENTS, DIVISIONS AND INSTITUTES
Departments
Chemical Engineering and Applied Chemistry
Civil Engineering
The Edward S. Rogers Sr. Department of Electrical and Computer Engineering
Mechanical and Industrial Engineering
Materials Science and Engineering
Divisions
Environmental Engineering and Energy Systems
Engineering Science
Institutes
University of Toronto Institute for Aerospace Studies (UTIAS)
Institute of Biomaterials and Biomedical Engineering (IBBME)