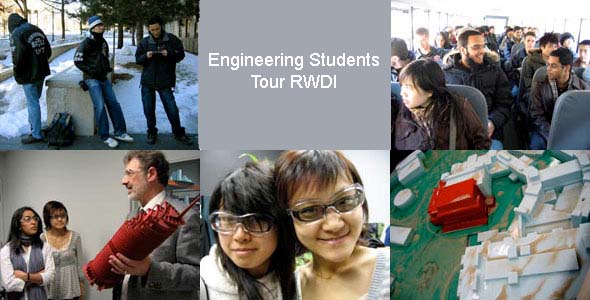 In February 2008, RWDI opened its doors to several dozen U of T Mechanical and Industrial Engineering students who were eager to explore the company's expansive and cutting-edge facilities in Guelph, Ontario. In 2007, RWDI, commemorated 35 years as a leading firm of consulting engineers and scientists that provides wind engineering, microclimate, ventilation, motion engineering, sustainable design and environmental air quality, noise and risk services to clients around the world.
After an opening address by RWDI Vice President, Anton Davies, (Mech. 7T2; MASc 7T4; PhD 7T7), RWDI staff, including Davies graciously escorted students through the various labs at RWDI. One of the highlights of the tour was the water flume, a qualitative physical modeling tool that provides a visual indication of snow accumulation, wind patterns, wind flows and emission paths on and around buildings. Scientist Denise Marshall flooded a scale model of the University of Saskatchewan, and students watched as a veritable snowstorm of tiny silica beads accumulated into snowdrift and wind patterns.
When asked how students could break into this exciting industry, Davies replied that many of the graduates who join RWDI have degrees in fields other than mechanical engineering. "Some are aerospace, structural, or environmental engineers, while others are mathematicians, physicists, or chemists. For us the key is a good student who has a willingness to learn. We'll take care of the rest."
Davies relayed that his time at U of T was "extraordinary." He became interested in fluid dynamics in his third-year of studies and focused on that area during his graduate studies. "Both my Masters and PhD were in the area of turbulent flow. I undertook studies in both a laboratory setting where I used wind tunnels, and the real world where I took turbulent flow measurements in the lower atmosphere." Davies discovered that his graduate work transferred nicely into his initial work at RWDI where his job was to create simulated small-scale real world wind flows in a wind tunnel. Davies surprised his student visitors when he revealed that RWDI's first wind tunnel fan came from the U of T Mechanical Building and that the fan was still in use.
The field trip ended with a number of engaging speakers, including Mike Flood, Industrial Applications; RWDI guest Ed Fowler, The Walter Fedy Partnership; Greg Thompson, Damping Systems; Scott Penton, Noise; Michael Roth, CFD, Ventilation and High Performance Buildings; and Alice Finoro from Human Resources. Students were introduced to a number of interesting fields where their engineering studies and skills could lead to upon graduation. Davies summed it up best: "Our area of specialization seems to be inherently interesting to most who come and we are delighted with this. Additionally, it presents an opportunity for students to start thinking about a career in the fields of wind engineering and sustainable design."