A Driving Force of Change

By Jen Hsu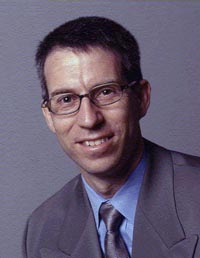 After four years of student involvement with the Engineering Society and The Cannon, Barry Levine (IND 8T4) walked through Convocation Hall and joined U of T's recognized group of alumni. His continued involvement with the Faculty of Applied Science and Engineering, however, is what sets him apart in this renowned pack.

For Levine it was never an issue of putting his mark on the Faculty. "I love giving back because the school brings such richness of opportunities. Anything I can do to further this brings me great pleasure," says Levine.

Shortly after graduating in 1984, Levine literally "wrote the book" on Skule™. He took it upon himself to compile Faculty photos and history for what was supposed to be a small token for the Engineering Society's centennial. His book, "A Century of Skill and Vigour," now remains the most comprehensive and accessible collection of Skule history and traditions, and continues to provide a valuable souvenir for alumni and primer for future students.

Throughout the 1980s and early 1990s, Levine immersed himself in several committees and innovations, such as the Engineering Alumni Council, College of Electors, Dean's Advisory Board, President's Council, and Skulematters magazine, just to name of few.

Often seen as the "voice in the wilderness," Barry Levine constantly encourages alumni and Faculty committees to view different perspectives and try new approaches for long standing issues. Regardless of any obstacles presented, Levine is always the first to passionately press for needed modifications.

"His persistence in the face of resistance has been remarkable and has ultimately led to important changes," says Engineering Professor Ron Venter.

The Arbor Award, established by U of T in 1989 acknowledges alumni volunteers for outstanding personal service to the university. Levine was recognized with this distinction in 1998. His extensive commitment to the University exemplifies the calibre of this award.

Between 2005-2007 alone, 18 alumni from the Faculty of Applied Science and Engineering have been decorated with this prestigious honour emphasizing the character of our Faculty.