UnERD: Undergraduate Students at the Forefront of Research and Technology
By Marc Pilon (MECH 1T0) for The Cannon
Another year and another summer full of young undergraduates trying to further their careers through in-depth research projects that span the entire summer. Working alongside professors and graduate students, these undergraduates learn practical Engineering experience and build strong foundations in specific fields.
The undergraduate Engineering Research Day (UnERD) was an opportunity for students to showcase their summer research work to colleagues, peers, and passersby. On Aug. 14, the Bahen Centre for Information Technology was alive with eager students who--proud of their summer accomplishments—were ready to present their research.
The day was composed of two parts: podium presentations and posters. The podium presentations made difficult and theoretical research easy to understand for anyone with some knowledge in the respective fields of study. Undergraduate lecturers captivated audiences with wondrous breakthroughs, invoked lively discussions, and brought some new topics to life.
The poster gallery in Bahen displayed the myriad of projects that had been worked on during the summer. Representing all disciplines of Engineering, everyone was able find a subject of research that was partial to their own interests.
In speaking with Ankeeta Tadkase (CHEM 1T0), a student whose research focused on a delivery system for Fibroblast Growth Factor to injured spinal cords, learned the opportunity UnERD presents for undergraduates. It was not only a chance to show everyone the hard work and dedication she put forth during the summer months, but it was also a chance to reflect on possible future endeavours.
Tadkase stated that her passion for Biochemical Engineering was strengthened through her participation with UnERD. She feels motivated to continue to help people with severe injuries. One of the main highlights of UnERD was the passion and intensity of the students who care deeply about their research.
As the day came to a close, an awards ceremony was held to honour the students who had shown impressive skills in communicating their research. All of the winners were pleased to see that their summer efforts had paid off. After winning in the Podium Presentation category, Rophina Li stated, "Practicing was the only way to truly do a memorable and exciting podium presentation."
The daylong event was full of interesting topics, anticipation, and excitement for everyone who attended the successful event. Many who attended were amazed at the research that happens daily at U of T. UnERD showcased the prominent research happening in our Faculty and our promising undergraduate Engineering students.

UnERD Awards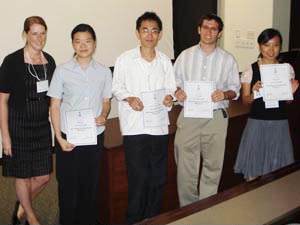 (L-R) Shannon Osborne, External Liaison, Recruitment & Advancement (MIE), Rophina Li, Charley Wang, Adam Zarek, Millicent Lai.
Podium Presentation Winners
Millicent Lai
Rophina Li
Satyam Merja
Kenneth Tse
Charley (Tianyi) Wang
Adam Zarek

Poster Presentation Winners

Miaad Aliroteh
Brendan Cochrane
Jonathan Lee
Georgios Panagiotoglou
Sameer Shaikh
Ankeeta Tadkase(