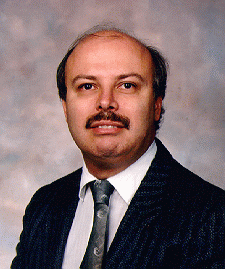 Professor Andreas Mandelis, of the Department of Mechanical and Industrial Engineering, has received the 2009 Medal for Outstanding Achievement in Industrial and Applied Physics from the Canadian Association of Physicists (CAP). This medal is intended to recognize and promote the creativity of scientists working in Canada in the area of industrial and applied physics. The award particularly recognizes the successful application of physical principles to the creation of practical innovations, as demonstrated by novel/commercializable products or processes, and/or patents.
A pioneer in diffusion-wave sciences and associated technologies, Professor Mandelis co-developed photopyroelectric spectroscopy, a thermal wave technique that is now used worldwide in research and practical applications such as food science, semiconductor properties, material science and agricultural and environmental monitoring. He also pioneered the Thermal-Wave Resonant Cavity, which scientists now use to gain new insights into molecular thermophysics, kinetic theory and the infrared emissivity of fluids. Professor Mandelis has authored more than 260 scientific papers in refereed journals. He is the Editor-in-Chief of the book series Progress in Photothermal and Photoacoustic Science and Technology. In 2006 Professor Mandelis was elected Fellow in the Academy of Sciences of The Royal Society of Canada; Canada's highest honour for scientists. He is also a Fellow of the American Physical Society and the Society for Optical Engineering.
"Professor Mandelis' contributions to thermophysics are extraordinary", said Cristina Amon, Dean, Faculty of Applied Science and Engineering. "I am delighted that he continues to be recognized for his path-breaking research in this field".
Professor Mandelis will be presented with his medal at the CAP Congress Banquet on June 9, 2009 in Moncton, New Brunswick. His citation will appear in the July-September issue of Physics in Canada.