Sarah Cowan, External Relations Officer
Division of Engineering Science

Sarah joined the Faculty as the External Relations Officer, Division of Engineering Science, in March 2008. She is responsible for recruitment initiatives, special events and alumni relations under the direction of Ronika Srdic, Director, and Will Cluett, Chair. Prior to assuming her new position in the Faculty, Sarah worked as a Student Services and Admissions Manager at The Royal Conservatory of Music's Glenn Gould School (GGS) where she was responsible for external relations, recruitment, alumni/donor relations, counselling, special event and concert planning, among other responsibilities. Sarah is a graduate of York University (BA in Cultural Studies, with a focus in Arts Administration).

---
Adam Fox, Communications Coordinator

Adam assumed his new role in March 2008. As the Communications Coordinator, Adam will work to develop and produce a variety of communications and marketing information vehicles and external relations, including electronic newsletters, Faculty display boards, consulting on correspondence, email mass communications, maintaining the Faculty's web presence including social media, coordinating and creating online and print publications, technical writing, preparing presentations and more. Before joining the University, Adam worked in corporate communications and public relations, most recently working for DDB Canada. Adam is a graduate of the University of Western Ontario with a BA in Information and Media Studies and he holds a post-graduate certificate in Public Relations from Humber College.

---
Kelly Hayward, Program Manager, Emerging Communications Technology Institute
The Edward S. Rogers Sr. Department of Electrical and Computer Engineering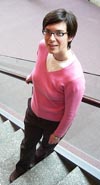 Prior to joining the Faculty February 2008, Kelly worked at U of T's Resource Centre for Academic Technology, where she provided support and education for faculty, staff and graduate students who wanted to incorporate technology into their teaching and learning. Kelly is now the Program Manager for the Emerging Communications Technology Institute (ECTI), which is part of The Edward S. Rogers Sr. Department of Electrical and Computer Engineering. ECTI is an interdisciplinary, inter-faculty research institute that provides access to state-of-the-art research facilities in the areas of nanotechnology and nanofabrication, photonic materials and devices, micro and nanoelectromechanical systems and more. Kelly manages the operations of the ECTI Office, including finances, communications, planning, grant and report writing and supporting ECTI's lab managers.

---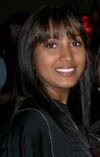 Trisha Hosein, Graduate Office Assistant
The Department of Chemical Engineering and Applied Chemistry
Trisha, Graduate Office Assistant, Department of Chemical Engineering and Applied Chemistry, joined the Faculty in January 2008. As the Graduate Office Assistant, Trisha provides administrative assistance to the Graduate Office and the Associate Chair of Graduate Studies. Before joining the Graduate Office, Trisha worked as the Outreach Programs Coordinator in the Engineering Student Recruitment and Outreach Office.


---
Stanislav Pejovic, Research Assistant
Department of Civil Engineering



Although Stanislav joined the Department of Civil Engineering in February 2008, his activity and association with the University of Toronto has been ongoing since 2003. In his new role, which is under the direction of the Chair of the Division of Environmental Engineering and Energy Systems, Stanislav will conduct research and prepare reports on a variety of topics, including the energy and electricity crisis in Ontario and all over the world; research and development emphasizing the redevelopment of lost knowledge and experience; and flow analysis, including pulsatile flow resonance and stability for various technical and medical systems. Stanislav was born in Belgrade, Serbia, and received his PhD from the University of Belgrade, where he was a Professor until 1998. He has been teaching at the University of Toronto and Ryerson University since 2002. He has lectured on specialized subjects related to energy, thermodynamics, physics, fluid mechanics, design of power plants and hydraulic transient analysis (waterhammer, vibrations, hydraulic vibrations, stability, resonance in technical systems and human blood vessels) as a visiting Professor at the University of Singapore, University of Hong Kong, University of Sarajevo, and the University of Niš, to name only a few. For more information, please visit http://individual.utoronto.ca/StanPejovic/.