If your computer does not display the file below, please visit the web version:
http://www.enews.engineering.utoronto.ca/enews6.html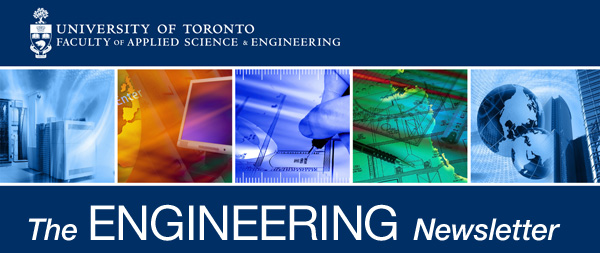 Volume 1 // Issue 6 // February 19, 2008
::::
In This Issue:

Dean's Message // What's New? // Engineering Research Recieves $17M from Ont. Government // Honours and Awards // Research Update // Events // New Faces // In the News // Skule™ Stories // Newsletter Archives //
Last week I was joined by several members of the Faculty's leadership team and the Engineering Society as we hosted our first Town Hall Meeting for undergraduate students. This event provided us with an opportunity to share our new initiatives to improve students' experiences and, more importantly, it served as a forum for our students to ask us questions, hear our responses and voice their opinions and concerns.

Over 80 students were in attendance, and in response to issues raised, we were able to provide information on a number of services, which highlighted the need for greater communication about our existing resources. Additionally, we noted a number of questions and suggestions for improvements, some of which are beyond the immediate realm of Engineering. We look forward to getting back to the students who attended this meeting regarding ways in which we can incorporate and build upon their input. I am extremely pleased with the turnout at this inaugural event, and I look forward to future Town Hall meetings.
National Engineering Week in Canada is Feb. 23-Mar. 2. Join engineers across Canada in this annual celebration of our profession, which will raise public awareness of engineers' contributions to the quality of life and tell young people about the opportunities and excitement of an engineering career.
EngSci in the Arctic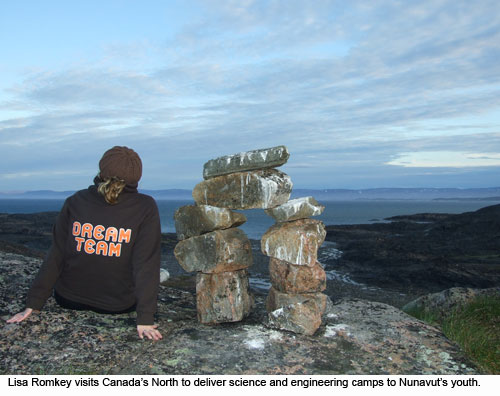 EngSci in the Arctic
Lisa Romkey, Lecturer, Curriculum, Teaching and Learning, participates in an Aboriginal outreach program and broadens her understanding of students and learning through a trip to Canada's North ... (more)
Engineering Research Receives $17 Million from Ontario Government
Congratulations to the Engineering Professors who received funding from the Ontario Research Fund Research Excellence program, supported by the Ministry of Research and Innovation:
-Warren Chan, IBBME
-Dimitrios Hatzinakos, ECE
-Nazir Kherani, ECE
-Robert Andrews, CIV
-Nasser Ashgriz, MIE
-Reza Iravani, ECE … (more)
National Engineers Week
This year, National Engineering Week in Ontario takes place from Feb. 23-Mar. 2, with celebrations across the province and numerous activities planned on the University of Toronto campus, which include activities for youth, students and faculty ... (more)

Safety First at Engineering
Engineering Technician, Len Roosman, Department of Mechanical and Industrial Engineering, introduces a web-based lab safety course for new graduate students ... (more)
Faculty Energy Research Event
On Friday, Feb. 22, faculty and graduate students interested in energy-related research will meet at the Faculty Club to learn more about energy-related research happening in the Faculty and exchange information and ideas with their colleagues ... (more)
U of T Professor and Alumnus Win Award for Innovation
Congratulations to Professor Emeritus James W. Smith, Department of Chemical Engineering and Applied Chemistry, and Carmine Fontana (8T1), VP of Gas Processing for Eco-Tec Inc., on receiving the Canadian Manufacturers and Exporters 2007 Award for Innovation.

The innovation that Professor Smith and his team created is a spinoff from Department-based research that removes hydrogen sulphide from industrial, municipal and agricultural sources. Eco-Tec Inc. is a successful employee-owned and ISO-certified Canadian manufacturer of environmentally important equipment.
Feb. 22 - Faculty Energy Research Day
Feb. 25 - Faculty Council
Feb. 27 - A Conversation with Michael Dell
Mar. 12-15 - Skule™ Nite

Please visit: Faculty's Events Calendar for all of our events.
We welcome some of our new administrative staff members, some are new to the Faculty, others are assuming new roles within the Faculty ... (more)

Veena Kumar, Research Assistant
Department of Mechanical and Industrial Engineering


Interview with Debbie Chan
Meet the Co-Chair of this year's National Business and Technology Conference (NBTC) and third year Industrial Engineering student, Debbie Chan ... (more)

Always Stay on your Best Skule™ Behaviour
While in school, your teachers likely told you to always stay on your best behaviour. Did you ever wonder if teachers had to follow the same rules of conduct? Professor Kim Pressnail, Department of Civil Engineering, relays a story that illustrates why it's always a good idea to stay on good behaviour...even while paddling in Algonquin Provincial Park ... (more)

Ethical Dilemma: Should I Stay or Should I Go? Don't be Evil for your Employer
Professor Doug Reeve, Chair, Department of Chemical Engineering and Applied Chemistry,
The Globe and Mail ... (more)
You Kids and that Darn Rock
Professor Emeritus Hans Kunov, IBBME
The Record ... (more)
U of T Gets $23.3M in Tech Funding
CBC News ... (more)
Rolling Lab Measures Air Pollution
Graduate Student Maygan McGuire, Department of Chemical Engineering and Applied Chemistry
Toronto Star ... (more)
A Dash of Salt Capable of Battling Global Illness
Professor Levente Diosady, Department of Chemical Engineering and Applied Chemistry
The Globe and Mail ... (more)
Inboxed In
Associate Professor Shahrokh Valaee, The Edward S. Rogers Sr. Department of Electrical and Computer Engineering
Ottawa Citizen ... (more)

Fluid Melodies


Professor Steve Mann, The Edward S. Rogers Sr. Department of Electrical and Computer Engineering WaterShapes ... (more)


Professor Doug Perovic Featured in Recruitment Website on Nanoengineering
Professor Doug Perovic, Chair of Materials Science and Engineering
Bridges website ... (more)

Did you miss out on a past issue of the Engineering Newsletter? Now you can revisit past articles and catch up on great Faculty news any time … (more)
The Engineering Newsletter is a twice-monthly summary of key headlines, events and opportunities for faculty and staff in the Faculty of Applied Science and Engineering. If you have questions or comments, please contact us: couture@ecf.utoronto.ca.