If your computer does not display the file below, please visit the web version:
http://www.enews.engineering.utoronto.ca/enews24.html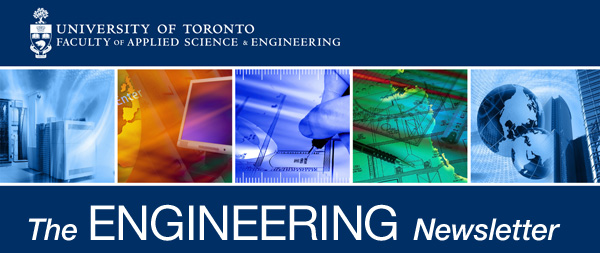 Volume 2 // Issue 9 // January 14, 2009
::::
In This Issue:

Message from Dean, Cristina Amon // Q & A about PEY & ECC // PEY in Spain // Engineering Ranked #1 in Canada #10 in World Again // MIE Job Ad // Economic Outlook // Honours and Awards // U of T Governance // Events // In the News // Archives //
Welcome back and Happy New Year! I hope that the second term is off to a good start for all of you.
Our Professional Experience Year (PEY) ranks high among the unique offerings making our Engineering program so strong and employers so interested in our students. Indeed, over 50% of third year students are participating in PEY in 2008-2009. We need to spread the word, however, for PEY to become better known among prospective students. This issue of the Engineering Newsletter focuses on this distinctive program, introducing some of the student participants and highlighting their international experiences. Given the increasing globalization of engineering, our graduates must be able to work effectively with people from a variety of cultures and backgrounds. PEY currently offers placements in 16 countries outside Canada and we are actively seeking to expand the opportunities for our students both to study and to experience professional engineering work abroad. Students placed within Canada, however, can also almost always count on international exposure through the subsidiaries, clients and suppliers of their employers. Our PEY program, together with our location in the heart of Canada's – perhaps the world's – most diverse city, provide extensive opportunity for our students to hone the skills necessary to become global engineers.
As this Newsletter illustrates, the busy life of our Faculty has fully resumed. I encourage you to avail yourself of the many ways to participate in our communal life, some of which are presented here – attending a public lecture, volunteering for positions in University governance and enjoying the festivities of Godiva week and the upcoming EngSoc social events.
Celebrating our PEY Internship Program and Engineering Career Centre

PEY Student Puts Passion to Work at Halsall Associates
During her PEY, CivE student Eva Chau pursues her passion to create a more sustainable future through smart engineering ... (more)
EngSci Student Goes to Spain for PEY
Geoff Frost writes about his PEY experience in Spain and tells us what he thinks is the best part (and hidden secret) of PEY... (more)
Q & A with PEY and ECC Leadership
Celebrating their 30th anniversary, the Professional Experience Year Internship Program (PEY) and Engineering Career Centre (ECC) provide students with skills for career success. Learn more about how our PEY and ECC programs benefit our students and engineering employers ... (more)
55% of third-year students opted for PEY in 2008-2009.
Highest PEY salary in 2008-2009: $62,400/year
85% of third-year engineering students utilize the services of the PEY/ECC office.
PEY graduates earn about 20% higher starting salaries in their first job, compared to non-PEY graduates.
What Makes PEY Unique? Q & A with Vice-Dean Undergraduate Studies Grant Allen
Why do you think our PEY Internship Program is extraordinary? Tell us and we'll post your answers. Read Professor Grant Allen's answers here ... (more)
EngSci Students in Singapore for Summer Research Internship
Three EngSci students travelled to the National University of Singapore, two performed research for a solar powered golf buggy, and one worked in the Plasmonics and Advanced Imaging Technology Lab ... (more)
Learning to Lead by Doing: An Interview with EngSoc President Jonathan Asmis
Even though politics was never a part of his plan, Jonathan Asmis learns to take risks and make mistakes through trying and trying again ... (more)

U of T Engineering Ranks 10th Overall in the World
Engineering at U of T is ranked #1 in Canada and 10th overall in the world by the 2008 U.S. News & World Report and Times Higher Education-QS World University Ranking..... (more)
Electronic Letterhead Now Available for Engineering
Following the launch of new U of T Stationery in 2008, electronic letterhead is now available for all faculty and staff via the U of T Portal ... (more)

Engineering's Skule™ Points Program a Success
More than 1,000 Engineering students swiped their T-Card for points at extracurricular activities since the Skule™ Points program began in the fall. Now students can also access their points online, retrieve a list of extracurricular participation and redeem points for rewards ... (more)
Message from Dean, Cristina Amon
As we begin 2009, the gloomy economic outlook and its impact upon us professionally and personally are very much on all of our minds. I draw to your attention President David Naylor's message to the community in which he outlines some of the challenges for the University of Toronto and the position of strength from which we face them. I shall continue to keep you informed as the budgetary situation of the University and Faculty for the coming year become clearer and know that I can rely on your continued cooperation and support in dealing with the effects of the economic downturn while continuing our exceptional work.
Call for Nominations: Engineering Alumni Awards of Distinction 2009
The Engineering Alumni Awards celebrate outstanding contributions to engineering and society by Engineering alumni. Nominate one of our distinguished alumni by Jan. 30, 2009 ...
(more)
Engineering's New Administrative Staff Awards Committee
Following the excellent work of the Committee on Nominations for Honours and Awards,
established in March 2007, this new committee will recognize outstanding contributions among administrative staff in Engineering ... (PDF)
Advertisement for the Position of Chair, MIE
As Professor Tony Sinclair's first term as Chair ends June 30, 2009, nominations and applications are invited for the position of Chair, MIE ... (PDF)

Call for Nominations
Have you considered volunteering your time to participate in the governance of the University of Toronto? Can you identify faculty members, administrators and students who will provide strong representation for Engineering on the Governing Council and its Academic Board? If so, please see the attached PDF announcement of vacancies and the procedure for nominating candidates ... (PDF)

For Those Who Value Flying ...
UTIAS Director David Zingg writes an opinion article about reducing carbon dioxide emissions for air travel ... Globe & Mail
Filmmaker Becomes Eyeborg
ECE Professor Steve Mann helps a filmmaker create a prosthetic eye with a video camera inside ... Sudbury Star ... London Free Press
Breakthrough Toy Can Read Your Mind, Move Objects
Mattel Inc. created a game that can read a child's mind and use thoughts to move a foam ball through an obstacle course. ECE Professor Steve Mann is quoted ... Canwest News ... Montreal Gazette
Tiny Particles Lead Medicine From Science Fiction to Nanorobots Fighting Cancer
IBBME Professor Warren Chan's research using nanoengineering to conquer cancer was featured here and also in the Canadian Press ... CTV.ca ... CTV News ... Toronto Star ... Oilweek
Did you miss out on a past issue of the Engineering Newsletter? Revisit past articles and catch up on great Faculty news any time … (more) Catch up on the latest Engineering news on the Engineering homepage.
The Engineering Newsletter is a twice-monthly summary of key headlines, events and opportunities for faculty and staff in the Faculty of Applied Science and Engineering. If you have questions or comments, please contact us: kate@ecf.utoronto.ca.