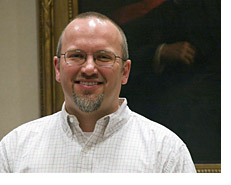 Since joining the University of Toronto as an Assistant Professor in 2005, Professor Craig Simmons has taught in the Department of Mechanical and Industrial Engineering, the Institute of Biomaterials and Biomedical Engineering, and is cross-appointed to the Faculty of Dentistry where he teaches Biomaterials Science.
He is one of many highly talented graduates of a Canadian university who began his research career in the U.S., enjoying great success as a post-doctoral fellow at the University of Michigan and the University of Pennsylvania. Rather than accepting appointment to one of the leading American universities, he elected to return to Canada and to join the faculty of MIE.
Professor Simmons balances research and teaching superbly, involving students in all aspects of his research and aligning course material to ongoing research. His dedication to research mentorship has enabled him to attract some of the brightest graduate students in Canada, the U.S. and Europe.
He served as interim Biomedical Option Chair in Engineering Science in 2007, and currently serves on the IBBME curriculum committee. Professor Simmons is co-author of the textbook Introductory Biomechanics: From Cells to Organisms.
"Craig has made an enormous contribution to the teaching and research community in a very short time," said Cristina Amon, Dean, Faculty of Applied Science and Engineering. "He generously contributes his time and talent to encouraging and mentoring students. We are delighted to recognize his dedication to enhancing Engineering education with this award, and appreciate his contributions in providing an outstanding student experience."
Professor Simmons was presented with this award at Faculty Council on May 27, 2009.