If your computer does not display the file below, please visit the web version:
http://www.enews.engineering.utoronto.ca/enews33.html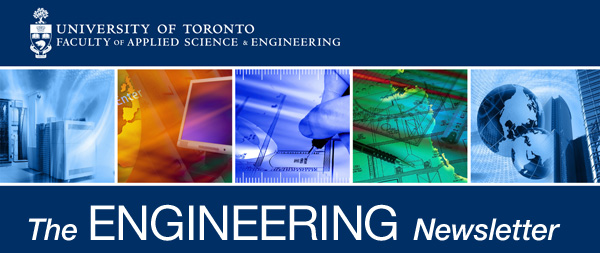 Volume 2 // Issue 18 // June 11, 2009
::::
Spring Convocation is one of the most joyous days of our academic year as we celebrate the success of our graduating students and extend to them our congratulations and good wishes as they move on to their next level of achievement. Members of the Class of 0T9 show every promise of becoming global Engineering leaders, ready to make meaningful contributions to improving the well-being and prosperity of our world. We are extremely proud of them and I extend my gratitude to all members of our community who made their student experience so worthwhile.
The traditional University of Toronto academic procession provides us the opportunity to be part of this great day and I encourage you to join us at one or both of our ceremonies on Friday, June 19, 2009. The ceremonies take place at 10:00 a.m. and 2:30 p.m. and those joining the processions are required to arrive at the Council Chamber in Simcoe Hall one-half hour in advance. If you did not complete the on-line procession RSVP form, please email your name, job title and the ceremony in which you would like to participate to terry.johnston@utoronto.ca.
Receptions will follow the convocations from 11:30 a.m. – 1:30 p.m. and 4:00 p.m. – 6:00 p.m. at Hart House. I look forward to seeing you there!
Feature

Welcoming New Alumni
Celebrate another year of academic success with stories of 10 dedicated Engineering students who graduate in June ... (more)
Grad Students Win Major National Funding Awards
Michael Helander, MSE, and Daniel McLean, IBBME, received prestigious Vanier Scholarships, which are lauded as Canada's answer to the Rhodes Scholarship ... (more)
10 Questions with Engineering's Vanier Scholars
Governor General's Academic Gold Medal Award
PhD student Edmond Young (MIE, IBBME) received this major award for academic excellence ... (more)
Engineering PhD Programs Get Major Boost
Three innovative programs were recognized with $1.65M each by NSERC's CREATE program ... (more)
New MEng/EPP Certificate
MEng enhanced by a certificate confirming completion of a series of courses in Engineering and Public Policy ... (more)
Government Invests in Innovation Centre for the Canadian Mining Industry
Infrastructure funding of $11M was announced May 25 by the federal and provincial governments in support of our $20M mining centre … (more)
Engineering Students Create iPhone App
Three ECE students recreate the classic arcade game Lode Runner as iPhone application … (more)
Spring Reunion Roundup
Honoured classes returned to their Skule™ on May 30, 2009, to reconnect with old friends ... (more)
Engineering a Successful Teaching Experience
U of T hosted Ontario university initiative to support new professors ... (more)
RobotX Review
A secondary school competitor recaps RobotX: Battlebots 2009 ... (more)
Request for Feedback
Divisional Space Review
A comprehensive Divisional Space Review chaired by Professor Emeritus Ron Venter and ably supported by Steve Miszuk, our Director of Planning and Infrastructure, and a hard-working committee is now complete. It has determined that of the 62,333 net assignable square metres (nasm) of space occupied by our Faculty in 16 buildings on the St. George Campus and in Downsview, 27% are adequate, 69% need attention and 4% are poor. Our shortfall of space according to COU guidelines is 4,700 nasm. Given that we are a research-intensive Faculty, the actual shortfall is about 11,500 nasm. We face the additional challenges of little room available for expansion on existing sites and virtually no swing space.

The report includes a comprehensive set of recommendations to address these challenges. We invite input of all members of our Faculty. The penultimate version of the report is posted here and comments may be sent to dean@ecf.utoronto by Thursday, June 25, 2009. Please take the time to review this document as involvement by all members of Faculty will help ensure a strong and effective final report.
Teaching and Staff Awards
Congratulations to Renzo Basset, CivE (Agnes Kaneko), John Carter, ECE (Faculty Teaching Award), and Craig Simmons, MIE (Early Career Teaching Award).
Dean Cristina Amon Recognized for Outstanding Contributions to Field of Heat Transfer
The 2009 ASME Heat Transfer Memorial Award to be conferred upon Cristina Amon ... (more)
Honorary Degree in ChemE
Former research associate in ChemE, Dr. Frank Frantisak, will receive an Honorary Degree at the June 19 Engineering convocation. Among many other achievements, he holds the Order of Canada ... (more)
Celebrating Engineering Success
On April 22, 2009, approximately 130 Engineering faculty, staff and alumni gathered for the 2nd Annual Celebrating Engineering Success reception to recognize Faculty award and research grant recipients and to celebrate another successful academic year. Among attendees were Morden Yolles (CivE 4T8), 2009 Engineers Canada Gold Medal, Walter Curlook (Metallurgy 5T0), 2008 Professional Engineers Ontario Gold Medal, and Paul Young, VP Research and CivE professor. Our Faculty members received 30% of all major awards among Canadian Engineering Faculties in 2008.
Final Faculty Council Meeting of 2008-2009
Several major new initiatives approved by Faculty Council ... (more)
We have recently appointed a number of new administrative staff across the Faculty. While we have not yet been able to reach everyone, we are pleased to profile the following staff ... (more)
MIE Lab Support Engineer Tom Bernreiter (MIE 0T2) was married to fellow Engineering alumna Carolyn Machnik (MIE 0T6) on May 13, 2009 in Jamaica. Congratulations and best wishes to the happy couple.
Sarah (Cowan) Steed, EngSci's External Relations Officer, was married Nov. 1, 2008 in St Lucia. Congratulations to Sarah and husband Grant.
Lily Pang, Admissions and Awards Counsellor, Undergraduate Admissions Office, gave birth to Kate Chung May 27, 2009, who weighed in at 6 lbs 9 oz and is doing very well.
Discovery Channel picks up Science Rendezvous
The Daily Planet showcased the annual fair on May 12 featuring ECE Professor Steve Mann, ChemE grad students as historical scientists, and MIE student Ellen Turner showing off the Goldberg Machine. Watch the clip here.
Did you miss out on a past issue of the Engineering Newsletter? Revisit past articles and catch up on Faculty news any time … (more). Catch up on the latest Engineering news on the Engineering homepage.
The Engineering Newsletter is a twice-monthly summary of key headlines, events and opportunities for faculty and staff in the Faculty of Applied Science and Engineering. If you have questions or comments, please contact us: barbara@ecf.utoronto.ca.

Follow us on Twitter: http://twitter.com/uoftengineering