9 Skule™ Stories: 0T8

By Dani Couture

Celebrate another year of academic success by reading the stories of nine of our dedicated Engineering students who will graduate in June.


---
Vanessa Bowker
Chemical Engineering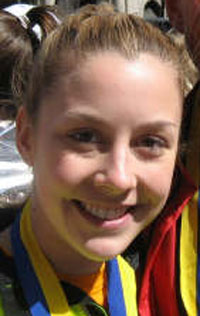 Vanessa's grade 12 physics teacher was a Skule™ graduate and encouraged her to enrol in Engineering at U of T. Initially, she had accepted an offer to study Biology at U of T; however, after attending the Engineering Orientation in June, she met so many people who made a lasting impression on her that she changed her mind. "I changed my decision right then and there. I have never regretted it."
In addition to her studies, Vanessa led a rich and varied undergraduate experience. A five-time marathon runner, she ran in the 2008 Boston Marathon and attributes her academic success to running. "It is my release from all the stress associated with the high-work load of Engineering." Between her studies and marathons, Vanessa still found time to give back. In the Saturday Morning Program she mentored at-risk Toronto students and she has been a member of the U of T Canadian Society for Chemical Engineers Student Chapter since 2006.
Upon graduation, Vanessa looks forward to her job at Xstrata Copper where she will work at the Kidd Metallurgical Site in Timmins, Ontario. "I look forward to a career in the mining industry, given the recent boom and the opportunity to travel and work in exotic places."
---
Bryan Chan
Computer Engineering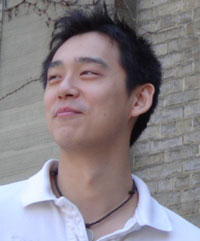 Bryan enrolled in Computer Engineering at U of T to nurture his curiousity on "how things work," and four years later, he's ready to graduate. When asked what his favourite Skule™ memories were, he replied, "Working in group projects." Working collaboratively on group projects allowed Bryan to meet other like-minded students and build lasting friendships.
Connections, both personal and professional were some of the reasons that Bryan chose to study Engineering at U of T. "I knew that U of T was a well respected school with plenty of industry connections, which is definitely useful when you're looking for a job. Also, the 16 months of the PEY program provided me with the work experience that the industry was looking for." It looks like the connections paid off—after graduation, Bryan will join Deloitte Consulting as Business Technology Analyst.


---
Wen Jiang
(PhD) Biomaterials and Biomedical Engineering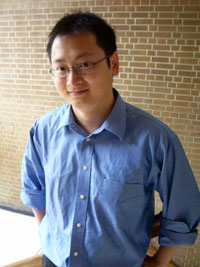 When asked why he chose to enrol in Engineering at the University of Toronto, Wen didn't hesitate: "This is really a no-brainer! U of T has the strongest Engineering program in Canada and consistently ranking in the top Biomedical Engineering programs across North America." But more importantly, he feels, the IBBME program at U of T is well-rounded and with an impressive list of principle investigators with expertise in a wide variety of disciplines.
When he first stepped onto the campus as a new student, the historical buildings fascinated him. "Everywhere I went, I saw portraits of great scientists, past and present, who have contributed significantly to the advancement of our health and society. At that point, I knew that I would enjoy my stay here at U of T, and indeed I did."
Not yet ready to leave academia behind, Wen plans to pursue post-doctoral training to further his knowledge in applying nanotechnology to cancer treatments.
---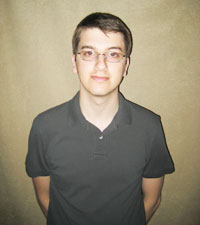 Adam chose to attend Engineering at U of T because "it's the best school for Civil Engineering and the University is very prestigious."
His fascination with major infrastructure projects led him straight into Civil Engineering.
Reflecting back on his years as an undergraduate student, Adam relayed that Survey Camp was his favourite Skule™ memory. "Survey Camp allowed me to get to know most of the students in my program a lot better. I became close with many of them because of it."
After Adam accepts his diploma, he'll return to the University in September to work on a Master's Degree with Professor Kim Pressnail. In the meantime, Adam will be working at Halcrow-Yolles in the Façade Group. When asked if he would be attending convocation, he enthusiastically replied, "I wouldn't miss it for anything! The last four years have been dedicated to the goal of graduating."
---
Nimeesha Kuntawala
Engineering Science (Major in Aerospace Engineering)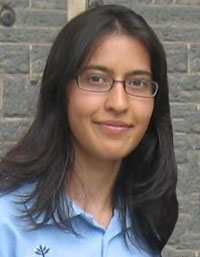 Participating in the Blue Sky Solar Racing Team at the World Solar Challenge in 2007 is one of the highlights of Nimeesha's undergraduate experience. "The race took place in Australia and was a unique, once in a lifetime opportunity, during which I learned the true meaning of 'teamwork'." In the two years that she has been with the team, she has had the opportunity to work on the fabrication, mechanical and advancement teams.
Nimeesha has always enjoyed an interest in math and science, and she found that Engineering brought these two interests together in a way that challenged her. When asked why she chose to enrol in Engineering Science, she replied, "I believed Engineering Science would challenge me in a way that most other programs at other universities would not, and it would give me the option to pursue a career in the field of Aerospace."
In the fall, Nimeesha plans to pursue graduate studies.
---
Amir Manbachi
Engineering Science (Major in Electrical Engineering)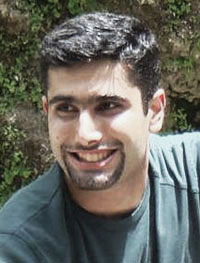 Amir chose to enrol in Engineering at U of T because, in his words, "As a leader in the field of Engineering and Applied Sciences, U of T could provide me with the necessary fundamental training, experience and motivation to fully develop my academic potential as well as an opportunity to build a network for a future career." He was particularly drawn to Engineering Science because of the program's extensive resources and strong collaborative and interdisciplinary approach to research.
The Iron Ring Ceremony was the highlight of Amir's undergraduate experience. "It felt great to be ready to be responsible [to] the real world after several years of being trained by leading edge researchers."
In addition to having papers published in international scientific journals and tutoring in Toronto high schools, Amir has been a member of the Chakavak Ensemble for several years, whose music has been played on CBC Radio One.
Following graduation, Amir plans to enrol in graduate studies. "The prospect of contributing to Engineering and Science is a rewarding and challenging task and staying in academia will be both exciting and satisfying.
---
Suniya Quraishi
Chemical Engineering (Environmental Engineering Program Option)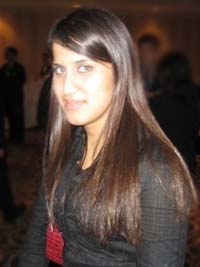 Like many Engineering students, Suniya was interested in math and science in high school. Studying Engineering was a natural progression of her interests. "I like the fact that it's a discipline that will enable me to continue learning for the rest of my life. Most importantly, it will be a fulfilling career path because the work of Engineers is essential in helping the public maintain a high standard of living."
Growing up, Suniya was always taught to conserve resources and she had a keen interest in the environment, which are some of the reasons she enrolled in the Environmental Option in Chemical Engineering. "By taking the Environmental Option I will hopefully have the opportunity to make a difference," said Suniya. "In the future, I think it is crucial that many students enrol in environment related disciplines because if more people work for the environment the government and policy makers will be forced to make greener policies that will result in a healthier planet."
After convocation, Suniya plans to pursue a Master's Degree in Chemical Engineering at U of T.
---
Trisha Roy
Materials Science and Engineering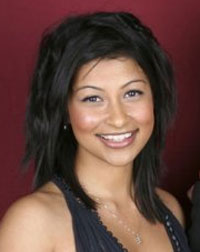 When considering her post-secondary education, Trisha chose Engineering at U of T because of the flexibility of the curriculum and the "enormous" amount of extracurricular activities and research opportunities that undergraduate students could be involved in. Trisha chose to study Materials Engineering specifically because she wanted to study Nanoengineering and Biomedical Engineering. "The small class size and close-knit culture really appealed to me."
President of the Club for Undergraduate Biomedical Engineering (2005-2007) and Innis Residence (2006-2007), and mentor, Trisha recalls her third year of studies being the most trying of her undergraduate degree; however, she fondly recalls an impromptu slumber party in the MSE Common Room after a particularly trying week of studies. "We just ate lots of food, played games and talked until seven in the morning to really unwind. It was a great bonding night for our class, one I think we'll all remember."
After attending the Convocation ceremonies in June, Trisha will continue her studies in medical school at U of T. "I always aspired to go to medical school and I believed that Engineering would be an excellent avenue to get there. As technology plays an ever increasing role in healthcare, I believe that Engineers can occupy a very important niche in the growing trend toward an interdisciplinary approach to medicine."

---
Nimesh Shah
Industrial Engineering (Skoll)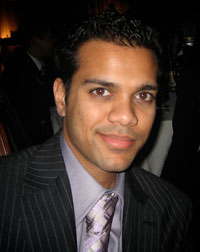 Nimesh joined Engineering at U of T primarily because of his interest in the Skoll program, and he's never regretted his decision. "Engineering felt fairly academic to me and I grew more and more curious as to how things worked 'in practice' in industry. The PEY and MEY internships helped bridge the gap between academia and industry and were great preparation for Rotman."
Upon graduation, Nimesh will join a management consulting firm in Toronto, an opportunity he believes he received in part due to his Engineering background. "Although the consulting role isn't a 'traditional' Engineering position, many Engineers end up in consulting since the analytical training comes in handy. I view consulting as a great way to apply both my Engineering and business educations to solve interesting challenges."
Before Nimesh begins his new career in consulting, he plans to spend most of the summer outdoors playing baseball, tennis and golf. "After seven years, I'm excited to have a few months off!"