U of T Engineering 10th Among World's Universities: 1st in Canada for Technology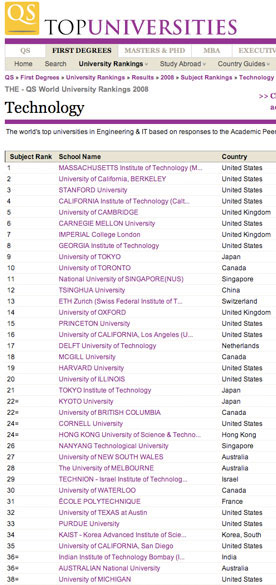 Engineering at the University of Toronto continues to be a global leader in the prestigious Times Higher Education-QS World University Rankings Technology (Engineering and IT) category. This year, Engineering at U of T ranked 10th overall in the world, up from 11th in 2007, and remains in first place among Canadian universities for a second year in a row.
"This once again affirms our strong reputation among our global peers as the top technology leader in Canada and among the world's top 10 Engineering schools," said Cristina Amon, Dean of the Faculty of Applied Science and Engineering "While surveys cannot capture all of our strengths, this provides an assessment of our outstanding reputation among academic peers for our excellence in innovative research and our pioneering contributions in Engineering education."

U of T Engineering ranks 7th in North America following MIT (first overall in Technology), Berkeley, Stanford, Caltech, Carnegie Mellon, and Georgia Tech and 10th in the world following Cambridge, Imperial College London, and the University of Tokyo.

In 4,000 Engineering schools around the world, almost one million engineers graduate each year. Out of the 40 Engineering schools in Canada, 11,439 engineering students received undergraduate degrees last year. U of T Engineering has the largest graduating class in Canada, with 943 graduates in 2007 and 1,017 this year.

The overall World University Ranking integrates peer review and opinion with quantitative data. Forty per cent of the total score is based on academic peer review, which is divided into five subject areas. Another 20 per cent is awarded for research performance in the form of citations, factored against the size of the research body. An additional 20 per cent is based on student to faculty ratio. A further 10 per cent is derived from a survey of employers. The survey allots five percentage points for the proportion of international faculty and a further five per cent for proportion of international students. For the subject rankings, only academic peer review is considered.
This year 6,354 academics (compared with 5,101 in 2007) and 2,339 employers (1,482 in 2007) responded to the THE-QS World University Rankings.

The subject rankings include Arts & Humanities; Life Sciences & Biomedicine; Natural Sciences; Social Sciences; and Technology. This is the fifth edition of the THE-QS rankings. For more information: www.topuniversities.com.