If your computer does not display the file below, please visit the web version:
http://www.enews.engineering.utoronto.ca/enews19.html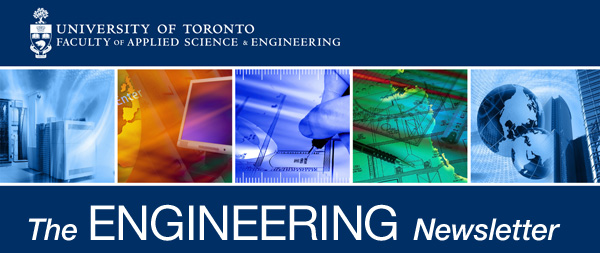 Volume 2 // Issue 4 // October 23, 2008
::::
In This Issue:

Message from Dean, Cristina Amon // What's New? // Priorities for Graduate Studies // Engineering Newsletter Survey // Governance // Honours and Awards // Research // New Administrative Appointments // Events // In the News // Newsletter Archives //
For the second year in a row, Engineering at U of T has been recognized by the Times Higher Education-QS World University Rankings as a global leader in Engineering. This year, our Faculty ranked 10th overall in the world, and we remain in first place among Canadian universities in the Technology (Engineering and IT) category. This peer-review ranking not only affirms our strong reputation as an institution that is at the forefront of Engineering research and education, but also allows us to continue to attract talented graduate students to our Faculty from Canada and all over the world.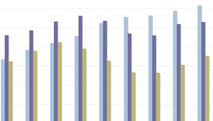 Our Faculty is deeply committed to graduate education, which thrives because of the dedication of our talented graduate students working in partnership with world-class professors. With access to the world's top libraries and Engineering research facilities, the unparalleled atmosphere of Engineering scholarship and research at U of T creates an environment in which our 1,503 graduate students can flourish and contribute to cutting-edge Engineering research and innovation.
Once again, we are pleased to welcome a number of new administrative staff to our Faculty and announce that Margaret Grisdale has been appointed Director of the Dean's Office .... (more)

U of T Engineering 10th Among World's Universities: 1st in Canada for Technology
Engineering at U of T ranked 10th overall in the world and remains in first place among Canadian universities according to the Times Higher Education-QS World University Rankings .... (more)
New MEng ELITE Certificate Aimed at Engineers in Business, Industry, and Corporations
Engineering students looking for a competitive edge in an increasingly competitive market may have found the competitive edge with Engineering's new academic offerings .... (more)
Q & A With Chris Damaren, Vice-Dean, Graduate Studies
Read about the Faculty's strategic priorities for graduate studies and our plans for graduate expansion .... (more)

Paul Cadario Addressed OSPE Symposium
Senior Manager at The World Bank, Paul Cadario (CIV 7T3) spoke about "Engineering a Global Approach to Climate Change" at the Ontario Society for Professional Engineers' (OSPE) inaugural symposium on climate change. During his 30-year career, he has worked with World Bank clients and maintains strong ties with U of T as Chair of the Engineering Dean's Advisory Board and President of the U of T Alumni Association. www.ospeclimatechange.ca/.

Prospective Professors in Training (PPIT)
A look at the "behind the scenes" program that helps soon-to-be-faculty look at the steps they need to become world-class professors .... (more)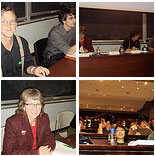 Engineering Leaders of Tomorrow Program Host All-Party Discussion on Carbon Tax
Preceding Canada's 40th General Election, the Engineering Leaders of Tomorrow program hosted political candidates from Toronto's Trinity-Spadina riding .... (more)
U of T, Kyoto U Join Forces in Stem Cell Research
New partnership with Kyoto University and Bill Stanford (IBBME) will play a large role in ensuring Toronto and Ontario remain on the cutting edge of stem cell research .... (more)
Frosh Week Rocks
"If you're an Engineering student--DO FROSH! It honestly is the best week ever," writes first-year Engineering student Huda Idrees in the Oct. 7 U of T Bulletin .... (more)
Online Survey: The Engineering Newsletter One Year Later
Offer your comments and suggestions on how to strengthen the Newsletter. The survey takes approximately 2 minutes to complete. We look forward to your feedback .... (more)

By-Elections for Academic Board
Professor Will Cluett, Chair of EngSci, is one of two U of T professors acclaimed to serve on the Academic Board .... (more)
Meguid Named Fellow of American Society for Mechanical Engineers (ASME)
MIE's Professor Shaker Meguid has been named a Fellow of the ASME .... (more)

MIE Teaching Awards Announced
Undergraduate students from MIE have chosen Professors Greg Jamieson and Hani Naguib as the recipients of MIE's annual teaching awards for 2008 .... (more)
We have recently appointed a number of new administrative staff across the Faculty. While we haven't been able to reach everyone just yet, we are pleased to profile the following staff .... (more)
Pamela Brittain, Curriculum Specialist (K-12 Programs), Professional Development Centre
Jennifer Fabro, Information Assistant, Office of the Registrar
Judy Gilligan, Assistant to the Executive Director of Advancement, Office of Advancement
Susan Iwasaki, Student Recruitment and Transition Office, Engineering Student Recruitment and Retention Office
Lorine Jung, Manager, Finance and Administration (CIV)
Jennifer Lancaster, Senior Development Officer, Leadership Giving, Office of Advancement
Lindsay Mason, Student Advisor/Information Serivces Assistant, Undergraduate Office (ECE)
Phil Milczarek, Purchasing/Stores Coordinator (ChemE)
Nicholas Robinson, Scheduling Coordinator and Student Records Assessor, Office of the Registrar
Ayoola Scott, Human Resources Assistant, Professional Faculties South HR Office
Emma Scully, Human Resources Generalist, Professional Faculties South HR Office
Anna Vanek, Director, Administration and Finance (MIE)
Oct. 24 - Teaching and Learning Symposium
Nov. 5 - Lectures at the Leading Edge: Harry Ing and Lianne Ing

Please visit: Faculty's Events Calendar for all of our events.
Managing Rapid Transit's Challenges
Professor Eric Miller (CIV) talks about the new Metrolinx transit plan to bring Hamilton and Toronto even closer together.
Hamilton Spectator .... (more)

Japan and Canada's Stem Cell Scientists Join Forces
Professor Bill Stanford (IBBME) to collaborate with Kyoto University on stem cell research.
Toronto Star .... (more); Calibre Macro World .... (more); CTV .... (more); Calgary Herald .... (more); Sarnia Observer .... (more); The Gazette .... (more); Globe and Mail .... (more)

Be sure to catch up on all the latest Engineering news on the Engineering homepage and our Twitter feed.
Did you miss out on a past issue of the Engineering Newsletter? Revisit past articles and catch up on great Faculty news any time … (more)
The Engineering Newsletter is a twice-monthly summary of key headlines, events and opportunities for faculty and staff in the Faculty of Applied Science and Engineering. If you have questions or comments, please contact us: couture@ecf.utoronto.ca.