A Year in Review: Introduction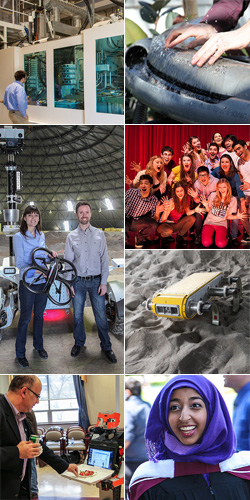 Fostering a culture of excellence is an essential thrust behind our Academic Plan.

Excellence can be found in our reputation; we continue to be the leading Canadian engineering school in every major international ranking. Excellence is within our students: the first-year undergraduates who joined us last fall were armed with the highest average entrance marks yet seen. Excellence is manifest in our influential research; our research operating funding has held a steady growth over the years and is now at its highest yet at $56.9 million. In fact, excellence permeates our culture, through our innovations, activities and academic accomplishments.

This issue of The Engineering Newsletter attempts to capture some of the wonderful moments that helped the Faculty of Engineering & Applied Science shine in 2012–2013. View it in pictures with our Year in Photos. Please also check out our Convocation 2013 photo gallery and photo essay.
A Year of Reflection and Looking Forward: Annual Report and Academic Plan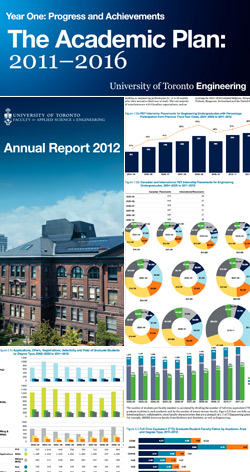 Now in the second year of a five-year cycle, the Academic Plan was the subject of a progress report released last November. It portrayed a year of healthy performance and growth, particularly in areas like student diversity, global reputation and innovative programming.

In addition to the culture of excellence cited in the introduction, the plan is tracking six other key areas: (1) positioning ourselves as one of the leading engineering schools in the world, especially in regard to research innovation and education; (2) preparing our students for global success; (3) providing a rich learning experience (both co-curricular and extracurricular) for our students; (4) expanding our status as a hub for advanced engineering research; (5) enhancing our outreach and collaborative activities; and, (6) continuing to effectively allocate resources.

Our fourth Annual Report 2012: Performance Indicators, released in the fall, provided an even deeper look at the wealth of achievements and advances by our faculty, students and staff. Highlights included an overview of the Academic Plan, a round-up of innovative academic program initiatives and record-setting graduate student enrolment, and a look at our growing multidisciplinary work and collaborative research projects that are increasingly global.

Looking ahead, the 2013 issue of the annual report of performance indicators will be released in the summer, mirroring more closely the academic and fiscal year timeframes. There will also be an external version of the annual report available to our donors, peers and industry.
A Year for Students: Recruitment, Admissions and Pre-university Outreach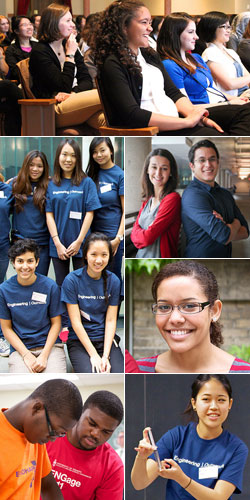 Undergraduate:
U of T Engineering continues to attract exceptional students from across the country and the world, as we have become the university of choice for many top high school graduates in Ontario and beyond.
When it comes to statistics, the numbers related to our incoming first-year class continues to climb to record highs. Here are a few examples. To date, the average mark for Ontario students admitted for this coming fall is 92.4 per cent, up from 91.6 per cent in 2012. The number of applications to U of T Engineering for fall 2013 has also reached a historic high of 10,314, up 11 per cent in one year.
Admitting a strong, high-calibre and diverse class continues to be a goal. As of late May, the percentage of international students admitted is up about three per cent to 24.5 this year, and the number of female students admitted has grown to 27.1 per cent, compared to 26.5 per cent in the previous year.
Ninety of those female students turned out in May 2013 for our second GLEE event – Girls Leadership in Engineering Experience. In addition to having a chance to connect with our faculty, students and alumni, the motivated future engineers took part in hands-on workshops and capped the day with a semi-formal dinner that featured a flash mob of Skule Nite members and a flying robot demonstration by new UTIAS Professor Angela Schoellig.
Outreach programming was enriched in 2012–2013, with the launch of an exciting DEEP initiative: the DEEP Leadership Camp takes place at our Civil Engineering Survey Camp on Gull Lake this summer. The leaders in training, aged 16 and over, will have an opportunity to polish their engineering skills and confidence during the intensive program. The camp joins ongoing, successful outreach initiatives that include DEEP, Jr. DEEP, ENGage, Go ENG Girl, Saturday Science & Engineering Academy and Girls Science & Engineering Saturdays. Each fosters engineering interests of pre-university students, while providing current undergraduate and graduate students with leadership and teaching experience.
Another impressive addition to our outreach activity is this summer's Big Ideas – Creativity, Design and Innovation Camp. The pilot program is a collaboration with the Rotman School of Management and introduces Grades 7 and 8 students to interactive ways to use design thinking to boost creativity and innovation. It challenges young participants to reinforce their engineering interests while developing and nurturing their potential as future engineer-entrepreneurs.
Graduate:

Our worldwide reputation as a leader in engineering research and education has enabled us to continue attracting increasing numbers of the brightest minds as graduate students. In 2012–2013, the highest-ever number of post-secondary students applied to do graduate work with us. The number admitted was smaller than the previous year, but also academically stronger. With 1,933 high-calibre graduate students registered in our master's and PhD programs, we are just steps away from meeting our goal of 2,000 top graduate students by 2015.
In the past year, we worked actively to recruit more graduate students representing greater diversity. As a result, the number of students from outside Canada is 22.5 per cent of the total enrolment, while 26.2 per cent are women (up from 25.1 per cent in 2011–2012).
A Year in Education: Academic Innovations and Cross-Faculty Initiatives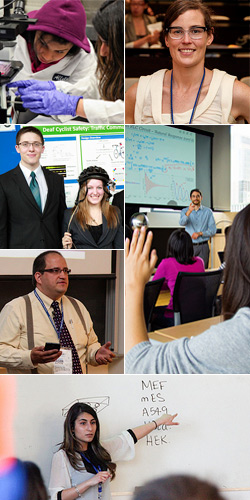 At U of T Engineering, we are not only innovative in our research but also in our classrooms, exploring new ways to better support and educate our students while strengthening our curriculum.
Novel Approach to Student Supports

To better address student needs, concerns and questions, we instituted Just ASK! Engineering this past winter. Developed by engineering students (in the Engineering Strategies & Practice course) for students, the online resource allows assigned faculty and staff to answer enquiries about services, facilities, finances and more.
But that is not the only way we are working to improve our student services and learning experience at U of T Engineering.
Innovative Teaching

For a second year, U of T's Educational Technology Workshop on May 28, showcased leading-edge applications and best practices for innovative teaching and learning. The 250 attendees, from across the University, took in presentations from 13 of U of T's leaders in educational technology, including U of T Engineering Professors Jim Wallace (MIE) and Susan McCahan (MIE), Vice-Dean, Undergraduate, and Lecturers Jason Bazylak (MIE), Jason Foster (EngSci) and Dr. Micah Stickel (ECE), First Year Chair.
As evidenced by the success of this year's EdTech, our Faculty is at the forefront of innovative teaching. At U of T Engineering, we lecture-captured six courses this academic year, and for 2013-2014, we are hoping to expand lecture-capture to many more classes and improve the lecture-capture process.
Another way we are making our education more accessible is by supporting U of T's Massive Open Online Courses (MOOC) initiative. Since the university joined Coursera and edX – platforms for offering massive open online courses through partnerships with leading international universities – U of T launched a new suite of online courses to be accessible to anyone. The initiative enables anyone from across the globe to learn the latest in such areas as neural networks, mental health – and in the case of engineering, our Faculty will be offering 'Our Energetic Earth,' taught by Professor Bryan Karney (CivE), as a MOOC in September 2013.
We also offer an 'inverted classroom' experience for the course ECE221, taught by Dr. Stickel. In this model, what would normally be done in class, such as lecturing, is done outside of class through short-lecture videos. Then, what is normally done outside of class, such as active engagement with the material through problem solving, is done in class, allowing for more time to work with, reflect upon and process the new material.
Enriching Engineering Education

On the curriculum side, we had been vigorously preparing for the Canadian Engineering Accreditation Board (CEAB) review since 2010, in anticipation of the Board's visit in October 2012. Under the leadership of Professor McCahan, we defined learning outcomes related to the 12 graduate attributes and begun measuring how our students perform in these dimensions. The attributes include aspects of knowledge base, problem analysis, investigation, design, communication, teamwork, ethics, economics and project management, professionalism, life-long learning, use of engineering tools, and impact of technology on society and the environment, along with other abilities. The results from our assessments are being used to adjust our curricula to improve the academic experience of our students and develop educated engineers, who are broadly capable of meeting global industry challenges.

The Faculty has a wide range of academic programs that are highly diverse in size, scope and approach to curriculum, and our goal is to continue making strategic investments that will lead to enriching student learning and experience. In the spirit of continuous improvement and to capitalize on Faculty innovation, we developed an Engineering Instructional Innovation program – with a call to faculty for project proposals this past winter – to create, or substantially renovate, a specific undergraduate course, closely related group of courses, or learning experience.
To prep our students for the ever-changing landscape of the engineering profession, we continue to strengthen our minor and certificate offerings. These interdisciplinary, 'added-value' programs continue to be successful, with 30 per cent of our undergraduates now participating. Among the most popular offerings is our Engineering Business minor, with courses in the current summer term filling up in mere minutes. The growing demand is why we approved two certificates this year: a Mineral Resources certificate, which gives students exposure to the mineral resources sector, and a certificate in Nuclear Engineering, an important component of the energy sector, and an area that will likely grow in response to challenges related to fossil-driven climate change.
And our Professional Experience Year (PEY) program – the largest optional undergraduate paid internship program in Canada – continues to be a point of pride, helping students get hands-on training, building their engineering knowledge and connection with industry. This year, PEY placements were at an all-time high, with 592 Canadian placements and 39 international placements, up from 547 and 33, respectively. We expect this trend to continue as we establish new employer partnerships, both in Canada and abroad.
We are giving our students the opportunity to gain a global perspective in other ways as well. In January 2013, U of T Engineering and Peking University (PKU) established a global exchange (Globex) agreement. This agreement will allow Mechanical & Industrial Engineering (MIE) faculty to teach and MIE's students to study at PKU, starting this summer. Two MIE courses will be taught in PKU, along with other courses offered by Cambridge, Duke, National University of Singapore and Stanford, among others. MIE students will not only get credit for MIE-taught courses, but also have the opportunity to take courses for credit from other top universities participating in the exchange – all while gaining cultural and international experience.
Our Faculty-wide, co-curricular program, The Entrepreneurship Hatchery, continues to hone our students' entrepreneurial drive. Aside from providing mentorship, an entrepreneurship speaker series and Idea Market sessions – where students can connect with fellow business-minded engineering students – the Hatchery also held its first 'Idea Ignition' event in January. The event encouraged U of T students from all faculties to join forces, molding ideas into a winning business pitch. The goal of the event was to promote not only entrepreneurial thinking around an idea, but also to encourage team building. More than 50 students participated in the inaugural event, which saw them split into 15 teams to develop an innovative business idea to pitch to a panel of judges on the final day.
We are also enriching student learning through multidisciplinary programming. In October 2012, we launched the University of Toronto Institute for Multidisciplinary Design & Innovation (UT-IMDI), which provides remarkable opportunities for students from different engineering disciplines to work together on real-world projects with industry clients. During the Institute's inaugural year, nine undergraduates – upon completing their summer projects – landed exclusive aerospace jobs with Bombardier, Pratt & Whitney Canada and UTC Aerospace Systems. In September 2013, we will be offering a Multidisciplinary Capstone Design course, which will extensively build on the innovative Engineering Strategies & Practices (ESP) and Praxis offerings.
We are strengthening our curriculum further through the work of two new task forces. We created a task force, chaired by Dr. Stickel, to review the first-year curriculum, with the goal of bringing this into alignment with the academic priorities and learning outcomes established in our Academic Plan. We also established a task force, chaired by Professor Greg Evans, to create a research-based, post-graduate program in engineering education.
Graduate Studies: Innovative Options

On the graduate level, we have seen tremendous growth in our programming, with the MEng evolving and broadening to address the needs of our students and industry. In September 2013, we will launch the groundbreaking MEng degree in Cities Engineering and Management (MEngCEM), an MEng degree in Advanced Water Technologies and Process Design, and an MEng in Finance in the Department of Mechanical & Industrial Engineering (MIE).
As well, we introduced flexible-time options for our MEng students, who can now finish their studies as a full-time, extended full-time or part-time student. U of T Engineering and the University of Toronto Scarborough (UTSC) also recently approved a five-year program. It will allow third-year students in the UTSC Environmental Science Specialist programs (BSc) to apply to the Faculty's MEng program, in either Civil Engineering or Chemical Engineering. This is the first undergraduate-graduate combined program ever developed at U of T, the first collaboration between the Faculty and UTSC, and the first of its kind in Canada.
At the PhD level, we were pleased to welcome our first cohort of MIE's new flexible PhD option this year, representing companies such as Druida (an Argentinean-based software and consulting company) and the Nuclear Waste Management Organization (which focuses on the long-term management of Canada's used nuclear fuel). First introduced in September 2012, students get to register full time during the first four years and part time during subsequent years of the program. This option allows our highly qualified R&D engineers working in industry to pursue a doctoral degree on a topic that is of interest to them and their employer.
The Faculty has also established new centres and institutes to provide an extraordinary range of opportunities for multidisciplinary research and teaching: UTIAS established the Centre for Research in Sustainable Aviation, MIE launched UT-IMDI and the Centre for Sustainable Energy was established as an Extra-Departmental Unit:C (EDU:C) and renamed the Institute for Sustainable Energy.
A Year in Research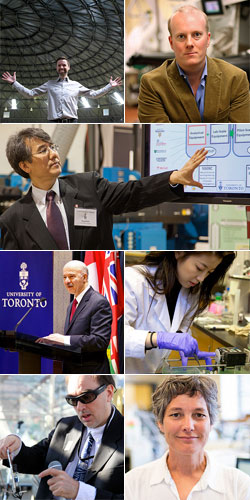 As U of T Engineering researchers, we continue to make an impact with our work: from tissue engineering, to smart power grids, to nanomaterials. And with the Academic Plan in motion, under the leadership of Professor Ted Sargent (ECE), Vice-Dean, Research, we are enhancing our multidisciplinary research programs, improving our interface with industry, fostering a culture of entrepreneurship, and ensuring that our faculty members are proactive in taking advantage of funding opportunities, both nationally and internationally.
Strong funding for research remains a priority, and over the past year, our researchers have earned major grants to support leading-edge work. For instance, in March 2013, the Canadian Foundation for Innovation (CFI) awarded three U of T Engineering projects over $10 million in total, which was then matched by Ontario Research Funding grants. And in September 2012, three of our U of T engineers were awarded research grants by Canada's Collaborative Health Research Projects (CHRP) program.
Interdisciplinary research teams have continued to flourish and contribute innovations. For example, Professors Axel Guenther (MIE, IBBME) and Milica Radisic (IBBME, ChemE) and a team of graduate students developed a new 3-D printer that allows for the uniform, large-scale engineering of tissue — which could one day be used as grafts for burn victims or for vascular patches.
To enhance our partnerships with industry, we welcomed Dr. Marcius Extavour (EngSci 0T2 + PEY) in the fall, as the Faculty's Director of Corporate Partnerships. And in November 2012, we also held a reception to both thank our industry partners, and welcome new collaborators.
These efforts have certainly paid off in strides. Over the past year, we established a Centre for Industrial Application of Microcellular Plastics (CIAMP) through support of 20 leading plastic companies around the world, and research centres such as BioZone attracted research funding from Samsung's global research arm, Samsung Advanced Institute of Technology.
As well, to underscore our commitment to collaborative and multidisciplinary research excellence, we initiated the Faculty's Research Leader Award in April 2013. The award celebrates leadership on major interdisciplinary projects, industrial partnerships and multi-investigator initiatives. The first award was given to the BioZone team, led by ChemE Professors Elizabeth Edwards (Director, BioZone), Radhakrishnan Mahadevan (Associate Director for Computational Resources) and Emma Master (Associate Director for Laboratories and Facilities).
We launched a monthly internal speaker series that began in December 2012 with the goal of providing the Faculty – including Chairs and Directors, Advancement, Faculty communicators and the Research Committee – with a growing library of stories of tangible research impact. These research narratives can then be shared with prospective industry partners, government, our partners within U of T and the public. To date, researchers from every department have participated, including Professors Tim Barfoot (UTIAS), Warren Chan (IBBME), Eric Miller (CivE), Goldie Nejat (MIE), Lacra Pavel (ECE), Harry Ruda (MSE) and Honghi Tran (ChemE), among others.
Also, we are holding sessions in which our researchers offer peer-to-peer insights into how best to take advantage of NSERC (e.g., Discovery, Strategic) as well as US (e.g., National Institutes of Health, US Department of Energy) and international funding opportunities.
Selected Research Stories

A Year of Community Building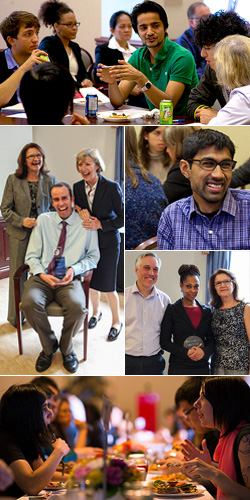 U of T Engineering is home to the most committed faculty, staff, students and alumni, who collectively work to make it the top engineering institution in Canada and among the very best in the world. And over the past year, our community – and our sense of pride – has only grown stronger.
In October and February, faculty, staff and students came together to discuss how to improve the student experience at Dean's Town Hall meetings. Some ideas shared revolved around minors and arts and science courses, online courses and technology in the classroom, PEY and international exchange, as well as how to leverage our diversity and develop global engineers.
At the Celebrating Engineering Excellence event in April 2013, we had the opportunity to honour the achievements of our community members, including four engineering professors for their research contributions; five engineers for their teaching excellence; and, nine engineering staff members who received Staff Awards for their leadership.
The occasion was the perfect opportunity to launch our Faculty and Staff campaign, 'Boundless Dedication.' The campaign is an opportunity for the U of T Engineering community to come together to show support for the Faculty's ongoing development, and its students. Faculty and staff members can make gifts toward the area that inspires them the most – whether that be the new Centre for Engineering Innovation & Entrepreneurship, a department or division, a new or existing scholarship, or a research area.
Our community also garnered a number of awards and recognitions, nationally and internationally, this past year. This includes honours, awards and fellowships from: the Institute of Industrial Engineers, NSERC, Engineers Canada, Government of Canada, Engineering Institute of Canada, Ontario Professional Engineers and the University of Toronto. To the latter, we were proud to announce that U of T named Professors Alberto Leon-Garcia (ECE) and Yu-Ling Cheng (ChemE), Director, CGEN, as Distinguished Professors. Professor Leon-Garcia holds the title of Distinguished Professor in Application Platforms and Smart Infrastructure, while Professor Cheng will hold the title of Distinguished Professor in Global Engineering, effective July 1.
And in March 2013, the federal government announced $18.7 million in funding for 23 new and renewed Canada Research Chairs (CRCs), seven of which came from U of T Engineering. Our new CRCs are Professors Glenn Hibbard (MSE), CRC in Cellular Hybrid Materials; Ashish Khisti (ECE), CRC in Wireless Networks; and, David Lie (ECE), CRC in Secure and Reliable Computer Systems. The announcement also included the advancement of two existing chairholders from Tier 2 to Tier 1: Professors Brendan Frey (ECE), CRC in Biological Computation and Wei Yu (ECE), CRC in Information Theory and Wireless Communications. Two existing chairs from the Faculty were renewed: Professors George Eleftheriades (ECE), CRC in Nano- and Micro-Structured Electromagnetic Materials and Applications and Molly Shoichet (ChemE, IBBME), CRC in Tissue Engineering.
Over the past year, we also appointed three new Endowed Chairs: Professor Greg Steffan (ECE), as the Jeffrey Skoll Chair in Software Engineering; Professor John Hadjigeorgiou (CivE), as the Pierre Lassonde Chair in Mining Engineering; and, Professor Murray Grabinsky (CivE) appointed the Robert M. Smith Chair in Geotechnical Mine Design and Analysis. Professor Elvino Sousa (ECE) was re-appointed the Jeffrey Skoll Chair in Computer Networks.
As our faculty, staff, students and alumni continue to garner prestigious awards and make the news for their research and entrepreneurial successes, telling compelling stories in innovative ways about our community becomes very important. This year, we laid the groundwork for major changes in the way we communicate with external stakeholders and work with internal ones. We continued efforts to make U of T Engineering more visible through a new emphasis on multimedia and social media channels, including video coverage and live-tweeting of key research initiatives and events, such as Spring Convocation, our first-ever Women in Science & Engineering (WISE) conference at U of T, Praxis and the NSERC Robotic Field Trials. All four initiatives received wide attention on social media channels such as Twitter, Vimeo and Facebook.
This year, our community made headlines in many ways. Here is just a sampling of the steady media coverage from 2012-2013:
A Year of Boundless Progress: Advancement and Alumni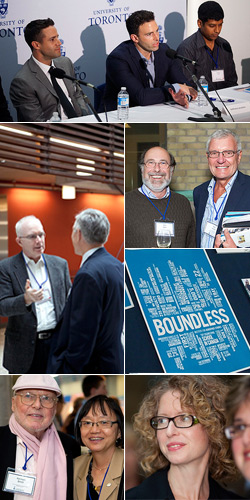 This year, we made significant strides toward strengthening our alumni ties in Canada and across the world, and most exciting of all was our Boundless campaign launch.
In September, we kicked off our component of Boundless: the Campaign for the University of Toronto. The $200-million campaign was launched at the 'Afternoon of Engineering Innovation' weekend event, which showcased innovative, visionary and entrepreneurial ideas from students and faculty. The event, attended by more than 600 alumni, donors, faculty, students, staff and members of the Engineering community, featured lectures, industry panels with alumni, as well as student exhibits at Convocation Hall and the Bahen Centre.
The campaign's six areas of focus are: developing global engineering leaders; nurturing engineering innovation and entrepreneurship; revolutionizing biomedical engineering and human health; advancing information communications technology; reshaping the future of energy, the environment and sustainability; and, building the groundbreaking Centre for Engineering Innovation & Entrepreneurship (CEIE).
CEIE is a core priority. Located on St. George Street, beside Simcoe Hall and Convocation Hall, the centre will be a landmark building at the University of Toronto. The nerve centre for the Faculty's collaborative learning and interdisciplinary research, it will feature dynamic, flexible environments that foster collaboration, encourage active learning and accelerate innovation. In April 2013, we were pleased to announce the selection of CEIE's architects, Montgomery Sisam Architects and Feilden Clegg Bradley.
With the campaign launch, and our ongoing efforts to strengthen our philanthropic support, we raised $12.2 million in total support in the fiscal year, including $9.2 million in gifts. This brings the Faculty's campaign total to over $88 million. More than 35 per cent of the gifts made to the Faculty were designated toward supporting the construction of CEIE.
2012-2013 was also a year of strategic planning for the Alumni Relations Office. We identified several strategic priorities, including how best to define and measure alumni engagement. Looking ahead, three annual performance indicators will help us assess engagement: number of donors, number of event attendees and number of volunteers. The office underwent reorganization as well, including recently hiring an Alumni Engagement and Partnerships Officer. This role will identify volunteer opportunities across the Faculty and match them to alumni.
The year has been tremendously exciting in other ways as well. In October 2012, 13 of our alumni and friends were honoured with Arbor Awards from the University of Toronto, recognizing their outstanding voluntary service to U of T.
In late March and April, Dean Cristina Amon led Skule Comes to Asia events, several of which were hosted by Canadian Trade Commissioners, where we are actively strengthening ties. The events were an opportunity to make connections and speak to our alumni, prospective students, their parents and friends about our exciting campaign efforts. Skule Comes to Asia took place in Shanghai, Taipei, Jakarta, Kuala Lumpur, Singapore and Hong Kong.
And just earlier this month, we were proud to honour alumni who graduated in year ending in T3 and T8 at our Engineering Spring Reunion.
In November and June, we celebrated the graduation of our students at Fall and Spring convocations. At the morning and afternoon receptions on June 19, we were privileged to award two extraordinary and renowned alumni, Dr. Donald Sadoway ( (EngSci 7T2, MSE MASc 7T3, PhD 7T7) and Dr. Paul Cadario (CivE 7T3) with honourary degrees.
A Year of Rethinking Space: Infrastructure Renewal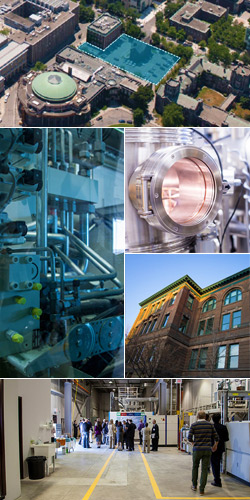 Infrastructure renewal is key to supporting our excellence in research, collaboration and education. Over the past year, we have initiated a multiple of projects, possibly the most exciting being the Centre for Engineering Innovation & Entrepreneurship (CEIE). Here is a list of projects initiated, under construction and completed in 2012-2013:
Projects Initiated

CEIE building proposal
Phase IV of BioZone
MIE computer teaching lab, MB 123
Engineering Science office construction
UTIAS high-pressure, blow-down facility for gas turbine combustion research lab
Ontario Centre for Characterization of Advanced Materials
Nanomaterials for Energy labs
Wallberg/Pratt electronic access control system
Electrical Energy Systems Lab upgrade
Projects Under Construction
UTIAS Laser/Combustion Lab renovation
Mechanical Building's third floor air-conditioning and office renovations
Mechanical Building's Energy Fundamentals Lab renovation Phase II
Galbraith/Sandford's Fleming wireless access upgrades
Projects Completed
Drinking Water Research Group lab in GB 420
BioZone Phase III
Centre for Industrial Application Microcellular Plastics' (CIAMP) off-campus lab
Faculty-wide digital signage
Galbraith/Sanford Fleming's fire alarm upgrade
Lassonde Mining Building's window replacement
Wallberg Building's first floor washroom renovations
Pratt Building's cleanroom upgrades
Wallberg Building's lab renovations
Mechanical Building's student design lab renovations
IBBME research lab renovations
A Year of Governance and Influence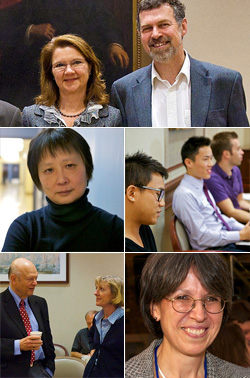 Our Faculty Council members discussed and approved significant items to strengthen our curriculum for this coming fall. We also welcomed Professor Tony Sinclair (MIE) as the new Faculty Council Speaker.
At the four meetings of the Faculty Council, items approved included: the establishment of a Master of Engineering in Cities Engineering and Management (MEngCEM); a multidisciplinary capstone design course be accepted for implementation beginning in the 2013–2014 academic year; a combined BSc and MEng program; a Sustained Excellence in Teaching Award; and, an undergraduate academic certificate in Nuclear Engineering.
To find out more about items discussed and approved, see recaps of Faculty Council meetings for the 2012–2013:
A Year with New Colleagues: Appointments and Staff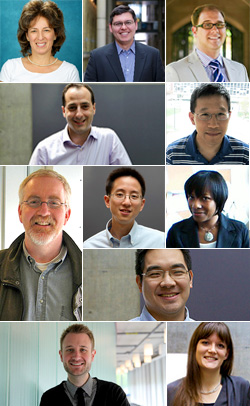 Academic Leadership
Arthur Chan, Professor (ChemE)
Jennifer Drake, Assistant Professor (CivE)
Stark Draper, Associate Professor (ECE)
Tobin Filleter, Assistant Professor (MIE)
Penney Gilbert, Assistant Professor (IBBME)
Ben Hatton, Assistant Professor (MSE)
Jonathan Kelly, Assistant Professor (UTIAS)
Deepa Kundur, Professor (ECE)
Antonio Liscidini, Assistant Professor (ECE)
Angela Schoellig, Assistant Professor (UTIAS)
Jeffrey Siegel, Associate Professor (CivE)
Joshua Taylor, Assistant Professor (ECE)
Edmond Young, Assistant Professor (MIE)
Ding Yuan, Assistant Professor (ECE)
Learn more about our new, innovative and diverse faculty by viewing their video profiles.
Promoted to the Rank of Full Professor, effective July 1, 2013

Amr Helmy (ECE)
Hugh Liu (UTIAS)
Manfredi Maggiore (ECE)
Costas Sarris (ECE)
David Sinton (MIE)
New Staff Appointments

Kevin Ahn, Professional Program Administrator (ECC)
Jonathan Alexander, Financial Officer (MIE)
Vanessa Andres, First Year Assistant (First Year Office)
Roberta Baker, Web & Digital Communications Coordinator (Engineering Strategic Communications)
Edelsonne Baluyut, Graduate Student Recruiting & Liaison Coordinator (MIE)
Tomek Bartczak, Senior Design Engineer (ChemE)
Katharine Blanchard, Alumni Engagement & Partnerships Officer (Office of Alumni & Advancement)
Denys Bohdanov, Research Associate (UTIAS)
Hanna Bonek-Ociesa, Laboratory Technician (MIE)
Laura De Bartolo, Faculty Research and Graduate Coordinator (Office of the Dean)
Jin Hyouk (Paul) Choi, Research Associate – Term (UTIAS)
Frieda Daniels, Research Associate – Term (ILead)
Marcius Extavour, Director, Corporate Partnerships (Office of the Dean)
Jennifer Fabro, Acting Communications Coordinator (Office of the Registrar)
Aaron Fernandes, Research Associate – Term (ChemE)
Lindsey Katherine Fiddes, Technology Specialist (MIE)
Joanna Forbes, Senior Development Officer – Major Gifts (Office of Alumni & Advancement)
Adam Fox, Acting Academic Scheduling Officer (Office of the Registrar)
Mandy Wai Sum Fung, Financial Assistant (CivE)
Matthieu Gagne, Audio Visual Technician (Vice-Dean, Undergraduate)
Damiaan Floris Habets, Scientific Computing/Research Assistant (MIE)
Krisztina Harmath, Director, Administration and Finance (ECE)
Deborah (Deb) Hazlewood, Web & Digital Communications Strategist (Engineering Strategic Communications)
Christina Heidorn, Communications and Outreach Manager (BioZone)
Heather Hines, Acting Director, Division of Engineering Science (EngSci)
Keith Matthew Hockley, Student Workshop Machinist (MIE)
Carmen Horvath, Financial Services Coordinator (Office of the Dean)
Sara-Marni Hubbard, Leaders of Tomorrow Program Assistant (ILead)
Cheol-Heon Jeong, Senior Research Associate (ChemE)
Christopher Jones, Curriculum Officer (EngSci)
Colleen Kelly, Acting Assistant Registrar, First Year (Office of the Registrar)
Konstantin Kovalski, Strategic Network Centre Assistant (MIE)
Peter Kucirek, Transportation Network Modeller (CivE)
Carrie Laughlin, Administrative Office Assistant & Receptionist (Office of the Dean)
Terry Lavender, Communications & Media Relations Strategist (Engineering Strategic Communications)
Brittany Lawrence, Executive Assistant to the Director (IBBME)
Janet LeClair, Manager, Administrative Services (ECE)
Dayle Levine, Acting Manager of Operations (IBBME)
Daniel Jing Liao, Research Associate – Term (ChemE)
Difeng (Charles) Lin, Engineering Technologist (UTIAS)
Sherry Lin, Acting Undergraduate Assistant (Office of the Registrar)
Shari-Ann Lord, Administrative Officer (UTIAS)
Rhonda Marley, Graduate Program Assistant (IBBME)
Emily Meyertholen, Communications Coordinator, Alumni & Development (Engineering Strategic Communications)
Marit Mitchell, Senior Communications Officer (ECE)
Megan Murphy, Volunteer Leadership and Recognition Officer (Office of Alumni & Advancement)
David Noorden, Coordinator (ESOO)
Curtis Norman, First Year Student Success Specialist (Office of the Dean)
Hesam Aldin Rahimi Koopayi, Network Testbed Research Assistant (ECE)
Cindy Rottmann, Research Associate – Term (ILead)
Erika Rueter, Advancement Coordinator (Office of Alumni & Advancement)
Ramanpal Saini, Research Associate – Term (ChemE)
Stephen Sauder, Project Manager, Reinvent the Toilet, Centre for Global Engineering (ChemE)
Jian Shen, Research Accountant (MIE)
Andrey Shukalyuk, Teaching Laboratory and Safety Coordinator (IBBME)
Alex Uriel Singer, Research Associate – Term (ChemE)
Brett Snyder, Recruitment Coordinator and General First Year Program Liaison (ESRRO)
Georgette Stubbs, Program Coordinator and Administrator for the Centre for Sustainable Aviation (UTIAS)
Monika Szopinska, Internship Coordinator (ECC)
Fai Tam, Research Associate – Term (ChemE)
Vincent Tarantini, Research Associate – Term (UTIAS)
Lizbeth Taylor-Edmonds, Research Project Manager (CivE)
Brian Tran, Communications Coordinator (ILead)
Alexander Tsukernik, Senior Research Associate (ECE)
Alicia Tulloch, Departmental Assistant (CivE)
Allison Van Beek, Instructional Technology Specialist (Vice-Dean, Undergraduate)
James Vaughan, Modelling Software Designer-Programmer (CivE)
Erin Vollick, Senior Communications, Media & Alumni Relations Officer (IBBME)
Astha Vyas, Office Assistant (ECE)
Sandra Walker, Acting Director, Office of the Dean (Office of the Dean)
Shengchun (Steve) Wang, Senior Research Associate (ChemE)
Zhen Wang, Project Manager – Drinking Water Research Group (CivE)
Lydia Wilkinson, Lecturer (Engineering Communication Program)
Norman Wilson, Manager, Research Computing Services (ECE)
Liz Wolfe, Communications Specialist (ESRRO)
Yijian Zhou, Research Associate (MSE)
The Faculty celebrates the contributions of 10 community members retiring this year
Note to readers: The Engineering Newsletter will be on hiatus through the summer. Look for the launch of Volume 7 in September 2013, when we will once again bring you key U of T Engineering stories for the 2013–2014 academic year.