If your computer does not display the file below, please visit the web version:
http://www.enews.engineering.utoronto.ca/enews10.html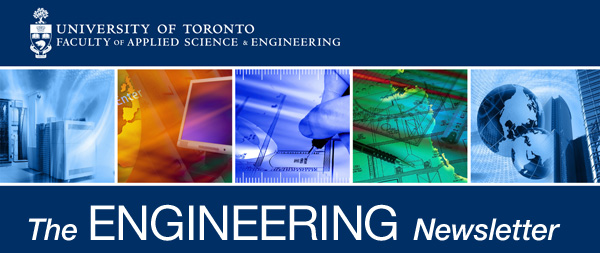 Volume 1 // Issue 10 // April 22, 2008
::::
In This Issue:

Message from Dean, Cristina Amon // Engineering a Better Future // What's New? // Counting Down to Blackboard // Research Update // Events // New Faces // In the News // Newsletter Archives //
Energy has become one of the focus areas of strategic priority for the Faculty, and it is with great pride that I share with you some of our achievements and initiatives. In the past year, the Division of Environmental Engineering reflected this strategic priority by becoming the Division of Environmental Engineering and Energy Systems. This Fall, we are launching a new Energy Systems Option in Eng Sci. Unique within Canada, this new educational initiative will enable our students to make significant leaps – both today and in the future – in providing solutions to address the increasing global need for diverse energy generation and better energy utilization. A Faculty-wide Minor in Sustainable Energy is in the works, new research facilities are being built and recruitment efforts have yielded outstanding faculty appointments in Energy.

Everything in life touches on the theme of Energy and, not unintentionally, so does much of what we as Engineers do every day. There is an unprecedented need to meet the global energy challenge, and our innovative research initiatives in solar energy, wind energy, high efficiency silicon photovoltaics, fuel cells, sustainable transportation, clean water, and more, are receiving major awards and recognition on a global scale. Our faculty members also serve as an important resource for the media on a myriad of energy related issues including policy, sustainability and energy efficient solutions.

In follow-up to our Faculty-wide Energy meeting last February, we will host a larger Energy Research Showcase to share our research achievements with representatives from industry, government and funding agencies. This event, to be held June 19, 12:00 -- 4:00 pm, in the Bahen Centre, will include graduate student posters and presentations from faculty members.

On this Earth Day, I would like to acknowledge our committed students, staff and faculty who are dedicated to ensuring a prosperous and green future on a global scale. A compilation of energy conservation tips and advice for building new homes from members of our Engineering community who are making a difference in their daily lives are included within this Newsletter. Each and every one of us has the potential to be a catalyst for dramatic change.



Earth Day…Making a New Home, a Better Home for You and For Future Generations!
Professor Kim Pressnail, Department of Civil Engineering, offers sound advice for people building new homes .... (more)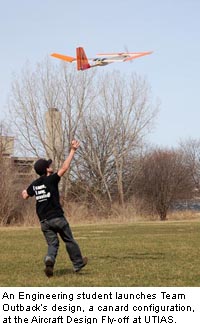 Engineering Professor Nazir Kherani on a Mission to Take Solar Power Mainstream
Dr. Kherani, The Edward S. Rogers Department of Electrical and Computer Engineering, with a $5M investment from the Ontario government is poised to make solar energy a dominant part of the global energy mix ... (more)

Engineers Chart New Path Through Service-Learning
First-Year Chemical Engineering student Mark Macchia contributes to the community through the Engineering Strategies and Practice (ESP) course .... (more)

Researchers Improving the Safety of our Drinking Water
Professor Robert Andrews, Department of Civil Engineering, awarded NSERC Senior Industrial Research Chair at inaugural Tech Transfer Day .... (more)

Launching Academics to New Heights at UTIAS
U of T Engineering Aircraft Design students fly to new heights and show off their design skills at the Aircraft Design Fly-Off at UTIAS .... (more)

Energy Systems: The Perfect Option
There is an exciting new Energy Option in Engineering Science that is built around a core of electrical energy .... (more)

Engineering Students Put Theory Into Motion in Highrise Fire Rescue Competition
Engineering students enrolled in the Fundamentals of Aircraft Design class combined flight engineering with highrise building fire rescue tactics April 10 when they went head to head in a reusable rescue air vehicle (RAV) competition .... (more)
CCNET Access Ends May 23, 2008
As of 9:00 am Friday, May 23, 2008, faculty and students will no longer have access to CCNET. For detailed information on CCNET content backup and migration to Blackboard, please visit the RCAT website. Migration assistance is available to all users who require it. Please send an email to portal.help@utoronto.ca and RCAT staff will assist you in migrating CCNET content into Blackboard.
Apr. 22 - Earth, Water, Air, and "Fire": Hydraulophone Improvisations Over Water
Apr. 23 - Energy at the Turning Point: Hydrogen or Electricity?
Apr. 24 - Take our Daughters and Sons to Work Day

Please visit: Faculty's Events Calendar for all of our events.
Jennifer Hsu, Communications Coordinator, Alumni and Development

Jennifer joined the Faculty in April as the new Communications Coordinator, Alumni and Development. Her past experience in communications at Symcor Inc. and the National Guide to Sustainable Municipal Infrastructure benefit her new role at U of T. Jennifer will assist the Faculty's overall vision, goals and strategy by contributing to the alumni web presence and Skulematters magazine. She also plans to facilitate new approaches to engage the Faculty's 40,000 living alumni and numerous donors.
10 Fixes for the Planet
Professor Ted Sargent, The Edward S. Rogers Sr. Department of Electrical and Computer Engineering
Newsweek ... (more)

Buying Green Has a Proven Track Record
Professor Kim Pressnail, Department of Civil Engineering
Globe and Mail ... (more)

Gene Machines
Jason Dressler (Mech 9T6) and Lars Dressler (Chem 9T6)
Toronto Life ... (more)

New U of T Chemical Engineering Students Big Boost to Volleyball Blues
Katrina Rossall (Chem 1T2) and Shannon Rossall (Chem 1T2)
U of T Varsity Blues Website ... (more)

Is it Time for Toll Roads?
Professor Eric Miller, Department of Civil Engineering
Toronto Star ... (more)

Tiny Robotic Hand has the Gentlest Touch
Professor Yu Sun, Department of Mechanical and Industrial Engineering
NewScientist ... (more)

Did you miss out on a past issue of the Engineering Newsletter? Now you can revisit past articles and catch up on great Faculty news any time … (more)
The Engineering Newsletter is a twice-monthly summary of key headlines, events and opportunities for faculty and staff in the Faculty of Applied Science and Engineering. If you have questions or comments, please contact us: couture@ecf.utoronto.ca.