If your computer does not display the file below, please visit the web version:
http://www.enews.engineering.utoronto.ca/enews11.html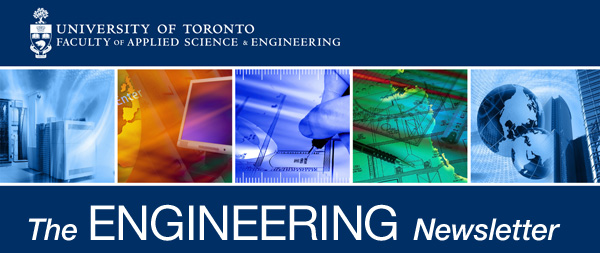 Volume 1 // Issue 11 // May 6, 2008
::::
In This Issue:

Message from Dean, Cristina Amon // Outreach: Nurturing Future Engineers and Researchers // Outreach // What's New? // Governance // Honours and Awards // Research Update // Events // IT Tip // New Appointments // Newsletter Archives //
Outreach is a key strategic activity that enhances our core mission and goals. Through the Faculty's many outreach initiatives, we are able to actively engage the community and share with our youth the relevance and impact of Engineering in the world, while promoting our academic programs. These interactions create a pipeline where we can communicate and share opportunities that will inspire future generations of engineers as well as contribute to our recruitment efforts. Read more about how outreach and student recruitment are linked in an article by Susan McCahan, Chair of First Year.

While the final figures are not yet available, thus far, our student applicant pool for Fall 2008 amounts to 7,341 -- an increase of 11% on Ontario applications for first choice to Engineering and overall increase of over 7% from last year. With the exception of the double cohort in 2003 (7,454 applications) this is a historic high for the Faculty, allowing us a greater degree of selectivity in our admissions process, which in turn guarantees that our incoming class is of the highest caliber and greatest potential.

On behalf of the Faculty, I would like to extend our sincere gratitude to the students, staff and faculty who are devoted to create and deliver our outreach programs, some of which are described in this newsletter, such as: DEEP, the Skule™ Mentorship Program, and the Engineering Leaders of Tomorrow program.


The Faculty of Applied Science and Engineering is committed to a diverse range of outreach efforts, which include, but are not limited to, mentorships, student leadership programs, high school visits and targeted programs that are designed to encourage groups who are underrepresented in our Faculty to pursue their interests in engineering and science.

Connecting Outreach with Recruitment
First impressions are critical to the successful recruitment of top students; Susan McCahan, Chair of First Year, on the importance of aligning outreach initiatives with the expectations of prospective students .... (more)

Spreading the Green Word: The Edward S. Rogers Sr. Department of Electrical and Computer Engineering Reaches Out
Two ECE students are spreading the word about green energy to grade 10 students in an effort to promote research in our Faculty .... (more)

Building Future Leaders
Professors Markus Bussmann and Emma Master, along with Engineering's Leaders of Tomorrow program Leadership Development Coordinator, Annie Simpson, are educating young engineers to seek out leadership roles in their professional careers .... (more)

Nurturing the Next Generation of Engineers and Researchers
Trevor Cuddy, Director of the Engineering Student Recruitment and Outreach Office and the Professional Development Centre, discusses the life-long relationships that outreach programs can foster .... (more)

Caprice Boisvert Builds Pathways to Success
The Chair of the Skule™ Mentorship Program, Caprice Boisvert (Mech 9T3), matches current Engineering students with Engineering Alumni to give students a head start on their careers .... (more)
Into the DEEP
One-of-a-kind in North America, DEEP has provided over 4,000 high school students who excel in math and science with a leg up on their academic experience by exposing them to hands-on activities, laboratories, design work and lectures even before they've even filled out a university application .... (more)

Memories of March Break
This year, 134 students were exposed to the technological and scientific wonders of the March Break Science Safari .... (more)

Important Changes to the Post-Graduation Work Permit Program
New changes to the Post-Graduate Work Permit Program extend the length of a work permit from one or two years to three years and allow graduates to obtain an open work permit under the program .... (more)

Task Force on On-Line System Integrating Calendar, COS and Individual Student Accreditation
A task force has been assembled to examine the feasibility of creating a web-based online system that will integrate the processes associated with curriculum change management .... (more)
Recently Approved by Faculty Council
Changes to the Faculty's Grading Procedures allow instructors to share grading of final examinations with Teaching Assistants .... (more)
Eng Sci Major
Subject to the approval of the Committee on Academic Policy and Programs, Eng Sci students may be permitted to have "majors" listed on their transcript as opposed to "options" .... (more)
First-Year Promotion Regulations
Amendments have been made the the First-Year Promotion Regulations regarding part-time studies, APS 111 and the T-Program.... (more)

Next Meeting of the Faculty Council, May 28, 2008.
Professor Michael Sefton Receives Prestigious Killam Prize
University Professor Michael Sefton has been awarded the prestigious Killam Prize in recognition of his outstanding career achievements in tissue engineering .... (more)

Professor Yu-Ling Cheng Inducted into U of T Teaching Academy
Professor Yu-Ling Cheng, Department of Chemical Engineering and Applied Chemistry has received the prestigious University of Toronto President's Teaching Award for excellence in teaching, research in teaching, and the integration of teaching and research .... (more)

Civil Engineering Student Receives U of T Award of Excellence
Third-year Civil Engineering student Amelie Lesser, an outstanding student from Germany who maintains numerous extracurricular commitments, was awarded the Jon S. Dellandrea Award for International Students, which recognizes undergraduate academic achievement and leadership.
.... (more)

Professor A. K. S. Jardine Receives Award from the Salvetti Foundation
Professor Jardine, Department of Mechanical and Industrial Engineering, received the award for "The Best Paper," presented in the category of Academic Developments, which is sponsored by the Salvetti Foundation.

May 10 - Science Rendezvous: Engineering Building and Tent on St. George Street
May 15 - Ontario-on-a-chip
May 29 - RobotX
May 29 - Building on Success: Celebrating women's successes in technology
May 31 - Hall of Distinction Unveiling

Please visit: Faculty's Events Calendar for all of our events.
U of T Computer Staff Warn of Phishing Scams
Staff, faculty and students are being warned about a computer scam that has hit almost 90 university campuses. The phishing scam can compromise personal identity, as well as computers .... (more)

Did you miss out on a past issue of the Engineering Newsletter? Now you can revisit past articles and catch up on great Faculty news any time … (more)
The Engineering Newsletter is a twice-monthly summary of key headlines, events and opportunities for faculty and staff in the Faculty of Applied Science and Engineering. If you have questions or comments, please contact us: couture@ecf.utoronto.ca.