If your computer does not display the file below, please visit the web version:
http://www.enews.engineering.utoronto.ca/enews8.html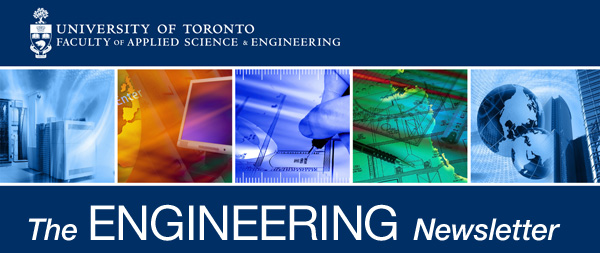 Volume 1 // Issue 8 // March 27, 2008
::::
In This Issue:

Message from Dean, Cristina Amon // What's New? //

Inaugural KAUST Award Granted to U of T Professor

// Honours and Awards // Research Update // Events // Skule™ Stories // In the News // Newsletter Archives //
The Faculty of Applied Science and Engineering established an unprecedented fundraising record during the last University-wide campaign, securing over $125M, which translated into $245M with matching funds from government and the corporate sector. Some notable accomplishments enabled by the last campaign include: the establishment of 29 endowed chairs; the construction of the Bahen Centre for Information Technology; the creation of the Skoll BASc/MBA Program; a major donation by Ted and Loretta Rogers in support of Electrical and Computer Engineering; and, an extraordinary gift from Pierre Lassonde to reinvigorate the Mineral Engineering program.

This remarkable achievement is a tribute to the generosity of our alumni and friends. Raising resources to sustain our educational programs, research initiatives and infrastructure renewal is now more critical than ever. To prepare for the next generation of transformative investments within the Faculty, we are currently developing the Case for Support -- a compelling document that will articulate our Faculty's philanthropic fundraising objectives, which align with our academic priorities.

Along with the Faculty's Advisory Boards and the Engineering Alumni Association, we have created the Dean's Council on Strategic Development to work together with the Faculty's leadership and the Advancement team in developing major gift strategies, including donor cultivation. In this effort, I am also pleased to announce the appointment of the new Executive Director, Advancement, Vanessa Abaya .... (more)
UNC 2008

I, U of T Robot
The U of T Robotics Association talk about preparations for RoboGames 2008, the largest robotics competition in the world .... (more)

CIV 1T0 MIN Discover Big Becky: Enhancing the First-Year Student Experience
Last Winter Session's MIN 185 class were introduced to Big Becky, the world's largest tunnel-boring machine .... (more)

Inaugural KAUST Award Granted to U of T Professor
Professor Ted Sargent, The Edward S. Rogers Sr. Department of Electrical and Computer Engineering, has been awarded a $10 million dollar grant to develop nanotechnology that uses the infrared rays of the sun to provide power for virtually everything that now uses electricity .... (more)

U of T Engineering Students Place Third in CEC Competition
U of T sent two teams of Engineering students to the Canadian Engineering Competition (CEC) (Mar. 6-9) to compete in the Consulting category. Congratulations to both teams for participating and to Liane Catalfo, Vikram Pandit, Jennifer Sauks and Cody Woods for placing third in the Consulting category. CEC 2010 will be hosted by U of T .... (more)
Mar. 27 - Special Seminar: Deputy Minister Peter Wallace, Ontario Ministry of Energy
Apr. 3 - Defining the Global Engineer: EWB-UT Evening
Apr. 3 - MIE Student/Alumni Networking Breakfast
Apr. 4 - EngSci Alumni Dinner
Apr. 23 - Energy at the Turning Point: Hydrogen or Electricity?

Please visit: Faculty's Events Calendar for all of our events.
From the Archives

The lyrics to "Blue and White", U of T's school song, as published in the Skule '82-'83, The F!rosh Handbook ... (more)
Switching Off Incandescents a No-brainer?
Professor Bryan Karney, Department of Civil Engineering
Toronto Star ... (more)

Trade Tresses with the Famous on the Web
Professor Parham Aarabi, The Edward S. Rogers Sr. Department of Electrical and Computer Engineering
Toronto Star ... (more)

U of T's Jeffrey Buttle Wins Gold for Canada
Student Jeffrey Buttle, Department of Chemical Engineering and Applied Chemistry
The Bulletin ... (more)

Did you miss out on a past issue of the Engineering Newsletter? Now you can revisit past articles and catch up on great Faculty news any time … (more)
The Engineering Newsletter is a twice-monthly summary of key headlines, events and opportunities for faculty and staff in the Faculty of Applied Science and Engineering. If you have questions or comments, please contact us: couture@ecf.utoronto.ca.