If your computer does not display the file below, please visit the web version:
http://www.enews.engineering.utoronto.ca/enews23.html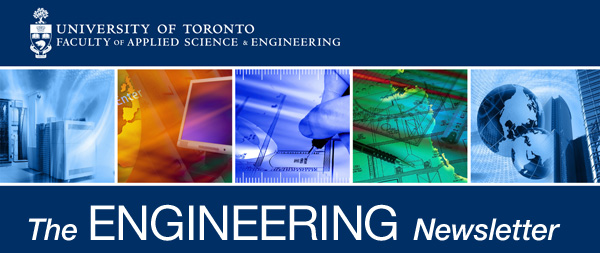 Volume 2 // Issue 8 // December 18, 2008
::::
In This Awards Issue:

Message from Dean, Cristina Amon // Q & A on Awards with Dean Emeritus Michael Charles // ECE Student Creates Video-Sharing Tool // MIE and ECE Chair Searches // 12 Receive EAA Awards // 4 Engineering Professors AAAS Fellows // Honours and Awards // Research // Events // New Staff // Personal Milestones // Archives //
Join us in celebrating the numerous accomplishments of our Engineering faculty, alumni and students as you read this issue! The number and breadth of awards received by our faculty has exponentially increased over the last five years, with 2007-2008 being a landmark year. As engineers play an increasingly prominent role in addressing global issues, recognition of our alumni contribution to the discipline and to society and of the leadership potential of our students is equally important. Again, our record of achievement in both categories is one of which we can be deservedly proud. ... (more)

The Awards Issue

Q & A with Michael Charles About Importance of Honours and Awards
Join former Dean of Engineering Michael Charles, Chair of the Faculty Committee on Nominations for Honours and Awards, in a conversation about the impact and influence of a strong awards program ... (more)

Mandate of the Awards Committee in Engineering
Read the original memo announcing the creation of and membership for the Engineering Committee on Nominations for Honours and Awards in 2007 … (PDF)

Members of the Engineering Committee on Nominations for Honours and Awards
With representation across the Faculty, this is the group that puts forward many of the nominations for awards and honours on behalf of Engineering ... (more)
Members of Departmental Awards Committees
These groups work in conjunction with the Faculty's Committee on Nominations for Honours and Awards, providing leadership on a departmental, divisional or institutional basis ... (more)
Measuring our Success: An Overview of Awards in Engineering
Over the past five years, the number of major awards and honours received by faculty members has risen from 8 awards in 2003 to 25 awards in 2008, an increase of 212.5%. Take a look at the outstanding accomplishments of our faculty: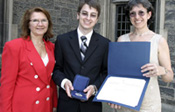 Engineering Students Leaders in Prestigious Awards
In the past year, Engineering student leaders have received Canada's Top 20 Under 20 Award; the Governor General's Silver Medal; Cressy Leadership Awards; Google's Android Developer Challenge; third place in the Canadian Engineering Competition; and first place, second place, and third place in the Ontario Engineering Competition, among other notable contributions.
EngSci Students Win International DeltaCompetition with Global Leadership Skills
Three EngSci Aero students brought their interdisciplinary education to the world's stage in a proposal to integrate the plants and fish in a farming community in Bangladesh to grow in a symbiotic manner, thus allowing Bangladesh to reclaim thousands of acres of waterlogged land lost each year due to flooding ... (more)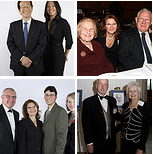 Engineering Alumni Awards Celebrate Global Leaders
Twelve Engineering alumni received EAA Awards this fall in recognition of achievement and leadership in furthering the engineering profession. Congratulations to: David Sinton (Mech 9T8), Glynn Williams (EngSci 7T8), Kathy Milsom (CivE 8T3), Ike Goodfellow (Elec 5T3), Joey Tanenbaum (CivE 5T5), David Rutt (Ind 0T8), Philip Yeo (IndE 7T0), Lorne Mitchell (EngPhys 5T3), Rachel Castellino (ChemE 0T7 + PEY), Gino Palumbo (Metallurgy 8T3), Marta Escedi (CivE 7T6), and Brian Levitt (CivE 6T9)... (more)
New System to Improve Video-Sharing Websites Like YouTube
ECE grad student Alex Karpenko has created a groundbreaking system to properly label videos and reduce video copyright infringement .... (more)
December Holiday Closure - Things to Note
Most of the St. George campus will close at 5 p.m. Fri. Dec. 19 with a few exceptions noted in this memo. Remember to take home plants that may be sensitive to colder temperatures while U of T conserves energy by reducing heat, and keep in mind garbage will not be collected during the holiday ... (PDF)

U of T Policy on Closure Due to Adverse Weather
With snow starting to fall, it's always a good practice to review the U of T cancellation of classes and closure policy for adverse weather conditions ... (more)
Painted on Micro Sensors
ECE Professor Ted Sargent's research using quantum nanodots is referenced in this article ... (The Engineer)
Call for Nominations: Engineering Alumni Awards of Distinction 2009
The Engineering Alumni Awards celebrate outstanding contributions to engineering and society by Engineering alumni. Nominate one of our distinguished alumni by: Jan. 30, 2009 ...
(more)
Four Engineering Professors Named AAAS Fellows
Congratulations to Professors Grant Allen (ChemE), Brendan Frey (ECE), Christopher Yip (ChemE/IBBME), and Professor Emeritus Mary Jane Phillips (ChemE). Our Faculty received more AAAS Fellowships in the Engineering Section than any other single institution ... (more)
Javad Mostaghimi Appointed Distinguished Professor
MIE Professor Javad Mostaghimi will be U of T's inaugural Distinguished Professor in Plasma Engineering for a five-year term starting Jan. 1, 2009. ... (more)
Call for Nominations: MIE Chair
Professor Tony Sinclair's term as MIE Chair ends June 30, 2009 ... (PDF)
Call for Nominations: ECE Chair
Professor Jonathan Rose's term as ECE Chair ends June 30, 2009 ... (PDF)

Funding Announcement: $300,000 CDN
Call for Research Proposals to the 2009-2012 Canada-Israel Program - deadline: Feb. 16 ... (more)
| | |
| --- | --- |
| Dec. 22, 2008 to Jan. 2, 2009 | University Closure for the Holidays |
| Jan. 8, 2009 | Civil and Mineral Engineering Career Fair |
| Jan. 12 to 16, 2009 | Godiva Week |
| Jan. 16, 2009 | EngSci Education Conference (ESEC) |
| Jan. 16, 2009 | Technological Innovation and Economic Development in Times of Crisis - Lecture by Harvard Professor Calestous Juma |
| Jan. 17, 2009 | Cannon Ball, Intercontinental Hotel |
| Jan. 19 to 23, 2009 | Skule™ Arts Festival |
| Jan. 28 to 29, 2009 | Engineering Career Fair |
| | Engineering Events Calendar for more events |
We have recently appointed a number of new administrative staff across the Faculty. While we haven't been able to reach everyone just yet, we are pleased to profile the following staff .... (more)
Lukasz Brzozowski
Manuchehr Ebrahimi
Teresa Simm
Daniel Unruh

A Celebration of Births in Engineering:
It's a girl! On Aug. 12, 2008, Professor Constantin Christopoulos, CivE, and his wife Professor
Malama Tsimenis
(Dept. of Humanities, UTSC) became the proud parents of a 8.1 lb baby girl, Melina. Mom and baby are doing well.
PDC Programs Manager Barb Martin welcomed Evan William Martin, 8 lbs, 13 oz, on Sept. 30, 2008 at 2:30 p.m. after 26 hrs of labour.
Congratulations to Professor Milica Radisic, ChemE/IBBME, who welcomed her third child, Michael, on Aug. 16, 2008. Big sisters Anastasia and Theodora are thrilled!
On Oct. 18, 2008, Associate Registrar Dan Pettigrew's wife Cathy gave birth to Christopher Daniel Anthony Pettigrew, weighing 8.5 pounds. Siblings Mary Elizabeth (9), Matthew (5), and Anne (3) are all very excited and competing for possession.
Did you miss out on a past issue of the Engineering Newsletter? Revisit past articles and catch up on great Faculty news any time … (more) Catch up on the latest Engineering news on the Engineering homepage.
The Engineering Newsletter is a twice-monthly summary of key headlines, events and opportunities for faculty and staff in the Faculty of Applied Science and Engineering. If you have questions or comments, please contact us: kate@ecf.utoronto.ca.