If your computer does not display the file below, please visit the web version:
http://www.enews.engineering.utoronto.ca/enews31.html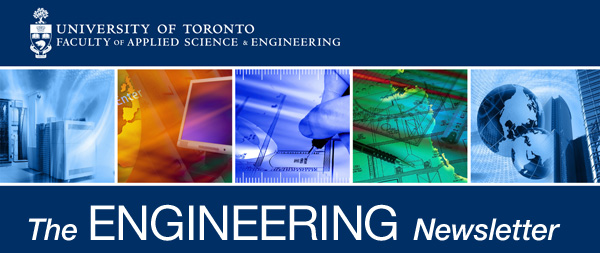 Volume 2 // Issue 16 // May 6, 2009
::::
Our Divisional Space Review is nearing completion and findings to date highlight the space challenges faced by the Faculty. The 62,500 nasms of space occupied in 16 buildings is insufficient for our needs, and as much as 69% of this existing space requires appropriate upgrading. This Newsletter describes projects recently completed and underway, and infrastructure projects in planning. In the near future, we will request your input on our Space Master Plan draft ... (more)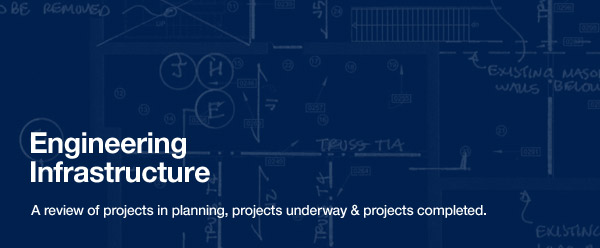 Divisional Space Review and Master Plan Update
The Divisional Space Review Committee has been conducting a review project over the last several months to assess and evaluate existing space within APSE to house the Faculty's teaching, research, and administration staff. Established by Dean Cristina Amon in Sept. 2008, the review committee will help provide the basis for new space plans. About the Committee (PDF).
Q&A with Steve Miszuk, Director, Planning & Infrastructure - Office of the Dean
Steve Miszuk discusses his latest role with the Faculty in his long history with U of T .. (more)
Projects in Planning
CivE Interdisciplinary Design Studios | Centre for Enabling Technologies Building | Registrar's Office (more)
Projects Underway
EngSci Student Space | SF Atrium | ECE Photovoltaics Research Lab | Decanal Suite | MIE & MSE Fumehood Stack Extension (more)

Projects Completed
ECE Undergraduate Computer Labs Project | Rock Fracture Dynamics Facility | UTIAS Lab Renovations | Engineering Library Improvements | MIE Design Labs | MIE Fuel Cell Materials and Manufacturing Lab | MIE Microfluidic Transport Phenomena and Bio-chips Lab | CivE Structural Lab | CivE Graduate Student Offices | ChemE BioZone Phase I | ECE Graduate Student Office Improvements | ECF Computer Lab Relocation | Emerging Communications Technology Institute E-beam | PEY & ECC Relocation | Student Club Space | BA Recognition Wall | MIE Building LCD Directory | ECE Improvements to Office Entrances (more)
MSE Professor Receives CIM Award
Stavros Argyropoulos, MSE, has received the 2009 Canadian Metal Chemistry Award from the Metallurgy Division of the Canadian Institute of Mining, Metallurgy and Petroleum (CIM) ... (more)
MIE Professor Receives Career Investigator Award
David Steinman was awarded a five-year Career Investigator Award by the Heart and Stroke Foundation of Ontario for his work on Hemodynamic Factors in Vascular Disease: from Bench to Bedside.
Hold the Date – Wednesday, May 27, 2009, 12 p.m.
Final Faculty Council meeting of 2008-2009 will include:
• an overview of the past year
• standing committees reports
• presentation of teaching awards and Agnes Kaneko Award
• recognition of our most recent professors emeriti
(Lunch will be served)
ECE Professor's Coined Terminology Highlight of Calgary Herald Article
The Calgary Herald's April 20 edition ran a story that highlighted ECE's Steve Mann's "sousveillance" project in an article that discussed how digital video taken by regular citizens can reveal unethical police ethics to the world, as shown by the case of Robert Dziekanski, who was tasered to death by RCMP officers at the Vancouver airport ... Calgary Herald
IBBME Director Involved in Successful CERC Research Proposal
U of T proceeds to next phase with five research proposals including one supported by IBBME Director Paul Santerre ... (more)
U of T Students Work on Project for a Safer Commute
A group of Engineering students have come up with a number of ways to make the transit system safer by proposing a safety bar be used in stations with open areas such as Bloor, High Park and St. George. CTV News - CFTO (Toronto) ran a feature story on their ideas April 15.
(Video no longer available)
Did you miss out on a past issue of the Engineering Newsletter? Revisit past articles and catch up on Faculty news any time … (more) Catch up on the latest Engineering news on the Engineering homepage.
The Engineering Newsletter is a twice-monthly summary of key headlines, events and opportunities for faculty and staff in the Faculty of Applied Science and Engineering. If you have questions or comments, please contact us: barbara@ecf.utoronto.ca.
Follow us on Twitter: http://twitter.com/uoftengineering