If your computer does not display the file below, please visit the web version:
http://www.enews.engineering.utoronto.ca/enews12.html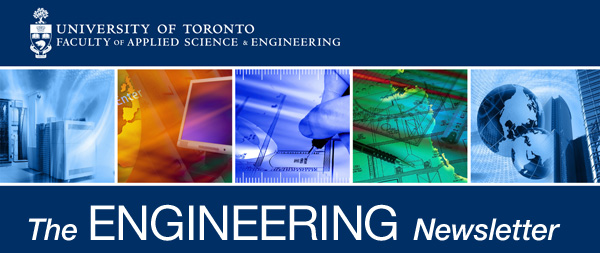 Volume 1 // Issue 12 // May 22, 2008
::::
In This Issue:

Message from Dean, Cristina Amon // Put Your Best Photo Forward // What's New? // Honours and Awards // Governance // Skule™ Stories // Research Update // Events // New Appointments // In the News // Newsletter Archives //
Earlier this year, we shared the mandate and goals of the Faculty's Task Force on Engineering Globalization. Led by Professor Yu-Ling Cheng, this group will provide recommendations on how we can better prepare our graduates for a globalizing workplace, and how our research activities should be influenced by and proactively address global challenges. U of T Engineering has the opportunity, the responsibility and the unprecedented potential to become a major contributor in educating global Engineering leaders and addressing the globalization challenges of Engineering competitiveness, sustainability, and international development. To further explore this topic, we looked to leading experts and best practices by hosting four distinguished panelists last week, who shared their views on the changing global landscape of Engineering practice .… (more)

It is my pleasure to announce the appointment of Professor Paul Santerre as Director of the Institute of Biomaterials and Biomedical Engineering, effective September 1. On behalf of the Faculty, I would like also to express our gratitude to Professor Chris Yip, who is serving with distinction and dedication, as Interim Director .... (more)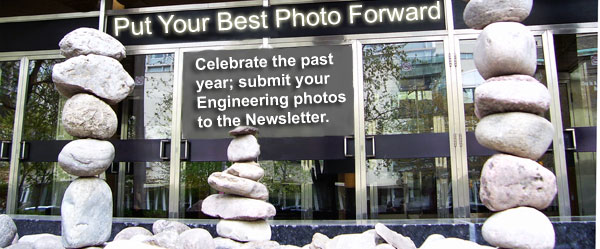 Professor Eric Miller Appointed Director of the University of Toronto Cities Centre
As of July 1, 2008, Professor Eric Miller, Department of Civil Engineering, will begin a three-year term as Director of the Cities Centre, a research and teaching centre that focuses on urban issues in Canada and around the globe .... (more)

Celebrating Success Reception
This academic year has been extremely successful for the Faculty; we have received many honours, awards, and significant grants in recognition of outstanding contributions. Please join us on June 12, 2008, from 5:00-7:00 pm, in the Debates Room, Hart House, to celebrate a successful academic year and honour the achievements of our Faculty. Please RSVP to Carolyn Farrell at by May 23, 2008.

ECE Professor Ted Sargent Wins Genome Canada Technology Competition
Professor Ted Sargent, along with Professor Shana Kelley of the Leslie Dan Faculty of Pharmacy, received one of the 13 coveted awards (five in total awarded to U of T) that will provide funding for their collaborative research project to develop an electronic chip to help understand how an individual's gene expression reflects his or her state of health .... (more)

"Major" Change for Engineering Science
Effective June 2008, graduating Engineering Science students will have their "Options" replaced with "Majors" on their official transcripts, a concession made to help Engineering Science students in their post-university lives since "Major" is a more widely accepted term outside of the University.... (more)

Professors Levente Diosady and Doug Perovic Named Fellows of Canadian Academy of Engineering
Professor Levente Diosady, Department of Chemical Engineering and Applied Chemistry, and Professor Doug Perovic, Department of Materials Science and Engineering, were recently named fellows of the Canadian Academy of Engineering. Founded in 1987, the Academy is a full member of the Council of Academies of Engineering and Technological Services and has approximately 300 active members and 90 emeritus members.

Professors Peter Zandstra and Paul Salvini Named to Top 40 Under 40
Professor Peter Zandstra, cross-appointed to the Institute of Biomaterials and Biomedical Engineering and the Department of Chemical Engineering and Applied Chemistry, and Professor Paul Salvini, Adjunct Professor in the Department of Civil Engineering, were named to the Top 40 Under 40, a national program that honours Canadians who have achieved significant success before reaching the age of 40 .... (more)

Professors Milos Popovic and Constantin Christopoulos Win PEO Awards
Professor Milos Popovic, Institute of Biomaterials and Biomedical Engineering, recently won the Research and Development Medal from the Professional Engineers of Ontario, and Professor Constantin Christopoulos, Department of Civil Engineering, won the Young Engineer Medal.
Frameworks for Degree Level Expectations and changes to the Infrastructure Option in Engineering Science will be among those items considered by the Faculty Council at its final meeting of the 2007-2008 academic year. As well, faculty and staff will be recognized for outstanding accomplishments including presentations of the Faculty's Early Career Teaching Award, the Faculty Teaching Award, the Agnes Kaneko Award and the recently re-established McCharles Prize. Retiring faculty and academic administrators completing their terms will also be honoured.

Come join us on Wednesday, May 28, from 12:10 – 2:00 pm, in the Michael E. Charles Council Chamber (GB 202). A sandwich luncheon will be provided.

Watch for a Faculty Council agenda and supporting documentation -- to be posted shortly -- on the Faculty's governance website.
The World Famous, Triple Prize Winning...Lady Godiva Memorial "Bnad"
The 1949-50 academic year marked the genesis of the Lady Godiva Memorial "Bnad", founded by World War II veteran A. J. Paul La Prairie (5T0) .... (more)
May 28 - Faculty Council Meeting
May 29 - RobotX
May 29 - Skule™ Annual Golf Classic
May 29 - Building on Success: Celebrating women's successes in technology
May 30 - Spring Reunion Dinner Dance
May 31 - Hall of Distinction Unveiling

Please visit: Faculty's Events Calendar for all of our events.

View Genie Grants Your Wish
Professor Parham Aarabi, The Edward S. Rogers Sr. Department of Electrical and Computer Engineering
ABC News (video) .... (more)

Just Imagine: The Reality of Space
Research Assistant and Master's student, Alexander Ho, University of Toronto Institute for Aerospace Studies
CNN (video) .... (more)

A Dash to Cure What Ails You
Professor Levente Diosady, Department of Chemical Engineering and Applied Chemistry
Toronto Star .... (more)

Did you miss out on a past issue of the Engineering Newsletter? Now you can revisit past articles and catch up on great Faculty news any time … (more)
The Engineering Newsletter is a twice-monthly summary of key headlines, events and opportunities for faculty and staff in the Faculty of Applied Science and Engineering. If you have questions or comments, please contact us: couture@ecf.utoronto.ca.