If your computer does not display the file below, please visit the web version:
http://www.enews.engineering.utoronto.ca/enews32.html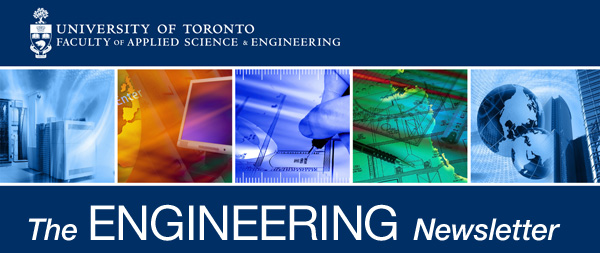 Volume 2 // Issue 17 // May 22, 2009
::::
Our greatest asset is our people –faculty, students, staff, alumni and friends– and their devotion to enhancing our vision and mission. This week we announce the appointment of three academic leaders: Susan McCahan for a second term as Chair, First Year; Farid N. Najm Chair of ECE; and Jean W. Zu Chair of MIE. These three highly accomplished educators and scholars are committed to educating global engineers, advancing our leading position in research and education, and fostering our global reputation for excellence and innovation. On behalf of the Faculty, I express our gratitude and appreciation to Professors Jonathan Rose and Tony Sinclair who complete their tenure on June 30. I also extend heartfelt thanks to the advisory committees in these appointments. In celebration of academic leadership, this Newsletter is devoted to introducing our most recently appointed academic leaders to the Engineering community.

10 Questions with Susan McCahan, Chair, First Year
Reappointed as Chair, First Year, Professor McCahan oversees First Year curriculum, co-curricular activities to support university transition, outreach and recruitment ... (more)
10 Question with Farid N. Najm, Incoming Chair of ECE
An ECE faculty member since 1999, Professor Najm is a Fellow of IEEE, and served as ECE Vice-Chair from 2004 to 2007 ... (more)
10 Questions with Jean W. Zu, Incoming Chair of MIE
Professor Zu began her career with U of T in 1994, and has served as Associate Chair, Research, at MIE... (more)
Engineering Research Drives Canada's Auto Sector
AUTO21 announced funding for 20 new programs – and in five projects, U of T Engineering researchers are "behind the wheel" ... (more)
Paul Young Sees Former Student Blast Off Into Space
Andrew Feustel, crew member aboard the final Space Shuttle mission to Hubble Telescope, worked at the Engineering Seismology Group (ESG Canada), a spin-off company of CivE Professor and U of T VP Research Paul Young's research group ... News@the University of Toronto
Student Mentors Foster Interest in Engineering
Skule™ Sisters participants talk about the importance of building Engineering career awareness among young women ... News@the University of Toronto

Funding Opportunities
NSERC E.W.R. Steacie Fellowships 2010 – Call for Nominations
NSERC Call for Scientific Directors
Enhanced Research Funding – MITACS ACCELERATE Internship Program ... (more)
Hold the Date – Wednesday, May 27, 2009, 12 p.m.
Final Faculty Council meeting of 2008-2009 will include:
• an overview of the past year
• standing committees reports
• presentation of teaching awards and Agnes Kaneko Award
• recognition of our most recent professors emeriti
(Lunch will be served)
Volunteers Help Put on Successful Science Rendezvous
Members of the Engineering outreach and student community encourage even the non-technically-focused to enjoy science at annual Fair ... Metro News
Did you miss out on a past issue of the Engineering Newsletter? Revisit past articles and catch up on Faculty news any time … (more) Catch up on the latest Engineering news on the Engineering homepage.
The Engineering Newsletter is a twice-monthly summary of key headlines, events and opportunities for faculty and staff in the Faculty of Applied Science and Engineering. If you have questions or comments, please contact us: barbara@ecf.utoronto.ca.
Follow us on Twitter: http://twitter.com/uoftengineering