If your computer does not display the file below, please visit the web version:
http://www.enews.engineering.utoronto.ca/enews20.html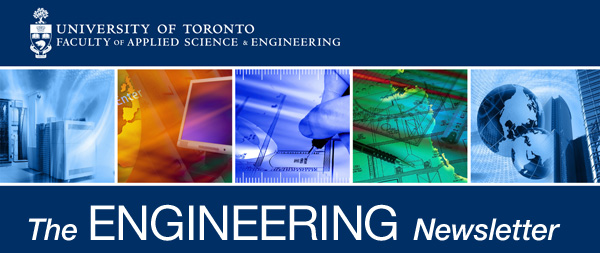 Volume 2 // Issue 5 // November 5, 2008
::::
In This Nano-Themed Issue:

Message from Dean, Cristina Amon // New Nano Facility 1st in Ontario // Safety of Nanomaterials // Governance // Honours and Awards // Research // Events // Newsletter Archives //
Our Faculty leadership in nanoengineering research and education is a great strength. We introduced the world's first undergraduate degree in nanoengineering and, in this nano-themed issue of the Newsletter, we review a sampling of our nanotechnology research contributions such as the unique Electron Beam Nanolithography Facility – the first dedicated e-beam in Ontario. Our foresight in focusing on this multi-disciplinary area, one still in its infancy, has the potential to provide solutions to some of the most pressing global challenges, including advances in human health, environmental preservation and sustainable energy.
I am pleased to announce the appointment of Professor Jun Nogami as Chair of the Department of Materials Science and Engineering for a five-year term beginning January 1, 2009.... (more)

New ECTI Nanoengineering Facility Unique in Ontario
An Electron Beam Nanolithography Facility is set to open this fall that will provide technological capabilities to explore new design and fabrication possibilities on the nanoscale for next-generation devices .... (more)

The World's First Nanoengineering Undergrad Degree
"This pioneer multi-disciplinary program enables our students to tackle the increasingly complex challenges of today's world by incorporating their knowledge of nanoengineering to provide innovative solutions," says Cristina Amon, Dean ... (more)

It's a Small, Small World: Exploring Nanoengineering at U of T
With nanoengineering research at U of T proving that smaller can be stronger and faster when it comes to nano-scaled engineering projects, maybe the world should be even smaller ... (more)
Creating a Better World One Patient at a Time
Medical doctor Betty Y.S. Kim is pursuing a PhD in bionanotechnology in IBBME, where she will be the first Canadian surgical resident in this emerging field ... (more)
Using Nanomaterials to Power Greener Homes and Cars
Professor Steven Thorpe's research group aims to provide small, economic solutions that could potentially supply clean hydrogen to power homes and vehicles using advances in nanomaterials. ... (more)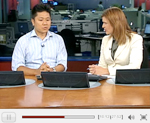 Canadian Panel Evaluates Safety of Nano Materials
IBBME Professor Warren Chan speaks about results of a Canadian panel to assess the safety of nanotechnologies used in everyday items, such as clothing, house paint, and sunscreen. Watch his interview on BNN (fast-forward to the 15-minute mark) ... (watch the video)
Much More Than Heavy Metal
The Varsity explores research and educational innovation in MSE and tells readers why material scientists and engineers are crucial. Outgoing MSE Chair Doug Perovic, master's student Varuna Prakash, and staff member Maria Fryman are quoted ... (more)
Yu-Ling Cheng to Continue as Faculty Council Speaker for 2008-2009
On leave in the 2008-2009 session, Yu-Ling Cheng, Professor in ChemE, has agreed to continue in the role of Speaker for the Faculty Council, bringing to it the commitment that has been a hallmark of her service to the University.
Meetings of the Faculty Council in 2008-2009
The Faculty Council will meet from 12:10 to 2:00 p.m. (GB 202), with a light lunch served, on the following dates:
Wed. Nov. 26, 2008

Mon. Feb. 23, 2009

Wed. May 27, 2009
What is the Faculty Council and Why Should We Attend Meetings?
The Faculty Council is the highest intra-Faculty legislative and judicial authority, overseeing the work of the Standing Committees, which impact upon the Departments, Divisions and Institutes of the Faculty. It provides the opportunity for us to participate in the governance of our Faculty and to obtain information about key issues. It also provides a quarterly opportunity for the members of the Faculty to assemble as a body. Visit the Faculty Council web space for more information.
Chairs of the Standing Committees 2008-2009

Call for Nominations
Nominate

a student leader for the prestigious Cressy Student Leadership Award

. Deadline: Nov. 26


ASME's Woman Engineer Award
Dean Cristina Amon is the inaugural recipient of the Woman Engineer Award conferred by the Electronic and Photonic Packaging Division of the American Society for Mechanical Engineers (ASME). The award will be conferred at the annual ASME Congress held in Boston this month.
MIE Award
Joe Baptista, MIE, is the 2008 recipient of the MIE Administrative and Technical Staff Excellence Award, recognizing outstanding service to the Department.
OSPE/PEO Awards
Five members of the U of T Engineering community will receive PEO/OSPE awards this month. Congratulations to: Walter Curlook (5T0 Metallurgy; 5T1 MASc; 5T3 PhD) - Gold Medal; Professor Milos Popovic, IBBME (9T6 PhD) - Engineering Medal, Research & Development; Professor Constantine Christopoulos, CIV - Engineering Medal, Young Engineering Award; John T.W. Yeow (9T7 Electrical; 0T0 MASc; 0T3 PhD) - Engineering Medal, Young Engineering Award; and Mark Joel Hundert (7T1 Industrial) - Engineering Medal, Management.
Deadline: Fri. Nov. 28, 2008



Congratulations to the following Engineering Professors, who have been awarded NSERC Strategic Grants: Stewart Aitchison, ECE; Levente Diosady, ChemE; Glenn Hibbard, MSE; Baochun Li, ECE; Chul Park, MIE; and Yu Sun, MIE.
Nov. 6, 2008 - 6:00 p.m.
Engineering Alumni Association Awards Banquet
Nov. 6, 2008 - 3:00 p.m.
ECE Distinguished Lecture Series - Featuring Professor Sara Majetich, Carnegie Mellon University

Nov. 11, 2008 - 10:30 a.m.
Memorial Service at Soldier's Tower
Nov. 12, 2008 - 6:00 p.m.
Undergraduate Convocation
Nov. 14, 2008 - 9:30 a.m.

Graduate Convocation
Nov. 14, 2008 - 10:10 a.m.
Susan Ambrose Seminar - Exploring Research-based Teaching that Focuses on Learners
Nov. 14, 2008

-

11:30 a.m.
Fall Convocation Reception at Hart House
Nov. 16, 2008 - 11:00 a.m.
Pre-Santa Claus Parade Engineering Alumni Event
Nov. 26, 2008 - 12:10 p.m.
Faculty Council (Council Chambers GB 202)
Engineering Events Calendar for more events

Nanoengineering Requires Creative Thinking


The self-described "pie-in-the-sky" research undertaken by U of T Engineering alumnus Gino Palumbo during his PhD studies, has translated into several major R&D contracts with the U.S. Air Force and NASA. Palumbo recently received the 2T5 Mid-Career Award from the Engineering Alumni Association ... (more)
Did you miss out on a past issue of the Engineering Newsletter? Revisit past articles and catch up on great Faculty news any time … (more)

Catch up on the latest Engineering news on the Engineering homepage and our Twitter feed.
The Engineering Newsletter is a twice-monthly summary of key headlines, events and opportunities for faculty and staff in the Faculty of Applied Science and Engineering. If you have questions or comments, please contact us: kate@ecf.utoronto.ca.